The 66th edition of the San Sebastian Festival and Filmoteca Española will dedicate a retrospective to the British director and screenwriter Muriel Box
WEBWIRE
–
Monday, February 12, 2018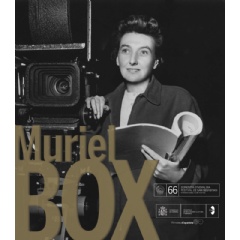 Filmoteca Española and the San Sebastian Festival are now organising, with Filmoteca Vasca, Filmoteca of the Institut Valencià de Cultura and the San Telmo Museum, a retrospective dedicated to Muriel Box.
Muriel Box (1905-1991) was characterised throughout the years of her work, from 1945 to 1964, as being a writer and director who tackled complex, taboo subjects including prostitution, child abuse, abortion, illegitimate children or adolescent sex. She had an extremely clairvoyant and brave approach given the social and political context in which said films were made. Her contribution in relation to those subjects played a fundamental role in the British cinema of the fifties and first half of the sixties.
As was the case of North America's Dorothy Arzner – to whom the San Sebastian Festival dedicated a retrospective in 2014 – and Ida Lupino, reviewing her filmography today seems essential in establishing a feminist discourse and vindicating the important role played by women filmmakers in different contexts and cinematographies. Despite enjoying a certain prestige among cinephiles, there are very few studies of her works and barely any mention is made of her in general film histories.
Muriel Box also falls in line with independent cinema despite working with subject matter typical of the classic and popular genres, such as drama, comedy, detective or period films. Her work as a director corresponds to a time of change within British cinema: the days of the Ealing comedies, the work of other independent moviemakers like Michael Powell and Emeric Pressburger and the birth of the critical documentary-making which would lead to Free Cinema.
Born on 22 September 1905 in New Malden (Surrey) as Violette Muriel Baker, she started her film career in continuity. In 1935 she married the writer Sydney Box, and five years later the two created Verity Films, a production company intended to fund short films of a war propaganda slant during World War II. Sydney's sister, Betty Box – one of the most influential English producers of the fifties – collaborated with them. With Verity, Muriel made the short film, The English Inn (1941).
With her husband, she wrote several plays for amateur companies. After the war, when Sydney became the director of Gainsborough Pictures, Muriel took on the position of head of the Script Department and co-directed The Lost People (1949), a post-war drama started by Bernard Knowles and for which she completed 60% of the footage; the plot unfolds in a German theatre where two British soldiers are guarding several refugees.
In 1951, Sydney created the company London Independent Producers, where Muriel could produce storylines that were not exactly to the taste of the film world or the British society of the moment, almost always with screenplays written by herself and her husband. She worked to a combination of auteur approach and genre cinema, and this turned out to be one of her main traits. Although she enjoyed certain privileges, she had to deal with the male and even female prejudices of the movie industry: a year earlier, the actress Jean Simmons had turned up the pressure to stop her from directing So Long at the Fair (1950), finally helmed by Terence Fisher and Anthony Darnborough. Muriel Box has been defined as a director who was easily put off yet who was also tenaciously ambitious. 
She directed 14 feature films between 1949 and 1964 – as well as a short film – outstanding among which are her peculiar romantic comedies focussed on the war of the sexes: To Dorothy a Son (1954), starring Shelley Winters, following the ups and downs of several characters as they try to get their hands on an inheritance; Simon and Laura (1955), with Peter Finch and Kay Kendall in the parts of a couple of real-life actors who become the stars of a BBC show; The Passionate Stranger (1957), with Ralph Richardson as a chauffeur who gets the wrong idea about his boss, Margaret Leighton, after reading the erotic novel penned by her; The Truth About Women (1957), in which the character played by Laurence Harvey relives his colouristic and exotic love stories on different continents, and Rattle of a Simple Man (1964), the director's last film, about the relationship between a shy football supporter and a prostitute.
She was equally brilliant in drama, with titles including The Beachcomber (1954), the adaptation of W. Somerset Maugham's classic piece on alcohol, religion, puritanism and epidemics; This Other Eden (1959), on the problems in Ireland, narrating the tensions in a small town where plans are underway to erect the statue of an IRA member, and Too Young to Love (1960), a tale of underage prostitution and abortion set in an American courthouse with Thomas Mitchell in the part of the veteran judge. She also shot curious criminal stories: Street Corner (1953), in semi-documentary style and about the everyday work of a policewoman; Eyewitness (1956), about a woman who, having seen someone murdered in a film theatre, is run over by a bus and later pursued in hospital by criminals, and Subway in the Sky (1959), set in post-war Berlin and starring Van Johnson and Hildegarde Knef.
In 1946, Muriel won the Best Original Screenplay Oscar for The Seventh Veil, a film made by Compton Bennett and written in collaboration with her husband. She was the first woman to win a Best Screenplay Academy Award after Frances Marion, who had taken it twice, in 1930 and 1932. Before starting to direct she participated as a screenwriter and producer on films by Terence Fisher, Compton Bennet and David MacDonald, among other illustrious British helmers of the forties and fifties.  
After its screening at the San Sebastian Festival, the retrospective will run during the months of October and November at Filmoteca Española in Madrid and at Filmoteca of the Instituto Valencià de Cultura.
( Press Release Image: https://photos.webwire.com/prmedia/7/220131/220131-1.jpg )
Related Links
WebWireID220131

This news content was configured by WebWire editorial staff. Linking is permitted.
News Release Distribution and Press Release Distribution Services Provided by WebWire.