Klutz® Launches Klutz Maker Lab Line at Toy Fair
Four Activity Kits focused on STEM Debut for Kids Ages 8 and Up (Available at Booth #343)
New York City, NY –
WEBWIRE
–
Tuesday, February 6, 2018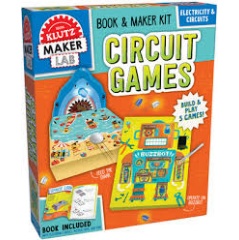 Klutz, the creator of premium, book-based activity kits for kids will debut twenty one products at Toy Fair 2018, including four titles in their new KLUTZ Maker Lab, STEM based kit line for kids ages 8 & up. KLUTZ Maker Lab features everything you expect from Klutz: premium components, detailed step-by-step instructions, and a sense of humor to introduce varying topics like robotics, circuitry, building & engineering, kinetic machines, and more, in a fun, informal way with hands-on projects that encourage exploration and experimentation.
"At Klutz, we have always been makers. Our mission is to build creative confidence by teaching kids to explore, invent, create and make," says Stacy Lellos, 2018 Wonder Woman Award nominee and SVP & General Manager of Klutz. "Since 1977, Klutz has been at the forefront of developing product that empowers kids to create things that are artistic, solve problems, are unique, or just plain fun. Maker culture emphasizes learning through doing. It's about tinkering and creating, and that's been part of our culture for 40 years."
In addition, Klutz will showcase four all new titles from KLUTZ Jr., the preschool line for ages 4 & up, as well as debut a diverse assortment of new product, including LEGO Gadgets, the next title developed in partnership with LEGO, following the 2017 TOTY Award Creative Toy of the Year Nominee, LEGO® Make Your Own Movie.
Toy Fair 2018 Highlights:
Klutz Maker Lab: Gumball Machine Build a Machine that Really Works!
$24.99 – February 2018
Perfect for any budding engineer with a sweet tooth! Make your own gumball machine with a book of step-by-step instructions, adjustable ramps, custom snaps, and bumper guides. Then, keep the ball rolling with other gumball-related science experiments using simple machines. It's a ball of fun! (Ages 8 and up)
Klutz Maker Lab: Circuit Games Build & Play 5 Games!
$24.99 – February 2018
Spark your interest in circuitry! Get ready to be amazed with this electrifying combination of five circuit games to build from scratch. Use actual electronic components to construct a DIY operation game, compete with friends in a Space Loop race, assemble a quiz show board, and more. A step-by-step book of instructions teaches you how to be a maker by adding wires, LEDs, and buzzers for super-charged fun. (Ages 8 and up)
Klutz Maker Lab: Air Blast Cannon Build and Blast Your Own Cannon!
$24.99 – August 2018
Stitch and stuff an assortment of fuzzy animals from felt! These mini plushies deliver full-sized fun, and everything you need is included to make up to 14 animals, with extra accessories like hats, bows, and glasses to personalize them. We must admit, they rate pretty highly on the "look-what-I-made" scale of satisfaction. (Ages 8 and up)
Klutz Maker Lab: Wired Remote Race Car Engineer a 4-Way RC Car!
$24.99– August 2018
Makers, start your engines! Build a remote controlled car with actual motors to learn the basics of wiring and electricity. The included easy step-by-step instruction book will have you zooming around in no time! (Ages 8 and up)
Mini Bake Shop Make 12 Clay Treats!
$21.99 – February 2018
Create and decorate your own mini cakes, cookies, and pies with easy-peasy, no BAKE, air-dry clay. This kit includes all of the "ingredients" and instructions for rolling out clay just like fondant. Make faux flowers, stack on the sprinkles, add expressive faces, and more! Display your clay creations on a mini cake stand or in a bakery box to highlight your baking talents! It's a bake shop of cute clay confectionary. (Ages 6 and up)
LEGO® Gadgets
$24.99– August 2018
Explore the possibilities hiding in your LEGO® collection! The step-by-step instructions will have you building 11 machines including a gravity powered car and a wacky boxing robot. The fun doesn't stop once you've completed all of the projects in the book-- open-ended prompts will inspire you to continue experimenting with your own designs and modifications! (Ages 8 and up)
Klutz Jr. My Clothespin Zoo
$12.99 – February 2018
A monkey, and tiger, and panda, oh my! Bring the entire zoo home (in one simple activity kit)! Your youngest crafters will love creating ten adorable animals from colorful clothespins. This craft is great for developing fine motor skills, with easy-to-use and durable supplies in an all-in-one kit. Kids can go wild making them, clipping them, and turning their world into a jungle. (Ages 4 and up)
Bath & Body Box Make Scrubs, Masks, Bubble Bath, Sparkly Gel, and More!
$24.99– August 2018
Glow from the inside-out with this collection of DIY bath and body treatments! Make a refreshing facial mask, soothing Mermaid Shimmer Gel, and relaxing Bubble Bath Bonbons, with everything you need right in the box! Then, whip up a variety of pampering potions using our simple recipes, made with easy-to-find ingredients like fresh fruit, sugar, olive oil, and honey. Spoil yourself with sugar scrubs, body wash, and more! Klutz welcomes you to the ultimate spa experience. (Ages 8 and up)
About Klutz®
Founded in 1977, Klutz has been engaging kids for decades with more than 110 million copies of its activity products in print, including such popular and award-winning kits as Cat's Cradle®, Face Painting, Juggling for the Complete Klutz, and The Klutz Book of Paper Airplanes. Klutz's unique combination of crystal-clear instructions, custom tools and materials, and hearty helpings of humor has kick-started creativity everywhere. Klutz is an imprint of Scholastic, the world's largest publisher and distributor of children's books. For more information, please visit www.klutz.com and mediaroom.scholastic.com/klutz.
( Press Release Image: https://photos.webwire.com/prmedia/6/219891/219891-1.jpg )
Related Links
WebWireID219891

This news content was configured by WebWire editorial staff. Linking is permitted.
News Release Distribution and Press Release Distribution Services Provided by WebWire.