Tieto and PopInWork collaborate to introduce smart and empathic workplace solutions in Sweden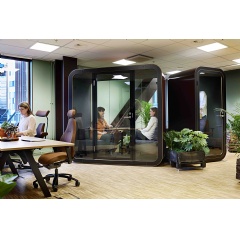 Tieto and PopInWork, Sweden's first activity-based member office, have entered into a partnership to pave the way for next generation intelligent workplace solutions in the country. PopInWork is first in Sweden to implement Tieto's IoT solution "Emphatic Building", which utilises real-time visualisation and analysis of user data to optimise and enhance the working environment.
In November 2017, PopInWork opened its first member office in the center of Stockholm. To take the member office to the next level, PopInWork has now implemented Tieto's IoT solution Empathic Building. The collaboration enables members to find available workplaces and rooms in an instant, locate other members and colleagues, and tailor their working day and environment based on their own needs.
"Tieto's solution allows us to be innovative and provide smart solutions that give our members direct access to the right expertise, right colleagues and right places. Positioning technology also allows us to analyse the occupation level and optimise the use of our office space and occupation levels in real-time, which is improving the overall experience for our members", says Karin Ståhl, Co-founder PopInWork.
The collaboration will be used to introduce the Empathic Building concept to the Swedish market and PopInWork's premises will act as Tieto's showroom in Sweden. Previously, Tieto's global headquarter in Finland has been equipped with the same solution.
"PopInWork has managed to take the activity-based workplaces to another level, and their concept is a perfect match for us. We have a close collaboration to provide more businesses with the opportunity to discover the power of intelligent and empathic offices, and to experience how technology can improve both efficiency and the working environment", says Tomi Teikko, concept owner Tieto Empathic Building.
Each PopInWork member can choose when and what kind of information they want to share with others. They can report problems, give feedback, seek a specific expertise or share a message with others. Everything is visible in the shared interface, available in the users' phones or on interactive screens in the venue.
Open and qualitative collaboration enabled by new technology is getting more crucial for organisations and are one of the key trends identified by GoToWork consultancy firm, a sister company to PopInWork, in a new report on office trends. 
"More and more companies go from looking at premises as a cost, and instead see potential for innovation, cooperation and a driver for future growth", says Tomi Teikko.
Read more about Tieto Empathic Building: https://campaigns.tieto.com/empathicbuilding (https://translate.google.com/translate?hl=sv&prev=_t&sl=sv&tl=en&u=https...) 
PopInWork's activity-based member office: http://popin.work  
GoToWork's office trends for 2018: http://www.anpdm.com/newsletterweb/4542584B7044435E4175454659/43435F4578... (https://translate.google.com/translate?hl=sv&prev=_t&sl=sv&tl=en&u=http:...)
PopInWork is Sweden's first fully activity-based member office. Here you do not book a place, but take the place that suits one's work or mood. PopInWork was created by the industry's leading experts in developing and designing working environments and working methods, Karin Ståhl and Karolina Mölldal. We know what is needed to create a good workplace with variety, ergonomic furniture, position-oriented lighting and cutting-edge technology that support your workday. The first ever PopInWork is located in the middle of Stockholm at Kungsbron 18, only 90 seconds from Arlanda Express http://popin.work (https://translate.google.com/translate?hl=sv&prev=_t&sl=sv&tl=en&u=http:...) 
Tieto aims to capture the significant opportunities of the data-driven world and turn them into lifelong value for people, business and society. We aim to be customers' first choice for business renewal by combining our software and services capabilities with a strong drive for co-innovation and ecosystems. www.tieto.com
( Press Release Image: https://photos.webwire.com/prmedia/7/219855/219855-1.jpg )
Related Links
WebWireID219855

This news content was configured by WebWire editorial staff. Linking is permitted.
News Release Distribution and Press Release Distribution Services Provided by WebWire.