Turning Retail into Magic at CES 2018
High tech solutions from AR dressing rooms to AI analyses are giving retailers the tools they need to reimagine the shopping experience.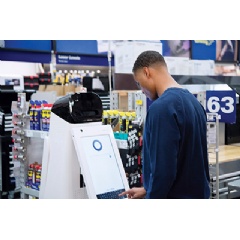 Shopping at Lowe's these days brings tears of joy to my DIY eyes. Where I used to spend hours on a scavenger hunt for Gorilla Glue, I now search for it on my Lowe's app, find out how many are left in the store, and even know which aisle to go to when I get there.

And that's just the tip of the iceberg. Lowe's new AR apps include a digital tape measure that takes real-world measurements using a phone's camera and an app that lets users see what a renovation project will look like before they begin. In the San Francisco store you can experience the Lowebot, a robotic shopping assistant that guides you to your aisle.

Lowe's is not alone. A visit to the Target Open House, a showcase for innovation in San Francisco, off ers customers sneak peeks at earlystage products and doubles as a test lab to inform Target about consumer behaviors. Motion sensors built into the countertops monitor store traffi  c, products are displayed in natural habitats like living rooms, and it's a center for community events.

"There was a time when retailers primarily focused on merchandising and product selection," says Laura Heller, editor-in-chief of Retail Dive. "Today, that focus is very diff erent as merchants turn to technology to not only assist in merchandising and product selection by using data, but to power their very businesses and interact with customers."

Heller thinks that the most compelling conversations in retail today center on the use of artificial intelligence and voice technology (think Alexa), augmented reality, interactive in-store displays, mobile solutions and cloud services. "Anyone not testing or using these technologies" she says, "is already very far behind."
CREATING A DESTINATION
Whether online or in the physical store, one of the most overt ways retailers are experimenting with technology is as a draw for the experience-loving shopper. Women's fashion and beauty is taking a lead. Sephora recently announced the opening of smaller stores that specialize in personalization including virtual customer makeovers. YouCam teamed up with Estée Lauder to allow shoppers to try on shades of lipstick using an app before they purchase. Levi's embeds a virtual stylist into its Facebook messenger chat that guides you towards the best fi t. TriMirror is a mind boggling virtual dressing room where online shoppers create personal avatars (in their body image) and have a fi tting room experience. Robotics greeters like Softbank's Pepper are welcoming customers into stores with whimsical activations. Swarovski and MasterCard let customers view and then buy beautiful (and fragile) home goods without touching the merchandise.

Maureen O'Connor, a board member for Macy's Fashion Incubator, believes artifi cial intelligence will help retailers personalize merchandise for consumers, learning their likes and dislikes and growing from there. "At the same time," she says, "VR/AR offers retailers opportunities to create immersive new consumer experiences that lead to purchase. Macy's and Alibaba tested VR Shopping for Chinese Singles' Day last year." 

Voice-activated commerce is also entering into the fray. The specificity of a voice query can let you carry on a conversation with an interactive ad for a car or a home appliance, for example. Amazon's Alexa (with 70 percent of the voice market) recently announced alliances with Google and Walmart. Chatbots and messenger services make it possible to go from that shopping thought in your head through purchase without ever speaking to a human.
A LIFELONG CUSTOMER 
Behind the shiny experiences drawing in customers is a plethora of tools to maximize the chances that businesses are talking to the right customer about the right product at the right moment in their lives. But that is easier said than done. Context- and proximity-sensitive advertising, loyalty programs and a ton of predictive analytics are the building blocks of a custom shopping experience. Sih Lee, senior vice president of payments technology and innovation at Synchrony Financial is experimenting with a variety of engagement tools. "We can, for example, provide the ability to apply for credit cards through personal devices, brand your checkout experience through an instant buy button, or securely pay without entering all your login details." All these details make for a more frictionless experience.

Tabitha Creighton, senior vice president of payment for IQmetrix, says simple improvements to inventory systems and a well-trained and connected sales force training may be less sexy, but equally important. "Technology investment is more than just chasing all the shiny new things," she emphasizes. "In order to optimize impact it's critical that retailers evaluate and prioritize technology investments according to their business and customer needs. New products like Dor — an intuitive wireless, thermal sensing people counter and analytics dashboard — can help manage your staff , and smart earpiece systems that connect to inventory enable a salesperson to be more helpful. 
THE SECRET SAUCE OF IOT 
Turning the items we buy into smart items is an obvious endgame in the smart shopping journey. From cans to cars and carpets, the mission of software company "evrythng" is to turn everyday items into smart IoT devices. The simple idea is that items tagged with relevant information from where they are in the supply chain to where they are in inventory or where they are in someone's closet is constantly updated. "By leveraging the Internet of Things, retail brands can catch up to Amazon, creating a real-time fully instrumented supply chain, and then delivering better and more personalized service experiences to shoppers," says Andy Hobsbawm, chief marketing officer of evrythng.

Of course there are lots of kinks to iron out and mistakes to be made as businesses reach for the hearts and minds of customers. There is no shortage of jokes about Google still off ering you trips to Venice when you returned weeks ago. And excessive loyalty deals and special off ers are almost mind numbing. But as technology improves its ability to make shopping an adventure, to personalize the experience, and to instill customer loyalty and brand authenticity, it will usher in a new era of smarter retail almost indistinguishable from magic.
( Press Release Image: https://photos.webwire.com/prmedia/6/219825/219825-1.jpg )
Related Links
WebWireID219825

This news content was configured by WebWire editorial staff. Linking is permitted.
News Release Distribution and Press Release Distribution Services Provided by WebWire.