Unlocking the Richness of Multiethnic Beauty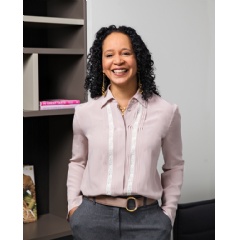 Susan Akkad, SVP, Local and Cultural Innovation at ELC
"There is no cookie cutter in today's beauty market."
Notes from Susan Akkad
As a student of human nature, my career has taken me on fascinating journeys, delving into the depths of ethnic, regional and cultural influences on beauty. From my specific vantage point —helping to ignite innovation around multiethnic beauty at The Estée Lauder Companies —I've been fortunate to serve as a connector, a translator of sorts, and a necessary voice at the table, paying extra attention to people of color in a market.
The importance of the multiethnic consumer in beauty cannot be overstated. Just as in fashion, multiethnic consumers tend to be trendsetters and brand loyalists. Early on in my role, we addressed this opportunity primarily as marketers, ensuring we were communicating to consumers with the right images and words, in the appropriate media. Given my background in marketing and communications for M·A·C, Clinique and Origins, this was a logical place for the conversation to take place. 
Then things got really interesting after our CEO Fabrizio Freda returned from his first trip to South Africa in 2009.  He wondered if what I had learned in working with Black women in the U.S. could be leveraged in South Africa, where consumer demand was increasing due to the growth of the middle class. This was the beginning of what I call "culture dives" — a methodology I created to dive in, to uncover what we weren't grasping through regular consumer insights.
I then traveled to South Africa with some cross-functional colleagues and we met with sociologists, academics and dermatologists; makeup artists and trend forecasters; and we spent a lot of time with our own employees both in the office and in the field. We compiled an action plan describing where we had opportunity for growth, what we could do in terms of new products and services and communication.  And we looked at where we could have synergies elsewhere in the world, and where we absolutely could not. For example, at that time, primers and concealers were very under-developed categories amongst Black South Africans, so recommendations we had for highlighting the benefits for U.S. women would not work there without a focus on educating the consumer.
Many culture dives followed, allowing us to gain deeper insights and an appreciation of the similarities and differences amongst our consumers. For example, our visits to Dubai and Saudi Arabia helped us understand the effects of desalinized water on hair care. Imagine my surprise when I discovered that Middle Eastern women were as obsessed with their hair as we black women are. Not quite, but close.
While supporting our multiethnic business in the UK, we studied British South Asian women — another demanding consumer group — which allowed us to reap benefits for women in other regions. For example, dark eye circles are their biggest pain point. Finding solutions for South Asian women's dark circles means everybody else wins. And by the way, a lot of South Asian makeup shades are really appropriate for Black Americans because we're such a diverse group and have some of those same undertones in our skin. In fact, my preferred foundation shade could be classified as a South Asian shade in a number of the foundations our brands offer.
An important skill these culture dives taught me was how important and difficult it is to neutralize my own bias, to look at something with fresh eyes. This has been particularly useful in my work in the markets when talking with and observing women. The dynamics of today's fast-paced beauty industry necessitate challenging assumptions and never assuming you understand what you think you do!
There is no cookie cutter in today's beauty market. We are finally seeing a genuine appreciation of diversity, with multi-layered opportunities for products and experiences. For instance, we used to consider market segmentation, be it ethnicity or be it behavioral, as static. But the reality is that cultural identity is incredibly dynamic. So, classifying somebody based on one cultural attribute is really old fashioned. People are on a continuum in their cultural identity and behavior. You're in one mind when popping into a store on a weekday at lunch, versus on the weekend, or when you're traveling on vacation.
"There is no cookie cutter in today's beauty market."
Keeping up with societal changes is challenging and invigorating. There are at least two developments on the horizon at our company that excite me about our continuing commitment to multicultural beauty and innovation. They include pilot programs that leverage the passion and experience of our diverse employee resource groups, and plans to conduct culture dives right here in the U.S., where our cities are rich in cultural diversity and complexity.
Next, I am eager to explore the factors that influence multiethnic beauty consumers in hyper-competitive markets like Los Angeles, Dallas or Miami. Bringing a fresh pair of eyes to these somewhat familiar places may prove to be one of my toughest assignments yet. But the learnings and rewards are likely to be priceless.
Susan Akkad is Senior Vice President, Local and Cultural Innovation for The Estée Lauder Companies, working across brands and geographies to develop and expand product and commercial innovation that increases relevancy with global multiethnic and emerging market consumers. Previously, she held senior positions with Clinique, Origins and M·A·C. Susan is a frequent speaker on the subject of cultural marketing, relevancy and innovation at industry events, universities and business schools. She has been profiled in Vogue, Essence and Jones, and has been recognized with honors including: Ebony's "Power 100" (2010 and 2017); Black Enterprise Magazine's Top Women Executives in Advertising & Marketing (2013); WWD BeautyInc's 50 Most Influential in the Multicultural Beauty Market (2015). Susan holds an undergraduate degree in Near Eastern Languages and Civilizations from Harvard University. She is executive co-sponsor of the Company's employee resource group NOBLE (Network of Black Leaders & Executives), serves on the Advisory Board of the Black Retail Action Group and on the Board of Trustees of the East Hampton Library. She lives between Manhattan and East Hampton with her husband and their two dogs.
( Press Release Image: https://photos.webwire.com/prmedia/7/219744/219744-1.jpg )
Related Links
WebWireID219744

This news content was configured by WebWire editorial staff. Linking is permitted.
News Release Distribution and Press Release Distribution Services Provided by WebWire.