NTT Group Showcasing B2B2X Cases at Mobile World Congress 2018
"Innovating for the Digital World"
WEBWIRE
–
Wednesday, January 31, 2018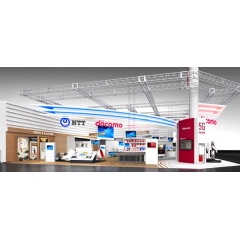 The NTT Group (Nippon Telegraph and Telephone Corporation and its subsidiaries and affiliated companies) will be exhibiting at Mobile World Congress 2018, to be held in Barcelona, Spain for four days from Monday, February 26 to Thursday, March 1, 2018. It is the first time to exhibit the event for NTT Group as a whole.
In the NTT Group area, exhibits themed "Innovating for the Digital World" will introduce the new value brought to each industry field through collaboration with a wide range of partners by presenting representative and forward-looking examples of the B2B2X business model* which the Group is deploying globally, making use of such technologies as AI, IoT, and 5G.
*Initiatives by the NTT Group (left B) serving as a catalyst to help service providers (middle B) to provide diverse services to end users (X) through such means as smartphones and network-connected sensors. (Attachment)
Description of major exhibits
1)5G (NTT DOCOMO)
Shows off the 5G advantages of low latency, high data rates/high capacity, and massive connection density in a live demonstration of a robot performing calligraphy, through exhibits including an AR-based tabletop arena, a vehicle-type connected device, and a connected construction site, as well as through technology exhibits such as a real-time 5G radio wave visualizer.
2)Sport & Culture
Smart Stadium (NTT, NTT DOCOMO, everis)
Introduces safe and secure access control in a stadium VIP room using facial recognition, content distribution matched to the individual's preferences using voice recognition, and other near-future customer experiences.
Initiatives in car racing and bicycle road racing (NTT, NTT Communications, Dimension Data)
Shows how race venue weather information and big data obtained from sensors on race vehicles are collected and analyzed to give racing teams a competitive edge, and how fan engagement is enhanced by processing data to provide new viewing experiences.
Archiving of historical legacies (NTT DATA)
Introduces initiatives helping to pass along the legacy of human history, including digital archiving of the manuscripts housed in the Vatican Library, one of the world's oldest libraries.
3)Mobility & Logistics
Ship navigation control (NTT)
Shows how various ship data is collected and analyzed using edge computing and artificial intelligence (AI) to determine optimal navigation and to predict and prevent problems with ship equipment.
Navigation by 2.5D maps (NTT)
Introduces an example of navigation using 2.5D maps at an international airport that serves as a gateway to Japan for visitors from abroad.
4)Manufacturing
Smart factory (NTT)
Shows examples of smart factory technologies from edge computing to application distribution enabling human-robot collaboration, and of real-time fault detection for reducing downtime.
Worker safety management (NTT, NTT DATA, NTT Communications)
Shows how effective safety management is achieved using sensors worn by workers.
5)Agriculture
Smart agriculture, livestock, and fishery industries (NTT, NTT DOCOMO)
Shows how AI and sensing technologies are used to analyze the status of crop growth and support producers in increasing added value.
6)Life & Environment
Monitoring system to protect endangered species from poaching (Dimension Data)
Introduces a system that creates a safe habitat for endangered species by tracking and observing human movement in the habitat area, using a network enabled with leading-edge ICT infrastructure.
High-resolution 3D digital map AW3D (NTT DATA)
Shows how 3D relief mapping of all the land regions on earth by means of a digital elevation model (DEM) with 5-meter resolution is making possible global surveys and simulations in the environmental and city planning fields.
Further details will be provided on a dedicated website.
NTT Group Mobile World Congress website
http://www.ntt.co.jp/activity/mwc/en/index.html
( Press Release Image: https://photos.webwire.com/prmedia/6/219639/219639-1.jpg )
Related Links
WebWireID219639

This news content was configured by WebWire editorial staff. Linking is permitted.
News Release Distribution and Press Release Distribution Services Provided by WebWire.