Rabobank: Strong domestic focus in international vegetable market
WEBWIRE
–
Wednesday, January 24, 2018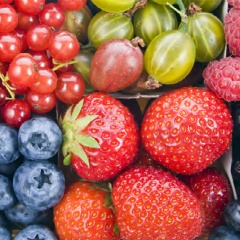 The global market for vegetables remains a predominantly local market even in 2018, with a largely domestic output and marked by local preferences. Rabobank's World Vegetable Map 2018 reveals the dominant trade flows in this market. It identifies international trends such as the emergence of greenhouse vegetable cultivation and 'vertical farming' initiatives, a growing shift towards organically grown vegetables, and the popularity of minimally processed vegetables.
'Only around 5% of all vegetables grown worldwide are exported, but this percentage is increasing. Sweet potatoes are an example of a vegetable whose popularity has risen sharply in recent years, and EU imports of this vegetable have tripled over a four-year period,' says Rabobank Research analyst Cindy van Rijswick. The Dutch economy has received a boost from the growing vegetable trade over the past decade, particularly in the EU market. The continued existence of a free-trade equilibrium is vital to the success of export-oriented vegetable-producing countries such as Mexico, Spain and the Netherlands.
Winning combination of fresh and convenient
An estimated 70% of all vegetables grown worldwide are sold as fresh, unprocessed products. 
The market for this fresh produce has ceased to grow in volume in both Europe and the US. Around 5-10% of all vegetables grown are processed, while a larger portion end up as waste or are used in the manufacture of animal feeds. The freezing or preservation of vegetables contributes significantly to preventing waste, but at the same time the popularity of canned and jarred vegetables worldwide is waning. This coincides with a growing popularity of processed (i.e. pre-cut, pre-washed and pre-packaged) salads. Rabobank expects the market share of products offering a combination of freshness and convenience to continue growing steadily in the coming years. Reports on the health benefits of specific types of vegetables, for example, have been known to boost their popularity and create a concomitant rise in demand. In some cases, these vegetables are elevated to the (albeit unofficial and often temporary) status of 'superfood', as we have seen with sweet potatoes in the EU, kale in the US, and broccoli worldwide.
Trade agreements crucial to vegetable trade
Within Europe, Spain and the Netherlands continue to take the lead when it comes to supplementing the supply of domestically grown vegetables. The Spanish and Dutch supplies of tomatoes, sweet peppers and cucumbers complement each other depending on the season as well as competing with each other, notably in the spring and autumn. The long-life onions grown in the Netherlands are exported across the world – from Africa to South East Asia – to supplement the local supply. 
Morocco is emerging as a major supplier of fresh vegetables to the European market. In the Americas, Mexico has quite remarkably emerged as a vegetable garden to North America, showing strong growth over the past decade. The Mexican vegetable sector therefore stands to gain from good trading relationships with the US and the continued existence of NAFTA, just as Morocco benefits from access to the EU and Russian markets, and the Netherlands from the internal EU market. The significant trade flows from Spain and the Netherlands to the United Kingdom clearly demonstrate the importance of a favourable Brexit deal to the vegetable industries in these countries.
Emerging vegetable-importing nations in Asia and the Middle East
Contrary to a decade ago, when vegetable imports were confined mainly to North America, Western Europe and Japan, we are seeing major new import markets emerging outside these markets, says Van Rijswick. 'India, China and the United Arab Emirates are a few examples of countries where vegetable imports have risen sharply in recent years. In addition to being massive producers of vegetables – combined, they account for two-thirds of all output worldwide – India and China are also becoming more dominant in vegetable imports and exports.' There has likewise been a spike in Russian trade, despite the boycott imposed in 2014 on imports of vegetables from the EU, US, Norway, Canada and Australia. Countries currently exporting large volumes of vegetables to Russia include Belarus, Morocco, China, Armenia and Azerbaijan.
Emergence of vertical farms
Besides cultivation in plastic and glass greenhouses, we are witnessing a global emergence of new initiatives such as 'urban farming' and 'vertical farming'. The latter involves cultivation under controlled conditions and without daylight, even though other systems of cultivation are also classified in this category. There is a growing interest in vertical farming worldwide, although the majority of initiatives are currently concentrated in the Northern Hemisphere, near large concentrations of consumers in North America, Western Europe and North East Asia. While vertical farming serves as a valuable addition to the predominant growing methods in specific areas and for specific crops, Rabobank does not expect it to take over from traditional and greenhouse vegetable cultivation.
Please find Rabobank's World Vegetable Map 2018 here.
( Press Release Image: https://photos.webwire.com/prmedia/6/219375/219375-1.jpg )
Related Links
WebWireID219375

This news content was configured by WebWire editorial staff. Linking is permitted.
News Release Distribution and Press Release Distribution Services Provided by WebWire.