easyJet sees fourfold increase in interest for pilot careers through career website
Airline sees spike in registrations for its Amy Johnson initiative
WEBWIRE
–
Tuesday, January 23, 2018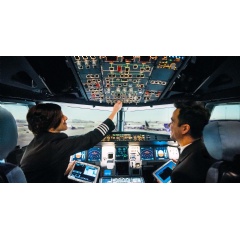 corporate responsibility
Following the airing of the two part ITV documentary, easyJet: Inside the Cockpit, easyJet, Europe's leading airline, has seen a significant increase in interest from budding pilots to its careers website.
Visits to its careers page at easyJet.com increased to over 28,500 across both episodes during the two hours in which they were broadcast compared to typical user figures of 7000 visits for a similar two hour period. The number of woman registering interest in its Amy Johnson initiative has also risen substantially. The last episode of the series was broadcast last night on ITV 1.
easyJet's Amy Johnson Flying Initiative aims to tackle an industry wide stereotype - by 2020, 20% of its entrant cadets will be female having already doubled it over the last two years.
easyJet currently employs over 3000 pilots and earlier this year, in its largest pilot recruitment drive, easyJet opened a campaign called "For the love of Flying" to attract up to 450 new pilots.
Brian Tyrell, easyJet's Head of Flight operations said:
"I am delighted to see so many people were inspired by the show resulting in record visits to our careers pages and an increased number of actual applications.
"We were approached by ITN to make a programme about the recruitment and training of our pilots and were keen to showcase the process involved and I hope viewers now have a greater understanding of how stringent and demanding our training is as well as the sacrifices and dedication needed in pursuing what is, for most, a dream career.
"The show gave us a unique opportunity to not only show the professionalism of our pilots and operation but also with a heavy emphasis on the work we are doing to increase the number of female pilots, it showcased how we are leading the industry with our female pilot initiatives.
 easyJet's Amy Johnson initiative
Only 3% of commercial airline pilots worldwide are female and only 450 of them have achieved the rank of captain* – which means every female captain could fit onto an A380 aircraft.  In the year ending September 2015, women made up 6% of easyJet's new pilot intake and 5% of its total pilot community.  
In October 2015 easyJet launched its Amy Johnson Flying Initiative with the aim of doubling the number of female new entrant pilots to 12% over two years.  The initiative was really successful with over 600 applicants and so easyJet was able to achieve the 12% target in year one - recruiting 33 female new entrant pilots.  These women have either started to fly with easyJet or are assigned to courses due to start in the coming weeks. 
Encouraged by this success, easyJet has now set itself a more stretching target of ensuring that 20% of new entrant cadet pilots recruited by easyJet in 2020 are female.  Based on current recruitment plans this would mean that easyJet would be recruiting around 50 female pilots a year which will really start to change the face of the industry. This is a long term strategy, which is hoped will eventually lead to easyJet recruiting, retaining and developing many more female pilots.
For further information, please contact the easyJet Press Office on 01582 525252, log onto www.easyjet.com or follow @easyJet_Press
About easyJet:
easyJet is Europe's leading airline offering a unique and winning combination of the best route network connecting Europe's primary airports, with great value fares and friendly service.
easyJet flies on more of Europe's most popular routes than any other airline. easyJet carries over 78 million passengers annually, of which more than 12 million are travelling on business. easyJet flies over 270 aircraft on more than 880 routes to over 140 airports across 31 countries. More than 300 million Europeans live within one hour's drive of an easyJet airport.
easyJet aims to be a good corporate citizen, employing people on local contracts in seven countries across Europe in full compliance with national laws and recognising their trade unions. The airline supports a number of local charities and also has a corporate partnership with UNICEF which has raised over £9m for the most vulnerable children since it was established in 2012.
The airline takes sustainability seriously. easyJet invests in the latest technology, operates efficiently and fills most of its seats. Since 2000 easyJet has reduced its carbon emissions per passenger, per kilometre by over 30%. It's latest target is a further 10% reduction from today's performance by 2022 and a 38% improvement from 2000.
Innovation is in easyJet's DNA – from our launch almost 20 years ago when we changed the way people fly to the present day where we lead the industry in digital, web, engineering and operational innovations to make travel more easy and affordable for our passengers.
About L3
L3 Commercial Training Solutions (L3 CTS) is a world leader in providing intelligent total training solutions for pilots and maintainers across a wide range of commercial platforms. L3 CTS provides a full spectrum of state-of-the-art training solutions, including cadet pilot training, airline training, aircrew resourcing, training centers and high-fidelity simulation products. The company is headquartered in Crawley, U.K., and delivers training, resourcing and systems production from global centers in Southampton, Bournemouth and Coventry in the U.K.; Minnesota, Florida and Arizona in the U.S.A.; Hamilton, New Zealand; and Bangkok, Thailand. L3 CTS is part of L3 Technologies' Electronic Systems business segment. To learn more about L3 CTS, please visit the company's websites at www.L3CTS.com and www.L3AirlineAcademy.com.
( Press Release Image: https://photos.webwire.com/prmedia/7/219305/219305-1.jpg )
Related Links
WebWireID219305

This news content was configured by WebWire editorial staff. Linking is permitted.
News Release Distribution and Press Release Distribution Services Provided by WebWire.