GE Signs over $330M in Deals with Macquarie Capital - Techint Consortium to Provide Total Plant Services Solution for the Norte III Power Plant in Mexico
GE's 25-Year MYA Agreements to Provide Total Plant Solution for Norte III Combined-Cycle Power Plant

Deal Ensures Norte III Facility Will Improve Operations to Help Meet Mexico's Future Energy Demands Outlined in PRODESEN

Order Highlights Success of GE's Total Plant Solutions Capabilities, Helping Macquarie - Techint Consortium Achieve Productive Outcomes for its Operational and Business Goals

Performance Guarantees Made Possible by GE's Predix*-based Power Digital Solutions
BADEN, SWITZERLAND –
WEBWIRE
–
Thursday, January 18, 2018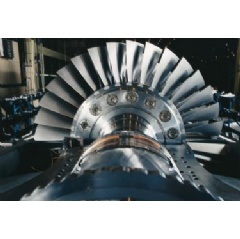 Aligning with Mexico's Ministry of Energy's National Electric System Development Program (PRODESEN) 2017-2030 plan, GE's Power Services business (NYSE: GE) signed long-term agreements with a consortium formed by Macquarie Capital and Techint valued at approximately over $330M. The Multi-Year Agreements (MYA), include two fully integrated contracts, including an Operation and Maintenance (O&M) agreement and a Contractual Service Agreement (CSA), these together will provide 25 years of total plant services solutions for the 907 megawatts (MW) Norte III power plant, located in the municipality of Ciudad Juárez, in the state of Chihuahua, Mexico. Overall transaction has been recognized with the prestigious "2017 LatAm Power Deal of the Year" award by Thomson Reuters' Project Finance International.
At the start of 2015, Mexico's Federal Electricity Commission (CFE) commissioned the development of a combined-cycle power plant just south of Ciudad Juarez in the State of Chihuahua, Mexico, to help meet the growing need for electricity in the region. The Chihuahua region is identified in the PRODESEN 2017-2030—the 15-year infrastructure development program for Mexico's national electric system–as a "deficient node," given its expected growth in the next decade.
During its peak construction period, Norte III will employ approximately 2,000 workers and is expected to provide electricity to more than 500,000 houses in Mexico once completed. During commercial operation Norte III will provide for highly specialized on-going jobs including power plant staffing and additional maintenance staff during outages for 25 years.
"Macquarie continues to look for opportunities to leverage its global expertise in infrastructure, energy and project financing to address highly complex situations and develop creative solutions that work for all stakeholders, and such was the case in Norte III" said Rob Kupchak, Americas Head of Infrastructure and Energy for Macquarie Capital. "GE was chosen to accompany us in this important Project because of its reliable technology and full-service solution."
Under the terms of the 25-year agreement, GE will utilize its Fleet360* platform of total plant solutions for the Norte III plant which operates on four of GE's 7F.04 gas turbines as well as two Toshiba steam turbines. The platform also provides a full spectrum of digital solutions and plant improvement services, regardless of which original equipment manufacturers (OEM) generation equipment they have installed.
"Our total power plant services solution provides greatly improved risk mitigation while offering capacity and efficiency guarantees tailored to meet Macquarie - Techint Consortium's needs" said Terrence Schoenborn, General Manager of GE Power Services' Global Operation & Maintenance (O&M) business. "At GE, we're committed to our customers and their outcomes. We're sharing both the benefits and risks with Macquarie by guaranteeing the performance of the facility and sharing the impact of any unplanned maintenance."
As part of the solution, GE's Predix-based Asset Performance Management (APM) and Operations Optimization (OO) software applications will be deployed to apply  advanced data analytics to predict and eliminate unplanned downtime, and improve power plant productivity.  GE's software which is built on Predix, and was purpose-built to meet the scale, complexity, speed and security requirements of the industry, will provide direct support to the GE O&M team in achieving the guaranteed capacity outcome.
"With O&M agreements like this that can be coordinated or combined with a CSA, we can prevent conflicts or gaps in scope and operate and maintain the power plant for our customers, taking the burden off their shoulders" continued Terrence Schoenborn. "With our services, cross-fleet experience and digital capabilities, we can help companies like Macquarie maximize the potential of their overall plant operations, ultimately helping them meet growing energy demands and ever-evolving challenges."
GE began its operations in Mexico in 1896. Mexico has the third largest 7F and 7H install base in the world. GE's 16,000-square-meter Morelia Service Center, located in Morelia, Michoacán, Mexico, provides maintenance, testing and repair solutions for the Latin American region and will help ensure Macquarie gets the best and quickest possible repairs.
About GE
GE (NYSE: GE) is the world's Digital Industrial Company, transforming industry with software-defined machines and solutions that are connected, responsive and predictive. GE is organized around a global exchange of knowledge, the "GE Store," through which each business shares and accesses the same technology, markets, structure and intellect. Each invention further fuels innovation and application across our industrial sectors. With people, services, technology and scale, GE delivers better outcomes for Customers by speaking the language of industry. www.ge.com
About GE Power
GE Power is a world leader in power generation with deep domain expertise to help Customers deliver electricity from a wide spectrum of fuel sources. We are transforming the electricity industry with the digital power plant, the world's largest and most efficient gas turbine, full balance of plant, upgrade and service solutions as well as our data-leveraging software. Our innovative technologies and digital offerings help make power more affordable, reliable, accessible and sustainable.
For more information, visit the company's website at www.gepower.com. Follow GE Power on Twitter @GE_Power and on LinkedIn at GE Power.
About GE's Power Services
GE's Power Services, headquartered in Baden, Switzerland, delivers world-class solutions for our Customers across total plant assets and their operational lifetimes. This organization supports 2,800+ Customers worldwide with an installed base of 28,000+ power generation assets, which includes other OEMs, and taps into the Industrial Internet to improve the performance of our solutions over the entire life cycle through the power of software and big data analytics.
( Press Release Image: https://photos.webwire.com/prmedia/6/219140/219140-1.jpg )
Related Links
WebWireID219140

This news content was configured by WebWire editorial staff. Linking is permitted.
News Release Distribution and Press Release Distribution Services Provided by WebWire.