Alstom's orders and sales for the first nine months of 2017/18
WEBWIRE
–
Wednesday, January 17, 2018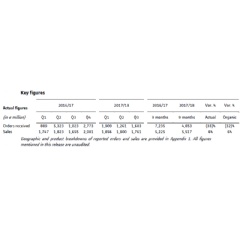 Orders intake of €4.9 billion
Sales at €5.5 billion, up 6%
2020 objectives confirmed
Over the third quarter 2017/18 (from 1 October to 31 December 2017), Alstom booked €1.7 billion of orders, compared to €1.0 billion over the same period last year. The Group's sales increased to €1.8 billion, up 6% (8% organically) compared to €1.7 billion over the third quarter 2016/17.
For the first nine months of 2017/18 (from 1 April to 31 December 2017), Alstom's order intake reached €4.9 billion. The Group's sales amounted to €5.5 billion, up 6% (6% organically) compared to the first nine months of 2016/17. 
At €32.8 billion on 31 December 2017, current backlog provides strong visibility on future sales.
"Alstom achieved a good commercial performance this quarter. Furthermore, sales growth over the first nine months was in line with our 2020 objectives that are confirmed. In the meantime, we continue to progress on the Siemens Alstom deal. The signature of the Business Combination Agreement is expected in the coming period and the Alstom shareholders' meeting for approval of the transaction should be held in July 2018." said Henri Poupart-Lafarge, Alstom Chairman and Chief Executive Officer.
Detailed review
During the third quarter of 2017/18, Alstom recorded €1,683 million of orders including notably the booking of the last 100 trains of PRASA project in South Africa, Pendolino trains with associated maintenance for NTV in Italy and regional trains in France. 
Sales reached €1,761 million in the third quarter 2017/18, mainly fuelled by progress of the Riyadh metro system project in Saudi Arabia, deliveries of high-speed and regional trains in France, as well as maintenance contract execution in the United Kingdom.
Main events of the third quarter 2017/18
In April 2017, Alstom launched several smart mobility technologies to address the evolving needs of both operators and passengers, such as Mastria, the first multimodal supervision solution. Alstom and Airbus also signed a strategic cooperation agreement in the field of cybersecurity.
In June 2017, Alstom obtained ISO 37001 certification for its anti-bribery management system, confirming its commitment to fight corruption.In December 2017, Alstom signed an agreement with the Kazakh national railway company (KTZ) to acquire their 25% stake in the EKZ Joint Venture (JV). After approval by the relevant authorities, Alstom will increase its shareholding to 75%, the remaining 25% being owned by TMH.
Alstom also announced that the three year period of self-reporting obligations that the Group agreed to as part of the Plea Agreement of 22 December 2014 has come to a successful completion. This achievement is the result of the company's efforts during the period and a close cooperation with the US Department of Justice. The company remains committed to the highest level of integrity in its activities and will continue the development of its compliance program.
Governance
Olivier Bourges has presented his resignation from his mandate as Director at Alstom. As a consequence, the Board of Directors of Alstom is now comprised of 12 Directors of which 6 women (50%) and 7 independent Directors (58%).
Creation of a global leader in Mobility
On 26 September 2017, Siemens and Alstom signed a Memorandum of Understanding to combine Siemens' mobility business including its rail traction drives business with Alstom. The transaction brings together two innovative players of the railway market with unique customer value and operational potential. The two businesses are largely complementary in terms of activities and geographies. 
The Works Councils' information and consultation procedure is currently on-going and the Business Combination Agreement is expected to be signed in the first quarter of calendar year 2018. The Alstom shareholders' meeting for approval of the transaction, including for purposes of cancelling the double voting rights, is anticipated to be held in July 2018. 
The transaction is also subject to clearance from relevant regulatory authorities, including foreign investment clearance in France and anti-trust authorities, as well as the confirmation by the French capital market authority (AMF) that no mandatory takeover offer has to be launched by Siemens following completion of the contribution. Closing is expected at the end of calendar year 2018.
Siemens has initiated the carve-out process of its mobility business in order to prepare for its contribution to Alstom. Only once all relevant anti-trust approvals have been achieved and the transaction has closed, will Alstom be able to analyse the combined two businesses in much closer detail. Alstom may then assess the opportunity to provide forward looking statements as to certain financial or non-financial key indicators.
Objectives for 2020 confirmed
By 2020 sales should grow organically by 5% per year.
Adjusted EBIT margin should reach around 7% by 2020 driven by volume, portfolio mix and results of operational excellence actions.
By 2020, Alstom expects c. 100% conversion from net income into free cash flow.
This press release contains forward-looking statements which are based on current plans and forecasts of Alstom's management. Such forward-looking statements are relevant to the current scope of activity and are by their nature subject to a number of important risks and uncertainty factors (such as those described in the documents filed by Alstom with the French AMF) that could cause actual results to differ from the plans, objectives and expectations expressed in such forward-looking statements. These such forward-looking statements speak only as of the date on which they are made, and Alstom undertakes no obligation to update or revise any of them, whether as a result of new information, future events or otherwise.
( Press Release Image: https://photos.webwire.com/prmedia/7/219051/219051-1.jpg )
Related Links
WebWireID219051

This news content was configured by WebWire editorial staff. Linking is permitted.
News Release Distribution and Press Release Distribution Services Provided by WebWire.