Toray and 3SBio Reach Exclusive Chinese License Agreement on Antipruritic Agent, TRK-820
WEBWIRE
–
Tuesday, January 16, 2018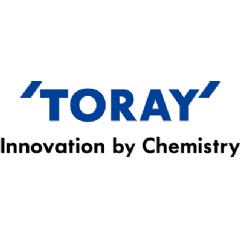 Toray Industries, Inc. (head office: Chuo-ku, Tokyo; President Akihiro Nikkaku; hereinafter referred to as "Toray") and 3SBio Inc. (head office: Shenyang; Chairman & CEO: Jing Lou: hereinafter referred to as "3SBio") announced that Toray and 3SBio's wholly-owned subsidiary, Hongkong Sansheng Medical Limited ("Hongkong Sansheng"), entered into an exclusive licensing agreement on certain oral disintegration tablet formulation of antipruritic drug TRK-820 (Toray development code; generic name: nalfurafine hydrochloride; also known as "REMITCH®" as approved in Japan) that is developed and manufactured by Toray (the "Product"). Pursuant to the Agreement, Toray agreed to grant Hongkong Sansheng the exclusive right to develop and commercialize the Product in the People's Republic of China (not including Hong Kong, Macau and Taiwan). Hongkong Sansheng agreed to pay initial payment and milestone payments to Toray.
About TRK-820
TRK-820 is a highly selectiveκ(kappa)-opioid receptor agonist developed by Toray. The soft capsule dosage-form of the TRK-820 has been sold as in Japan since 2009 to treat hemodialysis-related uremic pruritus (used only when sufficient efficacy is not obtained with the existing therapies or treatments). Additional indications of TRK-820, pruritus in chronic liver disease patients and pruritus in peritoneal dialysis patients were approved in Japan in 2015 and 2017, respectively. In addition, oral disintegration tablet was approved and launched in Japan in 2017. The oral disintegration tablet can be taken with or without water. Therefore it is convenient for patients whose swallowing capabilities have deteriorated or those who have restrictions on water intake, and is expected to lead to improved drug intake compliance.
About Pruritus in Dialysis Patients
Pruritus experienced by hemodialysis patients, though non-inflammatory, is generalized and severe. Also, histamine, a generally known substance for causing itching, is known to have less involvement with the itching, and therefore, conventional antipruritic agents including antihistamines cannot fully suppress this itching in many cases. According to the article entitled "Progress in the pathogenesis and treatment of uremic pruritus" in Chinese Journal of Kidney Disease Investigation(Electronic Edition)(2014 (3) :143-146), Uremic pruritus (UP) is the most common skin complication in patients with end-stage renal disease, which occurs in 15%~49% of pre dialysis patients, and 50%~90% of hemodialysis and peritoneal dialysis patients. From the results of Dialysis Outcomes and Practice Patterns Study (DOPPS), about 42% of dialysis patients were disturbed by moderate to severe cutaneous pruritus, which not only seriously affected the quality of life of patients, some patients even appeared anxiety, depression, and sleep disorders. Toray and 3SBio hope to make contributions to relieve the pruritus of dialysis patients in China through this alliance.
------
Toray Industries, Inc. was established in 1926 as a manufacturer of chemical fiber rayon. Subsequently, it developed various advanced materials such as synthetic fibers, resins, films, carbon fibers, high-performance water treatment membranes, pharmaceuticals and medical supplies and developed and further cultivates the markets. In April 2011, it drafted and implemented the long-term corporate vision AP-Growth TORAY 2020 as a unified policy of its corporate activities in pursuit of becoming "a corporate group that continually increases revenues and profits." As its third stage, in 2017, Toray embarked on the medium-term management program "Project AP-G2019" with focus on "expansion of businesses in growth business fields and regions." The Toray Group currently has operations in 26 countries and regions all over the world, including Japan. In addition, the life science field is part of the Intensively Developing and Expanding Businesses, which are the next-generation growth engine under "Project AP-G2019," and the Toray Group aims for further growth in the business field. Under the corporate philosophy of Contributing to society through the creation of new value with innovative ideas, technologies and products and corporate slogan of "Innovation by Chemistry," it is driven by the unwavering aspiration to become a global top company of advanced materials and take on the challenge of innovation (innovation and creation) in every corporate and business activity field.
3SBio is a fully-integrated biotechnology company in China with market-leading biopharmaceutical franchises in oncology, auto-immune diseases and nephrology. 3SBio has TPIAO, the only commercialized recombinant human thrombopoietin ("rhTPO") product in the world; Yisaipu, the first-to-market recombinant human tumor necrosis factor-α receptor II (TNFR) – IgG Fc fusion protein for the treatment of rheumatoid arthritis; and EPIAO and SEPO, recombinant human erythropoietin ("rhEPO") products. 3SBio has also licensed the China commercial rights to AstraZeneca's Byetta/Bydureon and Eli Lilly's Humulin. 3SBio is focused on building an innovative product pipeline, with over 16 National Class 1 candidates under development. 3SBio's manufacturing capabilities include recombinant proteins, monoclonal antibodies and chemically synthesized molecules, with production centers in Shenyang, Shanghai, Hangzhou, Shenzhen and Como, Italy. 3SBio is actively pursuing international expansion through acquisition, licensing and partnerships.
( Press Release Image: https://photos.webwire.com/prmedia/6/219000/219000-1.png )
Related Links
WebWireID219000

This news content was configured by WebWire editorial staff. Linking is permitted.
News Release Distribution and Press Release Distribution Services Provided by WebWire.