Troubleshooting made easier with augmented reality
Ericsson has taken the first steps towards smart manufacturing at its own production sites by using augmented reality for troubleshooting.
Tallinn –
WEBWIRE
–
Monday, January 15, 2018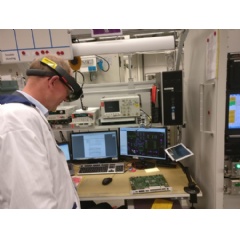 A team of researchers and engineers at the Ericsson factory in Tallinn, Estonia, have made troubleshooting electronic boards easier with the use of augmented reality.

Augmented reality troubleshooting, or ART as it is referred to by the team, is a tool designed to facilitate quick and easy learning as well as information sharing in the repair and maintenance area. Its main purpose is simple – to remove the need for Word documents with instructions due to the high workload required to create, edit and update those documents and train technicians.

With ART, performing a visual inspection of the electronic board and testing or repairing components becomes faster as it gives the troubleshooter a "hands-free" experience and removes the need to switch focus between the document and the circuit board.

Tests conducted by the team at the Tallinn site showed how much time it would take troubleshooters to perform certain activities at detailed levels.

 Take a deep dive into Ericsson's 5G manufacturing

Mihkel Tedremaa, Product Technology Manager, says: "We found out that while working on a faulty unit, roughly half of a technician's time goes to non-value add activities such as finding and linking schematics with layout files, fault info and troubleshooting instructions."

By using an augmented reality solution and an Android tablet or HoloLens, the troubleshooter can find the fault more quickly thanks to the extra layer of digital information that is added to the real-world image. This frees up time for solving the issue and sharing the data faster between production sites.

"If, for example, our engineers solve a very tricky issue this information could immediately reach our sites in China," Tedremaa says.

"The just-in-time fault-finding data, combined with better ergonomics and faster information sharing, can boost productivity by 50 percent," he adds.

So far, ART is being implemented in 2 out of 8 workplaces in Tallinn. But plans are already underway to expand its use to other Ericsson sites such as the one in Nanjing, China. Fault data and troubleshooting instructions are also being added to the system so the solution can be applied to other products.

While ART is not in full usage yet, the Tallinn team can already see its benefits especially in teaching new engineers about the products. "Augmented reality troubleshooting is an incredibly simple solution for understanding functional parts of products and to share information between teams and sites," Tedremaa says.

Culture of innovation and collaboration

Erik Simonsson, Head of PIM RBS, Ericsson, describes ART as a "big showcase" that emerged in response to constant pressure on price and demands to boost productivity. The biggest challenge, he says, is how the manufacturing industry can use new technologies. Ericsson is tackling this challenge through innovation. The Tallinn team runs regular hackathons to inspire engineers to come up with completely new solutions.

Cross-industry collaborations are also key to unlocking the potential of new technologies. The 5G Enabled Manufacturing (5GEM) project with SKF and Chalmers University of Technology, for instance, explores the digitalization of a production line and machine-learning techniques.

These endeavors are geared towards digitally transforming production facilities into smart factories powered by sensors, cloud computing platforms, and advanced analytics and tools.

The promise of 5G-enabled manufacturing

The onset of 5G is expected to accelerate the digitalization process that starts with connecting previously isolated equipment and systems to gather data and insights. As networks start evolving to 5G, more industrial use cases will come to light.

One of the use cases being explored is AR-assisted factory maintenance. Here, 5G will provide the low latency required for sustained augmented image quality. The next-generation mobile technology will also offer high bandwidth for high-resolution image quality and connection density to guarantee that entire sites can stay connected without disruptions.

"With 5G we can connect more things to each other and to humans," Tedremaa says, adding that increased connectivity will narrow the time gap between data-gathering and decision-making. The expected results: reduced downtime, increased output, greater safety, and in the longer term, a more sustainable manufacturing process.

Listen to a podcast discussion about the next industrial revolution

As Simonsson puts it: "The wider impact here is that we're part of driving a sustainable society. Through more optimized production we're reducing our carbon footprint, and much of that is already happening today."

Related links

( Press Release Image: https://photos.webwire.com/prmedia/7/218913/218913-1.jpg )
Related Links
WebWireID218913

This news content was configured by WebWire editorial staff. Linking is permitted.
News Release Distribution and Press Release Distribution Services Provided by WebWire.