A booming automotive market: Bosch opens first smart factory in Thailand
Expansion of the company's manufacturing expertise in Southeast Asia
Rayong, Thailand –
WEBWIRE
–
Thursday, December 7, 2017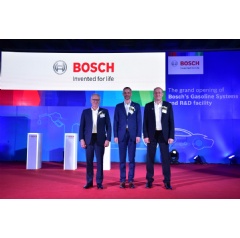 80 million euros invested in a second Bosch Mobility Solutions plant in Thailand
60 million euros to be spent on expanding pushbelt manufacturing in Vietnam
Peter Tyroller, the member of the Bosch board of management responsible for Asia Pacific: "We continue to focus on sustainable growth in Southeast Asia"
Thailand and Vietnam driving growth for Bosch in Southeast Asia
Thailand's automotive market is booming: in 2016, nearly two million cars were manufactured there, significantly more than in the U.K. or Italy. Bosch is responding to this rising demand. Following a one-and-a-half-year construction phase, the company is opening a new plant for injection technology in Hemaraj, 130 kilometers east of Thailand's capital Bangkok. It is the first smart factory in Thailand, and the second Bosch Mobility Solutions plant there. Prior to the opening ceremony, Peter Tyroller, the member of the Bosch board of management responsible for Asia Pacific, said: "Localization is a top priority at Bosch. The new plant will enable us to respond to growing automobile production in Thailand and to serve international as well as local automotive customers on the spot." The supplier of technology and services is focusing heavily on connected manufacturing at the new factory. Between 2015 and the end of 2017, Bosch will have invested some 80 million euros in total in the new smart factory in Thailand.
Bosch Industry 4.0 and R&D activities debut in Thailand
In a facility covering 10,000 square meters, injection valves, connection technology, knock sensors, and other components roll off the production line. Using an "active cockpit," manufacturing associates analyze the latest production data. This Industry 4.0 solution brings together a wide range of information in real time and helps increase competitiveness. The new location in Hemaraj also includes a research and development center, where some 60 associates work on the further development of gasoline injection systems. "It is our first R&D center in the country, and we are especially proud of this," Tyroller says. He adds that the country of 68 million inhabitants is a gateway to Southeast Asia as a business location, which underscores Thailand's strategic importance for the Bosch Group in Southeast Asia and worldwide. By 2020, it is planned to create 800 new jobs in total in Hemaraj – 300 associates are already employed there. Bosch's total workforce in Thailand currently stands at 1,350 associates.
Expansion of manufacturing in Vietnam
In the year ahead, Bosch plans to expand its manufacturing activities in Vietnam as well. Since 2008, Bosch has been manufacturing pushbelts for continuously variable transmissions in Dong Nai, 40 km east of Ho Chi Minh City. Such transmissions work without any fixed shifting points, ensuring a smooth ride. Demand in Asian cities is rising more and more, as this kind of transmission is suited to stop-and-go traffic. Its compact design also means that it fits into small urban vehicles. "We are investing some 60 million euros to convert the Dong Nai plant into a smart factory and increase capacity," Tyroller said at the ceremony to mark the tenth anniversary of the Bosch location in Vietnam. This will bring the total invested in the manufacturing site in Vietnam from 2011 to the end of 2018 to more than 320 million euros.
Over the past ten years, Bosch has experienced strong growth in Vietnam. Although present in Vietnam since 1994, the company did not open its first branch operation in Ho Chi Minh City until early 2008. In 2010, it became the site of the company's first software development center in Southeast Asia. In July 2014, an additional automotive engineering center followed. The plant in Dong Nai manufactured its 20 millionth pushbelt in March of this year. The location also includes a vocational training center for technical trades, modeled on Germany's dual education system. Bosch is the largest German investor in the country in the fields of technology, manufacturing, and R&D. The company employs more than 3,100 associates in Vietnam, more than 40 percent of whom are researchers and engineers.
Thailand and Vietnam driving growth in Southeast Asia
"Southeast Asia is prospering. We continue to focus on sustainable growth in the region," Peter Tyroller says. To support growth, Bosch is investing 120 million euros in Southeast Asia in the current year, a year-on-year increase of 50 percent. Investments on a similar scale are planned for 2018, and a large portion will go to Thailand and Vietnam. Business in the two countries is doing particularly well. "Thailand and Vietnam are key forces driving Bosch's favorable development in Southeast Asia" (sales in 2016: 305 million euros in Thailand; 86 million euros in Vietnam; 770 million euros in Southeast Asia).
Bosch in Southeast Asia
Bosch has been operating in Southeast Asia since 1919. Today, it employs approximately 7,400 associates in ten ASEAN member states: Singapore, Malaysia, Philippines, Indonesia, Thailand, Vietnam, Brunei, Cambodia, Laos, and Myanmar. In the years ahead, the workforce is set to grow further. The company has had manufacturing operations in the region for more than 20 years, with eight manufacturing sites in total. In Malaysia, for example, Bosch produces power tools, car multimedia products, and steering systems, while in Thailand, the company manufactures packaging machinery and gasoline injection systems. Southeast Asia's importance within the Bosch Group's global R&D network also continues to grow. In Singapore, Vietnam, Thailand, and Malaysia, the company has been focusing on local R&D activities for a number of years.
------
Mobility Solutions is the largest Bosch Group business sector. In 2016, its sales came to 43.9 billion euros, or 60 percent of total group sales. This makes the Bosch Group one of the leading automotive suppliers. The Mobility Solutions business sector combines the group's expertise in three mobility domains – automation, electrification, and connectivity – and offers its customers integrated mobility solutions. Its main areas of activity are injection technology and powertrain peripherals for internal-combustion engines, diverse solutions for powertrain electrification, vehicle safety systems, driver-assistance and automated functions, technology for user-friendly infotainment as well as vehicle-to-vehicle and vehicle-to-infrastructure communication, repair-shop concepts, and technology and services for the automotive aftermarket. Bosch is synonymous with important automotive innovations, such as electronic engine management, the ESP anti-skid system, and common-rail diesel technology.
The Bosch Group is a leading global supplier of technology and services. It employs roughly 390,000 associates worldwide (as of December 31, 2016). The company generated sales of 73.1 billion euros in 2016. Its operations are divided into four business sectors: Mobility Solutions, Industrial Technology, Consumer Goods, and Energy and Building Technology. As a leading IoT company, Bosch offers innovative solutions for smart homes, smart cities, connected mobility, and connected manufacturing. It uses its expertise in sensor technology, software, and services, as well as its own IoT cloud, to offer its customers connected, cross-domain solutions from a single source. The Bosch Group's strategic objective is to deliver innovations for a connected life. Bosch improves quality of life worldwide with products and services that are innovative and spark enthusiasm. In short, Bosch creates technology that is "Invented for life." The Bosch Group comprises Robert Bosch GmbH and its roughly 440 subsidiaries and regional companies in some 60 countries. Including sales and service partners, Bosch's global manufacturing and sales network covers nearly every country in the world. The basis for the company's future growth is its innovative strength. At 120 locations across the globe, Bosch employs some 59,000 associates in research and development.
Additional information is available online at www.bosch.com, iot.bosch.com, www.bosch-press.com, www.twitter.com/BoschPresse.
( Press Release Image: https://photos.webwire.com/prmedia/6/217572/217572-1.jpg )
Related Links
WebWireID217572

This news content was configured by WebWire editorial staff. Linking is permitted.
News Release Distribution and Press Release Distribution Services Provided by WebWire.