This is Forward: Why it's time to take action on sustainability
WEBWIRE
–
Tuesday, December 5, 2017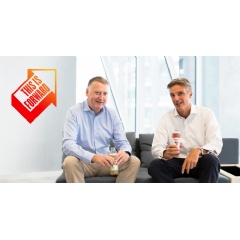 The Coca-Cola Company in Western Europe and Coca-Cola European Partners (CCEP) recently launched This is Forward, our ambitious new joint action plan for sustainability. With a shared commitment from the leaders of our two organisations, Tim Brett, President of Coca-Cola Western Europe and Damian Gammell, CEO of CCEP, explain why they believe now is the time to act.
Q&A with Tim Brett and Damian Gammell
Q: What is 'This is Forward'?
Tim: This is Forward is our Sustainability Action Plan that sets out a clear direction of how we intend to work together, using the strength of our businesses and our brands to build a better future.
There are 21 goals in our plan, with each one identified and developed in the context of the global challenges that face our communities, our society and our business today. They set out our role in supporting the UN Sustainable Development Goals, which provide a roadmap for the whole world, not just our industry, to follow.
We have been listening and talking to our stakeholders, and are making ambitious commitments on the issues that matter to us all, such as health and nutrition, packaging and recycling, economic development, water scarcity and climate change.
Damian: Our Sustainability Action Plan is the result of extensive consultation with more than 100 of our key stakeholders – including governments, NGOs, customers, suppliers – as well as 12,000 consumers across six countries and over 1,000 of our employees. This is Forward is our commitment to delivering the change they want to see. We asked them what they expect of us, and the role they expect us to play, and we're acting on this feedback.  These actions will ensure we have a positive impact wherever we sell our drinks.
Q: Why now?
Damian: This is Forward has been developed at a critical time. Our stakeholders have told us that they expect bold commitments that clearly define the role we can play to address some of the biggest issues in society, and that drive sustainability across our whole value chain.  We are seeking to tackle complex problems, and this requires collaboration with a wide range of partners in everything that we do.
We have never been in a stronger position to do so than following the creation of Coca-Cola European Partners in 2016.  We have 24,000 employees across 14 countries, working closely with our customers and network of 20,000 suppliers.  Around 300 million people enjoy our drinks in Western Europe every year, and we are working hard with our partners to make and sell our brands in a responsible and sustainable way. 
Tim: As we evolve to a more consumer-centric model, adapting our drinks to changing tastes and lifestyles, we must also be conscious of the role our business plays in people's daily lives and use our position as industry leaders to act, and create a positive difference. This is Forward places sustainability – in the broadest sense – at the very heart of our business strategy, and sets out how we intend to grow our business in a responsible way. We are determined to create an environment where people take pride in working for us, and where we earn trust from our customers, consumers and stakeholders.
Q: Specifically, what priorities does This is Forward focus on?
Tim:  We have set three priority actions on drinks, packaging and society. These are underpinned by three supporting actions that are core to our business operations: climate, water and supply chain.
First, we know people are worried about health and obesity, so we are taking action by offering consumers a greater choice of drinks with low or no sugar, whether it's the products they already know and love or products that are new to our portfolio. We are exploring and bringing to market new sugar alternatives that keep the great tastes of our drinks but with less sugar and fewer calories. In becoming a total beverage company, we want to make it easier for consumers to understand the choices that are available to them.
By 2025 in Western Europe, 50% of our sales will come from low or no calorie drinks, as we evolve our recipes and portfolio to offer a greater choice of drinks.
Damian: The next action area focuses on packaging and recycling. Our packaging is a valuable resource, and one that plays an essential role in maintaining the quality and safety of our drinks. To make sure that none of this resource ends up as litter or in the oceans, we will lead the way in sustainable packaging, including the use of recycled and renewable materials, and smart new ways to reduce waste.
We are going to make sure that 100% of our packaging is recyclable or reusable across our entire portfolio, not just our bottles and cans, and working with local and national partners we will aim to collect 100% of our packaging by 2025.
We are also going to increase the use of recycled plastic (rPET) for our PET bottles to at least 50% across Western Europe. This bold commitment will see us doubling our current rPET usage. In the past, we have selectively used bottles made of 100% rPET; however, our strategy is focussed on using recycled PET across all of our plastic bottles, rather than just for selected products, as we believe that this will have the greatest impact.
We will do this by continuing to support PET collection and reprocessing infrastructure across our markets to ensure reliable supplies of high quality rPET for our bottles. For example, we've invested in plastics reprocessing at Infineo Recycling, our joint-venture in France with Plastipak, which can process up to 1.5 billion PET bottles a year. In Great Britain, we have invested to establish Europe's largest and most sophisticated bottle reprocessing plant in Lincolnshire, which is also now run by Plastipak.
Tim: Our third action is Society. We know that a business of our size and scale can make a difference to the communities in which we operate, and society as whole. We are committed to being a force for good by actively working to promote inclusion and economic development across our business and our communities.
We will foster a diverse and inclusive culture in our business, we will expand the contribution we make to society by increasing employee volunteering and supporting our local communities and we will support initiatives that help young people to succeed.
Q: Are you confident that this plan will help you to achieve your goals?
Damian:Yes. While ambitious, our action plan builds upon 10 years of focused work on sustainability across Western Europe. We know there is still considerable work to be done and we believe this new plan allows us to take a meaningful step forward in meeting the expectations of our stakeholders in future. The plan establishes how we hold ourselves accountable to each other and the outside world, and how we create an environment where people want to work and believe in what we are doing.  It is core to how we operate across Western Europe, so there's no room for complacency.
Tim: This is Forward sets out stretching goals and maps a clear direction of how we intend to use our business and our brands to build a better future. Together with our partner, CCEP, we have the power to act and create a positive difference, set new standards and lead the way. Whether it's offering consumers a greater choice of drinks, or drinks with reduced or no sugar, or keeping our packaging out of the oceans, This is Forward defines our attitude to doing better. We are not going to settle for the way things used to be done. There is no going back.
The Coca-Cola Company in Western Europe and Coca-Cola European Partners will report on progress towards these goals in Spring 2018.
For more information about This is Forward, and to read the full plan please visit: https://www.ccep.com/pages/thisisforward
( Press Release Image: https://photos.webwire.com/prmedia/6/217435/217435-1.png )
Related Links
WebWireID217435

This news content was configured by WebWire editorial staff. Linking is permitted.
News Release Distribution and Press Release Distribution Services Provided by WebWire.