VIA Rail Reports Double Digit Growth in Q3 2017
• Ridership up 11.7%

• Revenues up 13.9%
Montréal –
WEBWIRE
–
Friday, December 1, 2017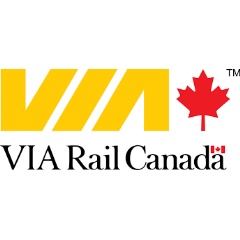 VIA Rail Canada (VIA Rail) published its third quarter results of 2017 today and reported on another successful quarter. As the positive trend continued, ridership increased by 11.7%, compared to the same period in 2016 while revenues increased by 13.9%,including a passenger revenue increase of 14.8%. With more travellers aboard, a total of 296 million miles were journeyed on its trains all across the country over the quarter, up 15% from 2016.
"As Canada's 150th anniversary year draws to a close, I am happy to report another successful quarter at VIA Rail, worthy of its own celebration. Over the past three months, we have witnessed several impressive achievements, including our 14thconsecutive quarter of revenue growth and our 7th consecutive quarter of ridership growth — both increasing by double digits compared to last year. One explanation for these exceptional results can be found in the commitment of VIA Rail employees. Over the last 12 months, employee engagement has reached an all-time high of 62% which marks a 5% improvement over last year and a remarkable 16% improvement since 2014. " said VIA Rail's President and CEO, Yves Desjardins-Siciliano.
3rd Quarter Report Highlights
A summer worthy of celebration
In August, VIA Rail posted record passenger revenues of close to $38 million, which is the highest revenue month on record. Also, over Labour Day weekend, VIA Rail experienced double-digit growth, compared to last year.
Taking part in the festivities
July 1 marked Canada's official 150th birthday, and VIA Rail was there, participating in many of the festivities across the country. In fact, in July, over 4,000 young Canadians travelled aboard its trains to explore the nation's incredible sights, thanks to VIA Rail's Canada 150 Youth Pass. The pass, which offered unlimited travel from coast to coast over the month, was an overwhelming success, and passengers proudly shared their memories online (using the hashtag #VIACanada150).
Putting Passengers First
VIA Rail's successful "Why don't you take the train?" marketing campaign continued this quarter with a focus on drivers. Smart and timely media messages encouraged travellers to leave their cars at home and avoid traffic jams and stress by choosing the train.
Also, in order to better serve passengers' needs, VIA Rail has made improvements to its train schedule in the Eastern Corridor, with an added round trip on Sundays between Ottawa and Québec City, and added stops in Saint-Hyacinthe, which gives people an opportunity to commute from Montréal for the work day.
As part of its contribution to the reduction of the carbon footprint of Canadian travellers, VIA Rail has started installing electric car charging stations in the parking lots of stations in Windsor (Ont), Sainte-Foy and Québec City.
Strengthening our Assets
In September, VIA Rail celebrated the 100th anniversary of its heritage train station in Alexandria (Ont). The day was celebrated with the unveiling of a commemorative plaque and the gift of ten sugar maple trees to residents of the Township of North Glengarry, representing the Station's ten decades of history and the collaboration between the township and VIA Rail.
To improve the service offer in Vancouver, the Panorama Business class lounge was re-opened in May after it underwent a full makeover. The décor is in line with those found at other VIA's Business lounges in other cities, and offers a more comfortable visit.
Innovating for Smart, Sustainable and Inclusive Growth
Sustainable mobility is an integral part of VIA Rail and how it conducts its business. Over the third quarter of 2017, VIA Rail made significant progress on projects that are aligned with its sustainable mobility pillars:
Supporting Socio-Economic Development
Welcoming new Canadians and international students
·         As part of its partnership with the Institute for Canadian Citizenship, VIA Rail has offered a discount to close to 27,000 new Canadians since its launch in July 2012. This quarter, VIA Rail hosted a citizenship ceremony in Québec City. Thirty new Canadians were sworn in at the Gare du Palais train station.
·         In addition, VIA Rail has joined the initiatives of Montréal International and Québec International as part of their retention programs for international students.
Strong ties to the Canadian Armed Forces
·         As part of its offer to members of the Canadian Armed Forces, Veterans and their families, VIA Rail has welcomed 18.6% more members of the military community on its trains over the first three quarters of 2017 compared to the same time frame in 2016.
·         VIA Rail took part in many events of importance to the military community such as the 2017 edition of the Army Run, the Commando Challenge, the annual conferences of both the Canadian Institute for Military and Veteran Health Research and Canada Company, the 2017 Highway of Heroes Bike Ride of Wounded Warriors, and the Invictus Games Toronto 2017.
Partnering with indigenous communities
·         Committed to enhancing its relationship with Canada's Indigenous communities, VIA Rail became a member of the Canadian Council for Aboriginal Business to forge closer ties with Indigenous businesses and surrounding communities.
Promoting Canada's official languages
·         Over the quarter, VIA Rail contributed to the development of linguistic minority communities in Canada by participating in the Centaur Theatre's annual gala in Montréal for the third consecutive year.
VIA Rail in the communities
·         In an effort to better serve the cities and towns along its route, over 76 formal meetings were held with stakeholders from various levels of government, business communities as well as groups associated with sustainable mobility in many communities served by VIA Rail throughout the third quarter.
Report on Activities
On-time performance
VIA Rail's on-time performance (OTP) in the Québec City – Windsor corridor decreased for the third consecutive quarter and is now at 71%. The Ocean's OTP reached 86%, while its  Western service, the Canadian, was challenged by significant increase of freight traffic in western Canada resulting in very few trains meeting their scheduled arrival times.
Service between Churchill and Gillam suspended
·         VIA Rail's service from Gillam to Churchill in Northern Manitoba remained suspended due to flooding. As of the fall, VIA Rail temporarily modified the schedule between Winnipeg and Gillam to better serve its customers and the communities in the area, until the full route to Churchill is reinstated.
Reduce our Environmental Impact
Improving efficiency
·         VIA Rail completed the replacement of original lighting fixtures with LED lighting fixtures in the Toronto Maintenance Center's (TMC) outdoor yard, following the TMC's interior lights replacement completed earlier in 2017. The energy savings have been evaluated at approximately 2,200,000 kWh per year which translates into a savings of $250,000 per year in operating expenses.
For more information on VIA Rail's quarterly report, you can download the full electronic version at: viarail.ca/en/about-via-rail/governance-and-reports/quarterly-reports
About VIA Rail Canada
As Canada's national rail passenger service, VIA Rail (viarail.ca) and all its employees are mandated to provide safe, efficient and economical passenger transportation service, in both official languages of our country. VIA Rail operates intercity, regional and transcontinental trains linking over 400 communities across Canada, and safely transports nearly four million passengers annually. The Corporation was awarded five Safety Awards and three Environment Awards by the Railway Association of Canada since 2007. For more information, visit: www.viarail.ca/en/about-via-rail.
( Press Release Image: https://photos.webwire.com/prmedia/6/217296/217296-1.png )
Related Links
WebWireID217296

This news content was configured by WebWire editorial staff. Linking is permitted.
News Release Distribution and Press Release Distribution Services Provided by WebWire.