Industrial Strategy Challenge Fund backs breakthrough robotics and AI projects
The Industrial Strategy Challenge Fund (ISCF) is awarding £68 million to the latest ground-breaking research and innovation projects in robotics and artificial intelligence systems.
WEBWIRE
–
Thursday, November 9, 2017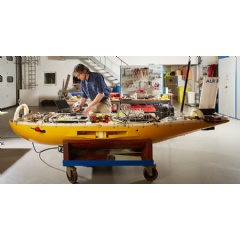 "These sensors will help us to better understand our oceans, helping us to manage them sustainably for the future."
The awards announced are part of the government's £93 million of funding for the robotics and artificial intelligence (AI) in extreme environments programme through the ISCF, which was announced in the April 2017 Budget.
The programme aims to develop robotic solutions to make a safer working environment in industries such as offshore energy, nuclear energy, space and deep mining, increase productivity and open up new cross-disciplinary opportunities.
NERC Chief Executive Professor Duncan Wingham said:
"These sensors will help us to better understand our oceans, helping us to manage them sustainably for the future. The projects will develop ambitious new technologies that work in hazardous and extreme environments, maintaining the UK's world-class status in marine robotics. Other industries, such as the water, aquaculture and industrial waste, are also likely to benefit from these technologies."
The winning projects include:
£4·3 million for NERC to fund five research projects at the National Oceanography Centre (NOC), and the universities of Exeter and Southampton to develop sensors capable of working in the ocean's extreme conditions. The sensors will be compatible with existing marine robotic vehicles or those in development at NOC, such as the Autosub Long Range (ALR) Boaty McBoatface. Summaries of the projects can be found in the notes below.

£44·5 million investment, over three and a half years, for four research hubs managed by the Engineering & Physical Sciences Research Council (EPSRC). The hubs will develop robotic solutions to enable safer working environments in the areas of off-shore energy, nuclear energy, and space, opening up new cross disciplinary opportunities which are not currently available. They will be national hubs delivering internationally leading research and will be supported by an additional £51·6 million from commercial and international partners. The UK Space Agency is co-funding one of the hubs.

Funding of £16·5 million following a collaborative research and development competition run by Innovate UK - winners include over 70 businesses, 13 universities and 10 research organisations.

Funding of £3 million for 17 demonstrator feasibility studies following a separate competition run by Innovate UK.
The ISCF is a strategic element of the government's industrial strategy that aims to ensure the UK continues to be one of the best places in the world for science and innovation. Innovate UK and the research councils are taking a leading role in delivering this funding, operating across the country to ensure the UK secures maximum benefit from science and innovation.

Notes

1. The five NERC funded research projects will develop new sensors capable of working within the ocean's extreme conditions. The sensors will be able to perform different functions whilst out at sea, helping researchers to answer questions about our changing oceans such as how carbon dioxide (CO2) moves between air and water, and measure the health of cold-water corals in marine protected areas. These successful grants will be over a maximum of four years with funding starting in 2017-18. They are:
Nutrient sensors on autonomous vehicles, led by Professor Matt Mowlem at the National Oceanography Centre. This project will seek to adapt and optimise an existing platform to produce six new operational sensors for nutrients and micronutrients. The results will be crucial to advance our knowledge of how marine ecosystems work and how they respond to a changing climate. These 'lab-on-chip' miniaturised laboratories will be able to perform seawater chemical analysis using small amounts of seawater samples and chemical reagents to help create more complete low-cost ocean chemical datasets.

Calibrated pCO2 in air and surface ocean sensor for autonomous surface vehicles (CaPASOS), led by Professor Andrew Watson at the University of Exeter. This proposal seeks to enhance our understanding of the global carbon cycle, particularly in in the Indian, South Pacific and Southern oceans, where there is currently insufficient data. The team will develop a calibrated sensor to measure partial pressure of carbon dioxide (pC02) in the air and surface ocean, both of which are vital to calculating how C02 moves between the air and sea.

BioCam - mapping of benthic biology, geology and ecology with essential ocean variables, led by Dr Blair Thornton at the University of Southampton. This project will develop a unique and low power 3D visual mapping system to obtain highly detailed colour images and topographical measurements of the seafloor such as measuring the cover of live cold-water coral within marine protected areas. This sensor will be able to integrate with the Autosub, ALR and remotely operated vehicle (ROV) Isis underwater platforms operated by the National Oceanography Centre.

Carbonate chemistry autonomous sensor system (CarCASS) led by Professor Matt Mowlem at the National Oceanography Centre. This proposal aims to create a sensor capable of taking the first autonomous measurements of the seawater carbonate chemistry from the surface to full ocean depth. The resulting sensor will be used to improve our understanding of the inorganic carbon cycle in the ocean, as well as monitor ocean acidification shell fishing areas and mariculture establishments. The sensor will also be a powerful tool for monitoring sub-seafloor carbon storage as it would be able to detect leaks of CO2 during and after gas injection.

Single turnover active fluorometry of enclosed samples for autonomous phytoplankton productivity (STAFES-APP), led by Professor Mark Moore at the University of Southampton. This proposal plans to create a step change in our ability to understand the global carbon cycle and the function of ocean ecosystems. They will develop an active chlorophyll fluorometer sensor capable of measuring how phytoplankton process carbon for food in situ. It will be able to monitor and understand this process from smallest scales up to oceanic basin scales.
Full abstracts can be read on Grants on the Web - external link.
2. The ISCF was created to ensure that research and innovation takes centre stage in the government's industrial strategy, with investment earmarked for technologies where the UK can build on its world-leading strengths and help innovative businesses to tap into large and growing global markets, as well as the industries of the future. The fund is being administered by Innovate UK and the research councils until the new body UK Research & Innovation (UKRI) is formed in 2018. UKRI, under the leadership of its recently appointed Chief Executive Sir Mark Walport, will play a key role in strengthening the UK's competitiveness through the industrial strategy.
3. NERC is the UK's main agency for funding and managing research, training and knowledge exchange in the environmental sciences. Our work covers the full range of atmospheric, Earth, biological, terrestrial and aquatic science, from the deep oceans to the upper atmosphere and from the poles to the equator. We coordinate some of the world's most exciting research projects, tackling major issues such as climate change, environmental influences on human health, the genetic make-up of life on Earth, and much more. NERC is a non-departmental public body. We receive around £330 million of annual funding from the Department for Business, Energy & Industrial Strategy (BEIS).
4. Innovate UK helps businesses to identify the commercial potential in new technologies and turn them into the new products and services that will generate economic growth and increase productivity.
5. The Engineering & Physical Sciences Research Council (EPSRC) is the main funding agency for engineering and physical sciences research, their vision is for the UK to be the best place in the world to research, discover and innovate. By investing £800 million a year in research and postgraduate training, they are building the knowledge and skills base needed to address the scientific and technological challenges facing the nation. EPSRC's portfolio covers a vast range of fields from healthcare technologies to structural engineering, manufacturing to mathematics, advanced materials to chemistry. The research they fund has impact across all sectors. It provides a platform for future economic development in the UK and improvements for everyone's health, lifestyle and culture. EPSRC work collectively with their partners and other research councils on issues of common concern via Research Councils UK.
( Press Release Image: https://photos.webwire.com/prmedia/7/216371/216371-1.jpg )
Related Links
WebWireID216371

This news content was configured by WebWire editorial staff. Linking is permitted.
News Release Distribution and Press Release Distribution Services Provided by WebWire.