Liar Liar Pants On Fire! New lie detecting 'Hot Pants' will combat Britain's lying epidemic as it's revealed 90% of Brits guilty of fibbing
WEBWIRE
–
Wednesday, November 8, 2017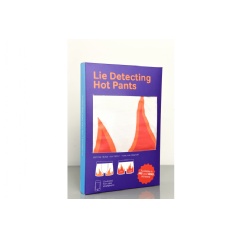 Britain has been caught in the midst of a 'lying epidemic', as new research reveals that 90 per cent of the nation admits to telling untruths.
Almost half the population (41 per cent) confesses to telling up to ten lies a week, with a staggering 40 per cent of liars not feeling any remorse for telling porkies.
The research, carried out by streaming service NOW TV to mark the launch of Sick Note, a new dark comedy starring Rupert Grint and Nick Frost about a lie that spirals out of control, also revealed who Brits are most likely to lie to. Loved ones bear the brunt, with romantic partners (21 per cent) and family members (21 per cent) topping the list, followed by work colleagues (15 per cent) and potential or current employers (7 per cent).
To combat the lying epidemic that faces Britain today, NOW TV has created the first ever lie detecting pants, which warm up when the wearer fibs. These 'Hot Pants', the latest development in wearable tech, contain ground-breaking lie-detecting technology that tracks the wearers heart rate, body temperature and skin moisture levels to reveal if they're telling the truth.
If the technology detects a lie is being told, the 'Hot Pants' built in heat pads warm up and alert the wearer, making them squirm as temperatures reach up to 47 degrees. The information is also transmitted to a downloadable app, which means that suspicious loved ones, friends and family can confirm their suspicions that they are being told porkie pies.
The Hot Pants are going to come into their own in the evening, as the research also found that the majority of lies are told after work, with 'peak fibbing' time identified as between 7pm and 8pm, when over a quarter (26 per cent) tell post work porkies.
When it comes to why Brits lie so frequently, the 'Social Sickie' is on the rise, with almost half (42 per cent) fibbing to get out of social activities, including family events (25 per cent) and dates (14 per cent). In fact, 16 per cent admit they've pulled a 'Social Sickie' to duck out of plans and binge watch their favourite TV series. This may explain why 54 per cent of Brits say they lie to avoid hurting someone's feelings.
Other common mistruths include fibbing about our diets (24 per cent), spending habits (13 per cent) and lateness (12 per cent).
Getting away with telling fibs is somewhat of a badge of honour, 26 per cent of Brits proudly identify themselves as 'good liars', and almost one in ten go so far to deem themselves 'brilliant liars'.
Paul Sweeney, Director of Sales & Marketing, NOW TV says: "They say honesty is the best policy, yet our research has revealed that we are a nation that loves to lie, much like Sick Note's Daniel Glass. Inspired by the saying 'liar, liar, pants on fire', we've created the ultimate lie detector - a pair of pants which heat up when the wearer tells a fib. We hope these Hot Pants will make fibbers think twice before telling porkies, we know we certainly will!"
More information about both Sick Note and the Hot Pants can be found at: nowtv.com/sicknotepants
Sick Note launches on streaming service NOW TV on Tuesday 7th November at 10pm
Notes to editors
About Sick Note
Rupert Grint and Nick Frost team up for this Sky Original Production – a brilliantly dark comedy about a lie that spirals out of control. Loveable loser Daniel Glass (Rupert Grint) is about to lose his girlfriend, home and job. But when he's diagnosed with a terminal illness his life is turned around – everyone is there for him, even his horrible boss Kenny West (Don Johnson). The only problem is he's been misdiagnosed by the incompetent Dr Glennis (Nick Frost) – he's actually, to quote Dr Glennis, "as fit as a fisherman", but he is convinced by his desperate doctor to hide the mishap from colleagues, friends and family in a lie that just keeps getting bigger.
Tuesday 7 November 10pm Sky One & streaming service NOW TV
About NOW TV
NOW TV is a pick and mix TV streaming service that lets you choose from a range of passes contract free.
Available anytime, anywhere, you can watch through a NOW TV Box, on the web or on over 60 devices with the NOW TV app.
Whether you're into big dramas, blockbuster movies, live sports or even just some extra TV for the kids, NOW TV offers four passes which include the latest and best TV and movies: Entertainment, Sky Cinema, Kids and Sky Sports.
This includes Sky Atlantic, over 250 Box Sets on demand, all 10 Sky Sports channels and over 1,000 movies – all available with no contract.
For more information, visit nowtv.com
Follow us at facebook.com/NOWTV
Join the conversation on twitter @NOWTV
Visit us at Youtube.com/nowtvofficial
( Press Release Image: https://photos.webwire.com/prmedia/7/216292/216292-1.png )
Related Links
WebWireID216292

This news content was configured by WebWire editorial staff. Linking is permitted.
News Release Distribution and Press Release Distribution Services Provided by WebWire.