Newly discovered orangutan species in Indonesia already at risk
Jakarta, Indonesia –
WEBWIRE
–
Friday, November 3, 2017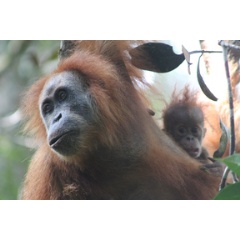 Researchers have announced the discovery of a new species of orangutan in the north of Sumatra Island. The Tapanuli orangutan (Pongo tapanuliensis) is the first new addition in almost a century to the small club of great apes, joining its fellow Sumatran and Borneo orangutans, gorillas, bonobos, chimpanzees and humans.[1]
The population of genetically and morphologically unique Tapanuli orangutans is estimated at fewer than 800 remaining individuals, concentrated in a small number of forest fragments totalling 1,000 sq.km in the districts of Central, North, and South Tapanuli. Their hilly habitat is threatened by industrial and agricultural development, including a proposed hydroelectric development which could impact up to eight percent of their remaining heartland, researchers said.
"Unfortunately threats which include deforestation and fires mean that any new species discovered in Indonesia's forests will struggle to survive. While Indonesian biodiversity keeps surprising us, so does the lack of real protection it gets from the government", said Ratri Kusumohartono, Greenpeace Indonesia Forest Campaigner.
Last August, the Environment and Forestry Ministry of Indonesia published a study on Borneo and Sumatra orangutans that confirms numbers have plummeted since the last survey was carried out in 2004, and established habitat destruction as one of the main causes.[2] Borneo orangutans are now thought to number only an estimated 0.13 to 0.47 individuals per square kilometer within their range, down from the 2004 estimated density of around 0.45 to 0.76 per km2.
"Companies continue to develop palm and pulp plantations in forests and peatland that are some of the last homes for orangutans. The few remaining orangutan strongholds such as the forests in Batang Toru, in Sumatra, and Sungai Putri, in Kalimantan, must be completely off industry limits if we want to save Indonesia's most iconic animal species."
Tapanuli orangutans were only 'discovered' by scientists in the late 1990s. In their just-published description of the new species, researchers used genetic comparison to estimate they split from Sumatran orangutans to their north as long ago as 3.38 million years ago. The newly recognised Tapanuli orangutan has a different diet, call, differently sized & shaped skull and different hair colour and pattern, among other unique aspects of behaviour and appearance.
-----
[1] 'Morphometric, Behavioral, and Genomic Evidence for a New Orangutan Species', Current Biology (journal) 
[2] All deforestation in orangutan habitat must be stopped immediately; Borneo orangutans in decline, official survey shows 
( Press Release Image: https://photos.webwire.com/prmedia/6/216130/216130-1.jpg )
Related Links
WebWireID216130

This news content was configured by WebWire editorial staff. Linking is permitted.
News Release Distribution and Press Release Distribution Services Provided by WebWire.