SDC 2017: Our Commitment to Helping Kids Gain Digital Literacy
WEBWIRE
–
Thursday, October 26, 2017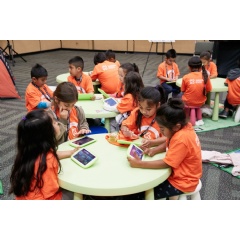 Children enjoy a safe and educationally rich digital experience with Kids Mode and Samsung Kids on Galaxy tablets at SDC 2017
Whether you call them Digital Natives or the Internet Generation, today's kids and teenagers are assumed to be fluent when it comes to digital tools. It's true, they are not shy using tablets and smartphones, but that falls short of attaining true digital literacy: understanding how our digital world works and using digital tools to create amazing new technologies. However, teaching kids 21st century skills is absolutely vital – both for society as a whole and for companies like Samsung, who need to recruit the talent that helps develop the innovation of tomorrow.
That's why we invited young people – from first-graders all the way to college age – to join us at the Samsung Developer Conference (SDC) 2017 in San Francisco. We wanted to showcase some of the educational opportunities that can help children gain true digital literacy, and demonstrate Samsung's passion for giving young people the future-proof skills they need – not just for the jobs market, but also to express themselves, solve the problems of tomorrow, and "do what you can't". Judging by their response, we believe we also inspired many of the developers at SDC 2017 to pass on their own enthusiasm for all things tech, from generation to generation.
For parents, however, there is one must: the first digital experience of their children must happen in a safe but also educationally rich environment, and that's why we set up the Samsung Kids Experience at SDC. In our interactive zone, we showed off Kids Mode, your children's first digital – and safe – playground that makes learning easy. Within Kids Mode there are thousands of age-appropriate games, available to help children learn in a fun and interactive way. Kids Mode comes pre-loaded on Galaxy tablets launched from 2016 and available to download for free across 185 countries.  Consistent with the focus on learning in a safe digital environment, at SDC this year we also demonstrated the huge value of a complementary service, Samsung Kids, a US-focused membership program that teaches skills like math, languages, coding and more.
We also gave a flavor of Code Jam, which introduces children aged 5 to 10 to the magic of learning code. And the young kids visiting SDC 2017 just loved Crocro Adventure, a clever education app that teaches children coding through a game that makes them hunt for tasty treats for their Kids Mode characters. Using basic coding concepts to solve problems, Crocro Adventure has been popular ever since it was released with the Galaxy Tab A 2017; the app is now coming to more and more Galaxy devices.
As kids get older, there are plenty of programs that teach them how to code, but most are still stuck in a 20th century technology environment: the PC. Fact is, the majority of children now live exclusively in a world of mobile computing; they rarely go near a PC. That's why, at SDC we developed and presented a program called Handy Code: a coding environment for the mobile generation. With Handy Code, kids can learn coding using the tool they're most familiar with: a smartphone or tablet, and using just their fingers. The feedback from students was clear: with Handy Code, learning to code is much easier – and faster – than they thought it would be.
Teaching 21st century skills also means to inspire the next generation to learn the STEAM skills – in Science, Technology, Engineering, Arts and Mathematics – that modern economies so urgently need. In the US, we run Solve for Tomorrow for children in 6th to 12th grade, where students learn that technology has a purpose and can tackle very immediate problems. We invited the winners of this year's Solve for Tomorrow competition to share their achievements with all the developers at SDC 2017, and their exhibition was awesome. Among their innovative solutions was an app developed by students in New York that matched children from poor families that might go hungry with food from restaurants that was still fresh but would otherwise go to waste. A team from Nebraska developed software that helps farmers to use drones for highly targeted delivery of pesticides, which helps to protect both drinking water and the environment; and in Arizona, students developed a system that will save lives by using a clever sensor system that warns drivers when wildlife is near a road, to reduce the number of fatal collisions.
Boosting digital literacy has to go all the way to young adulthood and beyond, and that's why we also invited 50 students from local high schools along with teachers and parents to join our Youth Track at SDC 2017. They had an opportunity to hear the keynotes and participate in a Gear 360 workshop, because it's with Youth Track that we really hope to inspire young people for a rewarding career as developers and creators.
At SDC 2017, we showed young people that they can do something big with their digital skills, and even join Team Samsung in the future. Showing them the full range of internships and careers that Samsung can offer, we hope to have encouraged them to build their digital skills. Who knows: maybe one of the kids playing Crocro Adventure today may well deliver the breakthrough innovation of tomorrow.
( Press Release Image: https://photos.webwire.com/prmedia/7/215734/215734-1.jpg )
Related Links
WebWireID215734

This news content was configured by WebWire editorial staff. Linking is permitted.
News Release Distribution and Press Release Distribution Services Provided by WebWire.