Nikon CeLL innovation enters into agreement with Athersys, Inc., a US company, to support MultiStem® commercial manufacturing efforts in Japan.
WEBWIRE
–
Thursday, October 12, 2017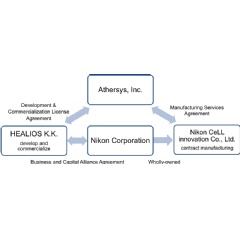 Nikon CeLL innovation Co., Ltd. (Toshiyuki Nakayama, President, Tokyo), a subsidiary of Nikon Corporation (Kazuo Ushida, President, Tokyo), announced a manufacturing services agreement (hereinafter refer to as "agreement") with Athersys, Inc. (Gil Van Bokkelen, Chairman and Chief Executive Officer, United States "Athersys") for the manufacturing of MultiStem®, a cell therapy treatment, currently being evaluated in a clinical trial of ischemic stroke in Japan. MultiStem is a stem cell product developed and patented by Athersys and is suitable for mass production.
Based on this agreement, Nikon CeLL innovation will begin contract manufacturing support for commercial development for the ischemic stroke field in Japan and expanded clinical trial activity. Athersys' collaborator, HEALIOS K.K. (Hardy TS Kagimoto, President, Representative Director & CEO, Tokyo, hereinafter refer to as "Healios") has an exclusive license agreement to develop and market MultiStem in Japan for ischemic stroke, by virtue of a partnership it entered into with Athersys in 2016.
Therapeutic treatment with MultiStem may extend the current ischemic stroke treatment window from the current 4.5 hours, with existing standard of care, out to 36 hours and may also meaningfully enhance patient recovery after an ischemic stroke attack. The extension of the treatment window could enable many more ischemic stroke patients to receive treatment than under the current standard of care.
Healios and Nikon have entered into a business and capital alliance agreement for the commercialization of regenerative medicine products, and Healios is currently conducting the clinical trial in Japan to verify the safety and the efficacy of MultiStem for acute ischemic stroke. Nikon CeLL innovation, in collaboration with Athersys and Healios, will provide manufacturing support for commercialization of MultiStem for ischemic stroke in Japan.
Nikon, using its optics and imaging analysis technologies (both core technologies), has started a new business offering solution for cell quality assessment. This solution has been adopted in a variety of fields. Nikon CeLL innovation, a wholly-owned subsidiary of Nikon, provides a wide range of process developments and manufacturing services, from pre-clinical to commercial manufacturing of cell and gene therapies.
Regenerative medicine is a field that is expected to provide new treatments for unmet disease indications. The regenerative medicine market size is expected to increase further in the near future, and Nikon and Nikon CeLL innovation will contribute to this effort with the practical use of regenerative medicine in Japan.
About Ischemic Stroke
Ischemic stroke, the most common type of stroke, occurs when an artery becomes blocked. When the blood stream to the brain is interrupted, oxygen and nutrients cannot reach the brain and nerve cells begin to die. The quality of life among these patients deteriorates significantly and the mortality rate is high. The need for additional therapies to treat ischemic stroke is very high. More than 2 million people experience an ischemic stroke each year in the US, EU and Japan, and nearly 17 million people globally.
The current treatment approach requires administering t-PA, a thrombolytic agent, to dissolve the blood clot in the vessels of the brain, within 4.5 hours of the attack. Another approach is to use surgical intervention using mechanical reperfusion within several hours from the attack. These current time windows are both short, and many patients are unable to get to the hospital in time for treatment, while other patients do not benefit from such treatment. As a result, the development of a new therapy to extend the current time window for treating stroke patients is highly needed.
About Athersys
Athersys is a global biotechnology company engaged in the discovery and development of innovative therapeutic product candidates designed to extend and enhance the quality of human life. The company was established in 1995 and listed on the Nasdaq in 2007 (NASDAQ:ATHX). The company has established strategic partnerships and collaborations with leading pharmaceutical biotechnology companies, and well as world-renowned research institutions to further develop its platform and products.
MultiStem, currently under development, is an adult-derived stem cell product suitable for mass production. Currently, several clinical trials using MultiStem are underway for various indications, including cardiovascular, neurological and inflammatory/immune conditions.
*MultiStem® is a registered trademark or trade name of Athersys, Inc. in the US and other countries.
The information is current as of the date of publication. It is subject to change without notice.
( Press Release Image: https://photos.webwire.com/prmedia/7/215087/215087-1.jpg )
Related Links
WebWireID215087

This news content was configured by WebWire editorial staff. Linking is permitted.
News Release Distribution and Press Release Distribution Services Provided by WebWire.