Guggenheim Presents Art and China after 1989: Theater of the World Opening October 6, 2017
Largest Exhibition of Contemporary Art from China Spanning 1989 to 2008 Ever Mounted in North America
Exhibition: Art and China after 1989: Theater of the World
Venue: Solomon R. Guggenheim Museum, 1071 Fifth Avenue, New York
Location: Rotunda Levels 1–6, Tower Levels 5 and 7
Dates: October 6, 2017 to January 7, 2018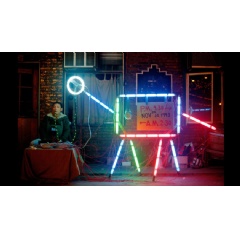 The Solomon R. Guggenheim Museum announces Art and China after 1989: Theater of the World, a major exhibition of contemporary art from China spanning 1989 to 2008, arguably the most transformative period of modern Chinese and recent world history. A fresh interpretative survey of Chinese experimental art framed by the geopolitical dynamics resulting from the end of the Cold War, the spread of globalization, and the rise of China, Art and China after 1989 is on view from October 6, 2017 to January 7, 2018. The exhibition, the largest of its kind ever in North America, looks at a bold contemporary art movement that anticipated, chronicled, and agitated for the sweeping social transformation that has brought China to the center of the global conversation. With a concentration on the conceptualist art practices of two generations of artists, this exhibition examines how Chinese artists have been both critical observers and agents of China's emergence as a global presence and places their experiments firmly in a global art-historical context.   
"Art and China after 1989: Theater of the World revolves around key artists, groups, and movements active across China and internationally, whose provocations aim to forge reality free from ideology, to establish the individual apart from the collective, and to define contemporary Chinese experience in universal terms," remarks lead curator Alexandra Munroe. "This focused examination invites us to consider our own recent history through the lens of some of the most thoughtful contemporary artists from China."
Occupying the Guggenheim's full rotunda and two Tower Galleries, Art and China after 1989 highlights the conceptual and artistic achievements of 71 artists and collectives and features nearly 150 significant works on loan from private and public collections across Asia, Europe, the Middle East, and the United States as well as from the Guggenheim's collection. Archival materials documenting and contextualizing key moments and movements in this contested history are also interwoven throughout the exhibition. Bracketed by years marked by transformational events within China and globally, the exhibition surveys the culture of artistic experimentation during a time characterized by the onset of globalization and the eventual skepticism of its promised prosperity.
The exhibition title derives from an installation by Paris-based artist Huang Yong Ping originally presented in Stuttgart in 1993. Theater of the World is a cage-like form that draws on Chinese cosmology, Western enlightenment ideas of the panopticon as an structure of control, and Michel Foucault's critiques of modernism. An apt metaphor for the age of globalization, Theater of the World housed hundreds of live reptiles and insects teeming with life, foreshadowing an underlying sense of visceral realism and realpolitik that is present in much of the most interesting work of this period.
Art and China after 1989 is organized into six thematic, chronological sections installed on the six ramps of the rotunda and into Tower Galleries 5 and 7. Encompassing a diversity of artistic practices over two decades, the exhibition showcases performances, paintings, photography, installations, video art, and socially engaged participatory art and activism. The six sections of the exhibition are:
1989: No U-Turn
New Measurement: Analyzing the Situation
5 Hours: Captitalism, Urbanism, Realism
Uncertain Pleasure: Acts of Sensation
Otherwhere: Travels Through the In-Between
Whose Utopia: Activism and Alternatives circa 2008




Three works will not be presented as originally planned. Out of concerns for the safety of visitors, staff, and participating artists after ongoing and persistent threats of violence in reaction to the incorporation of live animals in the creation of the works, the Guggenheim has decided against including Huang Yong Ping's two-part installation Theater of the World(1993) and The Bridge (1995) with live animals, and the video documentation of historic events in Xu Bing's A Case Study of Transference (1994) and Sun Yuan and Peng Yu's Dogs That Cannot Touch Each Other (2003).

Art and China after 1989: Theater of the World is organized by Alexandra Munroe, Samsung Senior Curator, Asian Art, and Senior Advisor, Global Arts, at the Guggenheim. Guest cocurators are Philip Tinari, Director of the Ullens Center for Contemporary Art, Beijing, and Hou Hanru, Artistic Director of MAXXI National Museum of 21st Century Arts, Rome. Kyung An, Assistant Curator, Asian Art, and Xiaorui Zhu-Nowell, Research Associate and Curatorial Assistant, Asian Art, Guggenheim Museum, have provided organizational support. Archival research has been developed in collaboration with Asia Art Archive, Hong Kong. The curators worked with an international advisory committee that has met under the auspices of the China Academy of Art, Hangzhou, and the Central Academy of Fine Arts, Beijing. Art and China after 1989 is the 11th show developed by the Guggenheim's Asian Art Initiative,which was founded in 2006 under Dr. Munroe's leadership to expand the Guggenheim's curatorial purview to encompass artistic achievements and critical discourses active beyond, but also intersecting with, the West.

"TURN IT ON: CHINA ON FILM, 2000–2017" FILM SERIES

In concert with the exhibition, the Guggenheim will present a 10-week documentary film series cocurated by Ai Weiwei and Wang Fen. "Turn It On: China on Film, 2000–2017" features 20 documentary films by more than a dozen filmmakers, including Ai Weiwei, Huang Wenhai, Tang Danhong, and others, whose work investigates the political, social, economic, and cultural conditions of contemporary China. Produced between 2000 and 2017, many of the films will be screened in the United States for the first time. Screenings take place on Fridays and Saturdays, October 13 through December 16, and Thursday, January 4, 2018. To purchase tickets and see the full schedule and film synopses, please visit guggenheim.org/turniton.

CATALOGUE

Art and China after 1989: Theater of the World is accompanied by a 324-page catalogue and a range of integrated digital resources. In addition to essays from the exhibition's three curators, the catalogue features extended annotations on more than 70 of the objects on view, including interpretive analysis by scholars such as Katherine Grube, Lu Mingjun, Stephanie H. Tung, and Xiaorui Zhu-Nowell. It also includes an exhibition history of the period under consideration, prepared by Anthony Yung and Jane DeBevoise of the Asia Art Archive, Hong Kong.

TOUR VENUES

After its New York debut, Art and China after 1989: Theater of the World will tour to Guggenheim Museum Bilbao and the San Francisco Museum of Modern Art.

EXHIBITION FUNDERS

The Leadership Committee for this exhibition is gratefully acknowledged for its generous support, with special thanks to Cochairs Thomas and Lynn Ou and Liam Wee Tay and Cindy Chua-Tay, Guggenheim Trustee, as well as Karen Lo, Sophia Ma, Jane Yong, Rachel and Jean-Pierre Lehmann, Jun Jun Liu, Yasko Tashiro Porté and Thierry Porté, Akiko Yamazaki and Jerry Yang, Qinglan Ying, Jane Q. Zhao, and those who wish to remain anonymous. Additional support is provided by Gagosian and Stephen and Yana Peel.

Art and China after 1989: Theater of the World is made possible in part by a major grant from the National Endowment for the Humanities. Major support is provided by the Henry Luce Foundation.

Funding is also provided by the W.L.S. Spencer Foundation and the E. Rhodes and Leona B. Carpenter Foundation, The Nancy Foss Heath and Richard B. Heath Educational, Cultural and Environmental Foundation, the National Endowment for the Arts, and the New York State Council on the Arts.

ABOUT THE SOLOMON R. GUGGENHEIM FOUNDATION

Founded in 1937, the Solomon R. Guggenheim Foundation is dedicated to promoting the understanding and appreciation of art, primarily of the modern and contemporary periods, through exhibitions, education programs, research initiatives, and publications. The Guggenheim network that began in the 1970s when the Solomon R. Guggenheim Museum, New York, was joined by the Peggy Guggenheim Collection, Venice, has since expanded to include the Guggenheim Museum Bilbao (opened 1997) and the Guggenheim Abu Dhabi (currently in development). The Guggenheim Foundation continues to forge international collaborations that celebrate contemporary art, architecture, and design within and beyond the walls of the museum, including the Guggenheim UBS MAP Global Art Initiative and The Robert H. N. Ho Family Foundation Chinese Art Initiative. More information about the Solomon R. Guggenheim Foundation can be found at guggenheim.org.

VISITOR INFORMATION

Admission: Adults $25, students/seniors (65+) $18, members and children under 12 free. The Guggenheim's free app, available with admission or by download to personal devices, offers an enhanced visitor experience. The app features content on special exhibitions as well as access to more than 1,600 works in the Guggenheim's permanent collection. Additionally, information about the museum's landmark building is available in English, French, German, Italian, and Spanish. Verbal Description guides for select exhibitions are also included for visitors who are blind or have low vision. The Guggenheim app is supported by Bloomberg Philanthropies.

Museum Hours: Sun–Wed, 10 am–5:45 pm; Fri, 10 am–5:45 pm; Sat, 10 am–7:45 pm; closed Thurs. On Saturdays, beginning at 5:45 pm, the museum hosts Pay What You Wish. For general information, call 212 423 3500 or visit the museum online at: guggenheim.org or guggenheim.org/social
( Press Release Image: https://photos.webwire.com/prmedia/6/214885/214885-1.jpg )
Related Links
WebWireID214885

This news content was configured by WebWire editorial staff. Linking is permitted.
News Release Distribution and Press Release Distribution Services Provided by WebWire.