Second life for milk tanker at rural Southland fire brigade
Southland milk tanker technician Sheldon McLean is one of a select band of Fonterra staff serving their community as a volunteer fire fighter.
WEBWIRE
–
Friday, September 15, 2017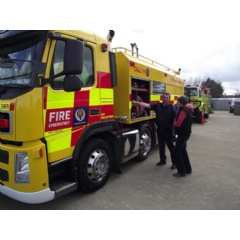 Check out this Q&A to discover how Fonterraís recent provision of a Volvo milk tanker ending its stint in our fleet has given a big boost to Sheldon and thousands of people across rural Southland.
Q: What can you tell us about yourself and your work at Fonterra?
Sheldon:†Iíve lived in Southland most of my life and have travelled a bit. Iím married and have three kids, aged 15, 10 and 9 years. I joined Fonterra 8 years ago, starting out as a tanker driver, then after a break I came back as a fleet services technician. Iím one of 12 technicians who service and repair the 70-odd tankers supplying milk to Edendale and Stirling. Iím based in the Edendale workshop and occasionally do call outs too.
Q: Why did you become a volunteer fire fighter?
Sheldon:†I moved to the Wallacetown area north of Invercargill 15 years ago and wanted to contribute and be part of the community. A couple of friends talked me into it! Itís just about doing your bit to help people when they need it.
Q: What does the commitment involve?
Sheldon:†The Wallacetown brigade only has volunteers, and there are about 20 of us. We train every Monday night plus we occasionally do other training courses and the like. Thereís no roster Ė when there is a call out the pagers go off and whoever is available gets to the station asap. I do shift work, and when Iím not tied up at work I can help. We average about 80 call outs a year.
Q: Is there a typical call out?
Sheldon:†No. They vary a lot, from little grass fires to major buildings on fire through to medical events. We also go to plenty of fires at hay sheds and other farm structures. We regularly back up St John Ambulance because weíre in a remote place. Road accidents and medical events are the most difficult.
Q: Whatís a big challenge facing your local brigade?
Sheldon:†People in towns and cities take for granted that water will be available to fight a fire. Itís not like that in rural communities. Wallacetown has no reticulated water. If thereís a fire we rely on tank water or creeks. The community has always had to fund raise for our brigade to have a water tanker.
Q: How did Fonterra get involved in helping Wallacetown?
Sheldon:†I had a rough idea that each year Fonterra effectively donates 3 milk tankers that are being retired from service. They are sold at just 10% of book value to rural fire brigades in dairy provinces, for use as water tankers. When there was a plan to fundraise and buy a new water tanker for the Wallacetown brigade I told the guys to hang on while I did some homework at Fonterra to see what I could come up with. I got hold of the right people, sent letters away and we managed to get one.
Q: How did you hear the good news?
Sheldon:†We got an official letter by email. That was such a great feeling. I took the letter to one of our monthly meetings and everybody was pretty happy. Once we bought it, we gifted the tanker to Fire Emergency NZ who got it kitted out for use. Weíve had one water tanker here for quite a few years but to double the capacity of the water we hold makes a big difference. The tanker began service recently and has already been on a couple of call outs.
Q: Have Wallacetown locals checked out the Volvo tanker yet?
Sheldon:†We held an open day earlier this month and more than 100 locals attended. We showed them the tanker and answered their questions. Weíll use it for about 15 years and it will provide service to seven fire brigades. Thatís really good and it shows Fonterraís commitment to rural areas. It makes you proud as a firefighter and as a Fonterra staff member
Q: Do you know of other Fonterra staff who are volunteer fire fighters?
Sheldon:†Iím the only one at Wallacetown but there are Fonterra colleagues who volunteer at brigades such as Edendale, Invercargill, Mataura and Gore. Iím sure there are many others right across the country and it just shows the connection we have to our communities and how we all want to play our part.
( Press Release Image: https://photos.webwire.com/prmedia/6/213713/213713-1.jpg )
Related Links
WebWireID213713

This news content was configured by WebWire editorial staff. Linking is permitted.
News Release Distribution and Press Release Distribution Services Provided by WebWire.