Fifty years ago: Bosch makes gasoline injection electronic
Gerlingen, Germany –
WEBWIRE
–
Friday, September 15, 2017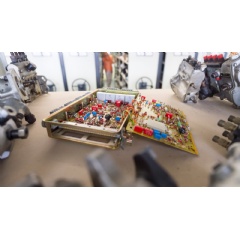 Control unit for Jetronic electronic gasoline injection, 1967
In 1967, Bosch premiered an electronic gasoline injection system
Lower consumption and more power initially cost a 10 percent surcharge
Jetronic injection bolstered trust in automotive electronics
Learn more about the Jetronic in this webspecial
It was a top secret mission. No customers from the automotive industry were to find out about the revolutionary technology the Bosch engineers were working on. When Bosch associates bought the first test vehicle in 1959, it was declared to be a regular company car. In reality, it was refitted as a test vehicle for the secret project: electronic gasoline injection. Each time before it was taken in for servicing, according to the engineer Heinrich Knapp, the vehicle was refitted with its original carburetor so that automakers would not suspect what Bosch had in mind.
Hermann Scholl played a key role in the development of electronic gasoline-injection systems from 1962 on. Now the honorary chairman of the Bosch Group, Scholl recalls: "When we presented the system in 1964, our customer Volkswagen was initially as skeptical as pretty much every automaker that we had tried to convince of the merits of our innovative injection system." When engineering work started, there was just one test vehicle, and the customer gave Bosch just two years in which to make the system ready for production. The system was far ahead of its time. At that point, no similar was yet in mass-production. As Scholl recalls, "automakers had to take a certain risk."
"Automakers had to take a certain risk." Hermann Scholl, honorary chairman of the Bosch Group
Better performance, less consumption – two powerful arguments
On September 14, 1967, Bosch unveiled the electronically controlled "Jetronic" at the International Motor Show (IAA) in Frankfurt. The market launch in the same year was initially in the U.S., for a new VW type. Strict new emissions laws made it imperative to have this new vehicle type. In Europe, Jetronic was not available until 1968, and then only for a surcharge of as much as 10 percent. Not surprisingly, very few customers ordered the car with this technology at first. However, automakers identified two key benefits of Jetronic – lower gasoline consumption and the potential for boosting engine performance. This led BMW, Citroen, Jaguar, Lancia, Mercedes-Benz, Opel, Renault, Saab, and Volvo to fit this Bosch technology in some of their top-of-the-range models from 1969 on.
In the end, electronics won the day in the preparation of the air-fuel mix – only electronics could achieve the increasingly important reduction in consumption and emissions. This pioneering technology thus prepared the ground for new standards, in which Bosch was again and again involved. Whether ABS, TravelPilot, ESP, airbag control, or the automated and connected cars of the future, people's trust in electronics would not have grown so fast without the pioneering work done by Jetronic, and many of today's automotive electronic systems would still be pipe dreams.
Mobility Solutions is the largest Bosch Group business sector. In 2016, its sales came to 43.9 billion euros, or 60 percent of total group sales. This makes the Bosch Group one of the leading automotive suppliers. The Mobility Solutions business sector combines the group's expertise in three mobility domains – automation, electrification, and connectivity – and offers its customers integrated mobility solutions. Its main areas of activity are injection technology and powertrain peripherals for internal-combustion engines, diverse solutions for powertrain electrification, vehicle safety systems, driver-assistance and automated functions, technology for user-friendly infotainment as well as vehicle-to-vehicle and vehicle-to-infrastructure communication, repair-shop concepts, and technology and services for the automotive aftermarket. Bosch is synonymous with important automotive innovations, such as electronic engine management, the ESP anti-skid system, and common-rail diesel technology.
The Bosch Group is a leading global supplier of technology and services. It employs roughly 390,000 associates worldwide (as of December 31, 2016). The company generated sales of 73.1 billion euros in 2016. Its operations are divided into four business sectors: Mobility Solutions, Industrial Technology, Consumer Goods, and Energy and Building Technology. As a leading IoT company, Bosch offers innovative solutions for smart homes, smart cities, connected mobility, and connected manufacturing. It uses its expertise in sensor technology, software, and services, as well as its own IoT cloud, to offer its customers connected, cross-domain solutions from a single source. The Bosch Group's strategic objective is to deliver innovations for a connected life. Bosch improves quality of life worldwide with products and services that are innovative and spark enthusiasm. In short, Bosch creates technology that is "Invented for life." The Bosch Group comprises Robert Bosch GmbH and its roughly 440 subsidiaries and regional companies in some 60 countries. Including sales and service partners, Bosch's global manufacturing and sales network covers nearly every country in the world. The basis for the company's future growth is its innovative strength. At 120 locations across the globe, Bosch employs some 59,000 associates in research and development.
Additional information is available online at www.bosch.com, iot.bosch.com, www.bosch-press.com, www.twitter.com/BoschPresse.
( Press Release Image: https://photos.webwire.com/prmedia/7/213673/213673-1.jpg )
Related Links
WebWireID213673

This news content was configured by WebWire editorial staff. Linking is permitted.
News Release Distribution and Press Release Distribution Services Provided by WebWire.