Auma Obama and Guy Kawasaki Added as Speaking Guests: A$AP Rocky to Deliver the Closing Keynote Speech on Sunday at the me Convention
Further inspiring personalities have agreed to appear at the me Convention from 15 to 17 September in Frankfurt – organised by Mercedes-Benz and South by Southwest (SXSW). A$AP Rocky, the American rapper and entrepreneur will deliver the closing keynote speech on Sunday. In the Inspiration Talk, Auma Obama – stepsister of Barack Obama – will discuss her work in supporting children in Africa to become self-reliant. The author and entrepreneur Guy Kawasaki will interview Amy Cole from Instagram.
Stuttgart –
WEBWIRE
–
Thursday, September 14, 2017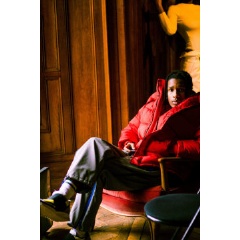 The trajectory of Grammy-nominated artist A$AP Rocky, from humble beginnings in New York to the world's stage, is a shining example of the creativity and focus within the millennial generation. Rocky grew up in Harlem, NYC and learned to rap by the age of eight. In 2007, he joined A$AP (Always Strive And Prosper) Mob, a group of young rappers, producers and designers. His debut single "Peso", which was released on the internet in 2011, became one of the most-played tracks on the New York radio station Hot 97 within just a few weeks. From this point on his career skyrocketed and Rocky became a cultural icon in both the pop culture mainstream and hip-hop underground.
Alongside being a musical artist, Rocky is also an actor, creative director, brand consultant, fashion influencer and successful entrepreneur.
A$AP Rocky is also the face of the "Grow up." compact car campaign by Mercedes-Benz. The campaign stages and personalizes five car models in five short films which tell stories about young people and present-day adolescence with all the associated highs and lows. The film about the CLA Coupé tells the story, until now untold, of the musician and fashion icon's rise from Harlem and onto the world's stage (http://mb4.me/cc_cla_coupe).
As founder and director of the Sauti Kuu Foundation, Dr. Auma Obama and her team seek to give a voice to financially and socially disadvantaged children and youth. Sauti Kuu – Kiswahili for ' Powerful Voices' – is a foundation that seeks to give disadvantaged children and youth opportunities to help them unlock their potential. It creates enabling structures to help them become self-reliant – mentally, socially and financially.
Born and raised in Kenya, Dr. Auma Obama studied in Germany, obtaining a Masters degree at the University of Heidelberg, completing her doctorate studies at the University of Bayreuth and also graduated from the Berlin Film and Television Academy. She has lived and worked in Germany and the UK before going back to Kenya to work for the humanitarian agency CARE International where she created and coordinated the "Sport for Social Change Network" before she started her own foundation, Sauti Kuu.
Guy Kawasaki, best-selling author, Silicon Valley venture capitalist and expert in the tech-community will join the me Convention and bring his expertise and spirit to Frankfurt. The marketing specialist has shaped the term " evangelist" in his career, a term related to the Greek expression for "bringing the good news". At the me Convention Guy Kawasaki will not only meet Amy Cole on stage for an expert talk about experiencing the moment and building for the future on Saturday, September 16th (10 a.m – 10:45 a.m., forum I stage), but will also search for the best in future trends. He will attend workshops and panels, meet with other speakers and most of all take his fans and followers with him on a very special me Convention tour.
All me Convention events, information about speakers, overview plans, general information and much more are on the new me Convention app, which is available for iOS and Android.
About me Convention
The me Convention offers an open and inspiring platform for creative people from many different fields, with the focus clearly on dialogue, interaction, networking, and entertainment. Content at the "me Convention" will cover relevant issues for shaping the future. Together with SXSW, Mercedes-Benz has identified five relevant themes along its future strategy CASE (Connected, Autonomous, Shared and Electric): New Creation, New Urbanism, New Leadership, New Realities and New Velocity. The motto of the convention is: #createthenew.
About South by Southwest
SXSW dedicates itself to helping creative people achieve their goals. Founded in 1987 in Austin, TX, SXSW is best known for its conference and festivals that celebrate the convergence of the interactive, film and music industries. SXSW proves that the most unexpected discoveries happen when diverse topics and people come together.
Weitere Informationen über das Programm der me Convention, die Veranstaltungen und die Referenten finden Sie unter www.me-convention.com. Eine Übersicht über alle Veranstaltungen finden Sie hier als PDF: me Convention Schedule.
About Grow up
With "Grow up.", Mercedes-Benz is taking a new approach to marketing communications. The most extensive content creation in the history of the brand has been realised for the five models of the compact-car family. With more than 100 moving-image sequences and over 90 lifestyle and product images, stories of a new generation will be told until the end of this year. The campaign focuses on people caught between the coolness of adolescence and the squareness of adulthood who embody the attitude to life of the new compacts. One of the main characters is the US rapper A$AP Rocky. The campaign launches in early March 2017.
For more information about the topics of the me Convention, the events and the speakers as well as the evening side program go to http://www.me-convention.com/.
If you are interested in media accreditation, please register using the accreditation form in the media section at www.me-convention.com/press. This is where you will also find press releases and images to download.
Tickets for the me Convention can be purchased online at https://me-convention.sxsw.com/products.
( Press Release Image: https://photos.webwire.com/prmedia/6/213619/213619-1.jpg )
Related Links
WebWireID213619

This news content was configured by WebWire editorial staff. Linking is permitted.
News Release Distribution and Press Release Distribution Services Provided by WebWire.