easyJet announces 'Worldwide by easyJet'
WEBWIRE
–
Thursday, September 14, 2017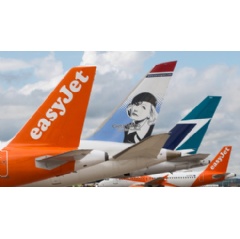 easyJet, Europe's leading airline, has today launched 'Worldwide by easyJet' - the first global airline connections service by a European low fares airline.
         introduction of new disruptive product opens up new 70m market segment for easyJet
        booking platform will make it easy to book connecting long haul flights
         WestJet and Norwegian and Gatwick Airport are launch partners offering flights to North and South America and the Far East
         Worldwide by easyJet also allows easyJet passengers to connect with other easyJet flights
        new partners and additional connections to be rolled out at other European airports
        easyJet.com also now offering tickets on behalf of partner airlines such as Loganair
 
easyJet, Europe's leading airline, has launched 'Worldwide by easyJet' - the first global airline connections service by a European low fares airline.  
 
Legacy airlines have traditionally offered connectivity through costly and complex interline and codeshare agreements and procedures – with Worldwide by easyJet these will be replicated by self-connect and sales partnerships through a digital, virtual hub which will offer the same sort of connectivity but more simply and efficiently.
 
With seats available from today, "Worldwide by easyJet" enables customers to seamlessly connect their easyJet flight with partner airline flights with launch partners WestJet and Norwegian using the GatwickConnects product.  
easyJet has leadership positions at more of Europe's major airports and flies on more of Europe's 100 largest routes than any other airline which makes it the most attractive European short haul airline not currently providing connectivity.  
 
easyJet will sign other airlines up to Worldwide by easyJet with talks already far advanced with middle-eastern and far eastern carriers amongst others.  As well as adding partners at Gatwick Airport easyJet plans to expands to other key easyJet airports in Europe such as Milan Malpensa, Geneva, Amsterdam, Paris Charles De Gaulle and Barcelona.
 
easyJet is also starting to sell stand-alone tickets on behalf of partner airlines alongside the connectivity product on easyJet.com.  Loganair is signed up as a further launch partner and their tickets will be available on easyJet.com from next month.  Loganair operates a complementary network to easyJet and will allow easyJet passengers to easily book onward flights – e.g. from Glasgow and Edinburgh with Loganair to Scotland's Highlands and Islands, including the Glasgow – Barra link, the world's only scheduled service to a beach airport.  The appeal to the partner airlines is access to one of the biggest travel websites in Europe with around 360m visits in the past twelve months.
 
Worldwide by easyJet will also allow easyJet passengers to connect with other easyJet flights through Gatwick Airport.  Currently around 200,000 "self-connect" on easyJet – booking separate easyJet flights and the GatwickConnects product themselves in three different transactions.
 
All of this new connectivity has been enabled by technology partner Dohop whose innovative platform allows easyJet customers to book connections and forward flights on easyJet.com 
 
Worldwide by easyJet won't impact on easyJet's punctuality, its asset utilisation or operating model. The airline will not hold flights for connecting passengers. Worldwide by easyJet is subject to a 2 hour 30 minute 'Minimum Connection Time', which will give customers plenty of time to transfer between flights and/or terminals. Should a passenger miss a connecting flight they will be transferred to the next available flight.
 
Carolyn McCall, easyJet's CEO explained the strategy behind Worldwide by easyJet:
 
"Around 70m passengers flying through an easyJet airport each year are connecting on to other flights, mainly long haul, and it is this market segment that Worldwide by easyJet will open up for us.
"Because of easyJet's strong positions at Europe's leading airports and our customer focus long haul carriers have been asking to work with easyJet for some time and the new technology platform has now allowed us to do so.
"Our own customers and those who fly with other airlines, short and long haul, have also asked us to make it easier to connect with easyJet flights and this simple booking platform makes it easy for them to do so.
"By opening this new market segment this now means that easyJet can access a greater range of passengers flying across Europe."
Peter Duffy, Chief Commercial Officer for easyJet, commented:
 
"The way we have designed Worldwide by easyJet means that we can profitably access a major new pool of customers without undermining easyJet's operating model and punctuality.  
 
"We know there is a real customer demand for making flight connections on easyJet easier.   Almost 200k easyJet passengers a year already self-connect their easyJet flights through Gatwick Airport.  That's c.1% of our passengers at the airport and that doesn't include those connecting between easyJet and long haul flights.
"We are delighted with the partners who have signed up for our launch today.  We are confident it will be popular with customers and look forward to announcing more partners in the near future.
"Whilst Worldwide by easyJet is launching with our largest base London Gatwick we will broaden our focus to include our other biggest airports - such as Milan Malpensa, Geneva, Amsterdam, Paris Charles De Gaulle and Barcelona.  Between them they have tens of millions of connecting passengers each year whose journeys start or end in Europe.
"Worldwide by easyJet will also allow airlines with complementary networks to easyJet to sell their seats to our customer base – accessing the 360m visitors to easyJet.com every year."
Guy Stephenson, Chief Commercial Officer, Gatwick Airport, said:
"GatwickConnects lets passengers seamlessly self-connect between different airlines at Gatwick at the touch of the button. easyJet is our biggest airline and by partnering with GatwickConnects, easyJet passengers can easily and quickly self-connect with other flights in Gatwick's diverse network of flights including our 60 long haul routes."
Norwegian Chief Commercial Officer Thomas Ramdahl said: 
"Travel should be affordable for all so we are delighted to partner with another quality low-cost airline like easyJet to offer passengers even more choice. With Norwegian's growing long-haul networks and easyJet's extensive European routes, millions more passengers will have the chance to travel to some of the world's top destinations, all with great fares, smooth connections and a quality service."
Ed Sims, WestJet Executive Vice-President, Commercial:
"easyJet's new booking platform, Worldwide, is a great fit with our London Gatwick service and we're excited to provide Canadian travellers with connections to easyJet's extensive European network.  Many of our guests already self-connect between WestJet and easyJet flights, and this new booking tool will make it easier than ever before to travel throughout Europe from Canada and back."
For further information, please log onto easyJet.com
Notes to Editors:
About easyJet
easyJet is Europe's leading airline offering a unique and winning combination of the best route network connecting Europe's primary airports, with great value fares and friendly service. 
 
easyJet flies on more of Europe's most popular routes than any other airline. easyJet carries 78 million passengers annually, of which around 20% are travelling on business. easyJet flies over 270 aircraft on more than 870 routes to over 130 airports across 31 countries. More than 300 million Europeans live within one hour's drive of an easyJet airport.
 
easyJet aims to be a good corporate citizen, employing people on local contracts in seven countries across Europe in full compliance with national laws and recognising their trade unions. The airline supports a number of local charities and also has a corporate partnership with UNICEF which has raised over Ł9m for the most vulnerable children since it was established in 2012.
 
About GatwickConnects
GatwickConnects is a world-first airport booking service that lets passengers seamlessly book connecting flights with different airlines in a single transaction. Launched in 2015, GatwickConnects gives the airport's 1.7 million yearly self-connecting passengers more choice and value by allowing them to easily combine a wide range of non-interlined flights provided by 10 different airlines at Gatwick, while also insuring against any missed connections (replacement flights, hotels and meals).  The service also takes the strain out of making a connecting flight, with GatwickConnects bag drop desks located in the airport's baggage reclaim halls so that passengers' luggage can be put directly on the onward flight and customers can go straight through security without checking their bag in again.
 
About WestJet
We are proud to be Canada's most trusted airline and one of very few airlines globally that does not commercially overbook. Together with our regional airline, WestJet Encore, we offer scheduled service to more than 100 destinations in North America, Central America, the Caribbean and Europe and to more than 175 destinations in over 20 countries through our airline partnerships. WestJet Vacations offers affordable, flexible vacations to more than 60 destinations and the choice of more than 800 hotels, resorts, condos and villas.  Members of the WestJet Rewards program earn WestJet dollars on flights, vacation packages and more. Members use WestJet dollars towards the purchase of WestJet flights and vacations packages on any day, at any time, to any WestJet destination with no blackout periods   ̶ even on seat sales. 
WestJet is publicly traded on the Toronto Stock Exchange (TSX) under the symbol WJA. For more information about everything WestJet, please visit westjet.com.
About Norwegian
Norwegian is the world's sixth largest low-cost airline operating over 500 routes to more than 150 destinations in Europe, the U.S, South America and Asia – this includes direct, affordable flights on more than 50 routes between Europe and the USA. In 2016, Norwegian carried almost 30 million passengers on-board a modern, environmentally friendly fleet of more than 130 aircraft with an average age of 3.6 years. The airline has been voted Europe's best low-cost carrier for five years running and World's best low-cost long-haul airline for three consecutive years by the renowned SkyTrax World Airline Awards.
 
About Loganair
Loganair is the only major UK airline owned and headquartered in Scotland.   Part of the Airline Investments Limited (AIL) group, Loganair was founded in 1962 and employs approximately 600 staff to undertake approximately 1000 air services each week using a fleet of 30 aircraft. The company is privately owned and consistently profitable.  It carries nearly 700,000 passengers each year and connects Shetland, Orkney and the Western Isles to key destinations in Scotland, as well as providing other regional air links from its operational bases at Glasgow, Edinburgh, Aberdeen, Dundee, Inverness, Kirkwall and Norwich.  Loganair is codeshare partner of British Airways and sister airline of bmi Regional.
 
About Dohop
Dohop is a travel technology company, specializing in providing flight connection technology to airlines and airports. Dohop was originally founded in 2004 as a flight search website, later expanding the use of its technology to help airlines and airports display and book non-interline connected flights. Dohop is headquartered in Reykjavik, Iceland and employs 35 people in four countries.
( Press Release Image: https://photos.webwire.com/prmedia/7/213608/213608-1.jpg )
Related Links
WebWireID213608

This news content was configured by WebWire editorial staff. Linking is permitted.
News Release Distribution and Press Release Distribution Services Provided by WebWire.