ZEISS Takes Full-Frame Cine Lenses to IBC
Optics company anticipated popularity of large camera sensors. The compact ZEISS CP.3 XD prime lenses with metadata technology expand the creative possibilities available to film crews.
OBERKOCHEN/Germany –
WEBWIRE
–
Wednesday, September 13, 2017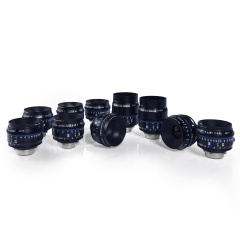 htweight, and the metadata technology opens up whole new possibilities for film crews.
ZEISS showcases the ZEISS CP.3 XD full-format cine lenses at IBC in Amsterdam. Movie productions can use the integrated metadata technology to streamline processes, thus saving both time and money and expanding their creative potential on set.
"Large sensors are all the rage," says Christophe Casenave, Product Manager at ZEISS. "Sony has just announced its new digital movie camera Venice – the first of its kind to feature a full-frame sensor. ARRI, RED and Panavision have all recently launched cameras with image sensors that are considerably larger than what used to be the standard 35 mm." ZEISS predicted this trend back in 2009, which prompted the release of the full-frame-capable cine lenses – and the optics company has continued to advance this segment ever since. "Large sensors offer filmmakers a host of benefits," continues Casenave. "They boast a wider dynamic range and deliver an organic look." That's why ZEISS also opted for lenses suitable for full-frame cameras in its latest range, the ZEISS CP.3 XD with metadata technology, launched in April 2017.
 
The ZEISS CP.3 XD: metadata for real-time previews on set
"ZEISS eXtended Data is the first metadata technology that saves the lens distortion and shading characteristics for every single frame," explains Casenave. "What's more, all /i-technology /i is a registered trademark of Cooke Optics Limited used with permission metadata is recorded, such as focus distance, aperture value, depth of focus and focal length." This benefits both the crew on set and post-production staff: the camera operator and camera assistant can see the lens data during filming, meaning they can now adjust the definition more precisely. The LiveGrade Pro tool that comes courtesy of partner Pomfort allows distortion and shading to be modified on the set in real time – meaning the cameraman and video engineer can decide on the final look in advance.
 
New possibilities in post-production
There are also benefits for post-production, such as working with visual effects: by using the metadata, it takes just a few clicks to modify the image generated on the computer to fit the lens characteristics, and to then splice it together with the footage to create a realistic image. Distortion and shading can easily be corrected – which is essential when it comes to adding green screen footage. "It used to be that only big blockbusters could take this approach," says Casenave. "Until now, distortion and shading had to be manually measured and corrected – a time-consuming and expensive process."
 
Free plug-in for DaVinci Resolve
ZEISS has created a plug-in that makes it possible to use ZEISS eXtended Data in the popular video editing software DaVinci Resolve from Blackmagic Design. Starting October 4 2017, the plug-in can be downloaded as a beta version from the ZEISS website (www.zeiss.com/cine/xd-plugin) free of charge.
 
Compact and lightweight fixed focal lengths
The ZEISS CP.3 XD comprises ten prime lenses between 15 and 135 millimeters. The lenses exude the typical ZEISS characteristics and are comparable to the ZEISS Master Primes and Ultra Primes. ZEISS maintains that the image quality is excellent. The maximum speed of the seven focal lengths between 25 and 135 millimeters is T2.1, the 15, 18 and 21 millimeter lenses have a speed of T2.9. With a front diameter of 95 millimeters and a weight of between 800 and 1,100 grams, the full-frame lenses are very lightweight and compact. They are particularly well-suited for hand-held filming or shooting with gimbals, Steadicam or drones. The manual focus is very smooth and can be operated with a small motor. The focus rotation angle is 300°. The lenses are equipped with an interchangeable mount so that they can be used on almost any camera. In addition to the ZEISS CP.3 XD, there is also a version available without metadata: the ZEISS CP.3.
 
Top tips at the ZEISS IBC booth
Anyone interested in finding out about the benefits of the ZEISS CP.3 XD, learning about the simplified workflow and experimenting with the plug-in for DaVinci Resolve is welcome to visit the ZEISS booth at IBC (hall 12, F50). The ZEISS team of experts will be happy to provide visitors with a wealth of information and answer any questions they may have about the ZEISS cine lenses.
You can download product photos here.
( Press Release Image: https://photos.webwire.com/prmedia/7/213513/213513-1.jpg )
Related Links
WebWireID213513

This news content was configured by WebWire editorial staff. Linking is permitted.
News Release Distribution and Press Release Distribution Services Provided by WebWire.