Tesco walks from Land's End to John O'Groats for health charities
Thousands of Tesco colleagues are walking in relay the length of the UK, from Land's End to John O'Groats, to raise funds and awareness for Diabetes UK and the British Heart Foundation (BHF).
WEBWIRE
–
Tuesday, September 5, 2017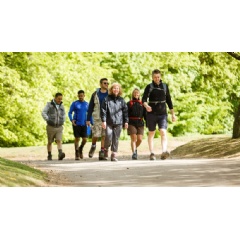 "It's incredibly important we do all we can to help our colleagues and customers live healthier lives."
Tesco will today continue its commitment to helping customers and colleagues live healthier lives by setting out on The Great Tesco Walk, a month-long trek between Land's End and John O'Groats to raise funds for Tesco's National Charity Partnership with Diabetes UK and the BHF.
The walk will see thousands of Tesco colleagues from across the country join together to walk in relay between 5 September and 5 October, with the aim of adding to the £21 million already raised since the partnership began in 2015, and increasing awareness of these two leading health charities.
Dave Lewis, Group CEO at Tesco said:
"It's incredibly important we do all we can to help our colleagues and customers live healthier lives. Our partnership with Diabetes UK and the British Heart Foundation has played a significant part in our efforts, helping to inspire more than 17 million people to get more active and eat better.
"I'm looking forward to joining colleagues to walk the first leg of the walk from Land's End to our store in Penzance. It's a great way to go the extra mile in our fundraising efforts for these brilliant causes."
Tesco colleagues from stores, offices and distribution centres are all taking part, with the route broken down into 51 'legs' of 5km, 10km, 25km and 50km. Separate walks are due to take place in Wales and Northern Ireland. The route has been specifically designed to take in as many Tesco stores and distribution centres as possible and will pass around 150 stores along the way. 
The walk will also pass through Tesco's head office in Welwyn Garden City where walkers will be joined by Olympic Gold Medallist, Greg Rutherford. Commenting on the Great Tesco Walk Greg said:
'I'm really looking forward to cheering on Tesco colleagues when the Great Tesco Walk gets to Welwyn Garden City and I wish everyone taking part from Land's End to John O'Groats the best of luck. It's a big challenge and really shows the incredible commitment of Tesco colleagues to raise money and awareness for the important causes supported by the British Heart Foundation and Diabetes UK.'
 Since the launch of the Partnership in January 2015, the money raised has helped to:
Launch an innovative healthy lifestyle campaign, 'Let's Do This', which reached 17.5million people across the UK in its first year.
Develop online and local community programmes, which have helped around one million people get more active so far.
Run more intensive support programmes that are demonstrating significant behaviour change in six areas of the UK.
Fund four pieces of groundbreaking academic research to understand more about the risk factors for heart disease and pilot support for children and young people living with Type 1 diabetes
Chris Askew, Chief Executive of Diabetes UK, said:
"We're so grateful to everyone taking part in The Great Tesco Walk. Once again, Tesco colleagues are demonstrating the truly great lengths they'll go to in order to raise money and make a difference, and their dedication and commitment to our partnership is awe inspiring.
"The National Charity Partnership has already achieved so much, and we hope the success of The Great Tesco Walk will help us achieve even more together. Good luck to everyone taking part."
Simon Gillespie, Chief Executive of the British Heart Foundation, said:
"Heart and circulatory disease kills one person every three minutes in the UK. Improving the nation's heart health is absolutely critical if we are to bring an end to this terrible devastation, as is funding vital research so we can better understand how to prevent heart disease. Tesco colleagues have fundraised tirelessly to support our National Charity Partnership, helping us inspire millions to live a healthier lifestyle. Together we can achieve so much more, and I wish them every success with their latest challenge."
To boost fundraising for The Great Tesco Walk even further, Tesco is offering customers the opportunity to round up their bill to the nearest 10p, giving up their spare change to support the health charities.
Click here to read the blog from Simon Gillespie (CEO, British Heart Foundation) & Chris Askew (CEO, Diabetes UK)
Notes to editors:
Diabetes UK the British Heart Foundation and Tesco are working together to help change the nation's health for the better.
In the UK today, around 4.2 million people are living with Type 2 diabetes, with a further 11.9 million at increased risk of the condition. In addition to sight loss and nerve damage, diabetes can increase the risk of heart and circulatory disease. There are an estimated 7 million people living with heart and circulatory disease in the UK today, with many more at serious risk.
The partnership is helping people to reduce their risk of developing heart and circulatory disease and Type 2 diabetes, both of which are largely preventable.
The partnership has raised more than £21m so far, mainly through the fundraising efforts of Tesco colleagues and customers. It is spending half of this money directly on projects to help prevent Type 2 diabetes and heart and circulatory disease, and the remaining funds are being split equally between Diabetes UK and the British Heart Foundation.
By supporting people across the UK to reduce their risk of developing either condition, this will give them a greater chance of a healthier and longer life.
For more information about the National Charity Partnership visit www.tescocharitypartnership.org.uk
About Diabetes UK
Diabetes UK is the leading UK charity that cares for, connects with and campaigns on behalf of all people affected by and at risk of diabetes.
Diabetes is a condition where there is too much glucose in the blood because the body cannot use it properly. If not managed well, both Type 1 and Type 2 diabetes can lead to devastating complications. Diabetes is the leading cause of preventable sight loss in people of working age in the UK and is a major cause of lower limb amputation, kidney failure and cardiovascular disease.
For more information on all aspects of diabetes and access to Diabetes UK activities and services, visit www.diabetes.org.uk
For more information on reporting on diabetes, download our journalists' guide: www.diabetes.org.uk/journalists-guide
About The British Heart Foundation
For over 50 years we've pioneered research that's transformed the lives of people living with heart and circulatory conditions. Our work has been central to the discoveries of vital treatments that are changing the fight against heart disease. But so many people still need our help. From babies born with life-threatening heart problems to the many Mums, Dads and Grandparents who survive a heart attack and endure the daily battles of heart failure. Join our fight for every heartbeat in the UK. Every pound raised, minute of your time and donation to our shops will help make a difference to people's lives. For more information on the BHF, visit bhf.org.uk.
( Press Release Image: https://photos.webwire.com/prmedia/7/213080/213080-1.jpg )
Related Links
WebWireID213080

This news content was configured by WebWire editorial staff. Linking is permitted.
News Release Distribution and Press Release Distribution Services Provided by WebWire.