Powerful Women at the me Convention by Mercedes-Benz and SXSW: Women for the Future: Beth Ditto, Beatie Wolfe, Symone D. Sanders and many more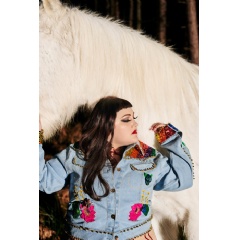 Beth Ditto
The me Convention – the critical dialogue about the future initiated and organized by Mercedes-Benz and South by Southwest (SXSW) – assembles many powerful women who are successful in technology, design, creative industries and the arts. "At me Convention, our goal is to host a progressive and inclusive dialogue about how to best build our collective future  - and we're thrilled to have so many diverse voices represented in the program," says Morgan Catalina, working for SXSW and one of the producers of me Convention. "There are speakers from over 25 countries and almost 50 % of the speakers are female, which is significant considering many of these industries are still male dominated. SXSW and Mercedes-Benz believe that it's critical to bring all perspectives to the table, especially in these increasingly polarized times."  Among the speakers are esteemed women like the musician Beatie Wolfe or the democratic strategist and political commentator Symone D. Sanders, and the evening program features renowned female artists like Beth Ditto.
Beth Ditto for She's Mercedes
On invitation of "She's Mercedes", American singer and songwriter Beth Ditto will play an exclusive concert for me Convention participants in the me Club (Velvet). "With She's Mercedes we want to enter into a more intense dialogue with strong and inspiring women all over the world to connect them with each other and to get to know their mobility needs to serve them in a better way. Therefore we are absolutely excited to announce that Beth Ditto will perform at a special night during me Convention hosted by She's Mercedes. Related to the idea behind She's Mercedes Beth Ditto is what we call a real power woman. I am sure she will inspire all guests of the concert.", said Kerstin Heiligenstetter, Head of She's Mercedes. The holistic initiative encompasses exclusive networking events both on existing and on new Mercedes-Benz platforms, a website and online community (www.mercedes.me/she) plus a magazine. In addition to this, Mercedes-Benz aims to use new services and mobility offers to address the specific mobility needs of women. Since its launch 2015 the international response to the initiative has been tremendous: around 5.000 women in more than 20 countries have already taken part in She's Mercedes events all over the world.
Beth Ditto was the lead singer of the award winning band Gossip for more than 17 years and represents a number of influencing fashion, music and lifestyle magazines. She has also launched her own fashion collection and strongly engages global audiences etc. for LGBTQ rights. Even an legend like Karl Lagerfeld has fallen for her charm. Beth Ditto will give an exclusive concert for the me Convention guests on September 15, 2017 in the me Club (Velvet). Participants are able to sign in for the concert via the me Convention App for iOS and Android.
Concert
Location: me Club (Velvet)
15.09.2017
For me Convention guests only!
Beatie Wolfe
Singer-songwriter & digital art-innovator
Named by WIRED Magazine as one of "12 females changing the world in 2017" singer-songwriter Beatie Wolfe is at the forefront of pioneering new formats for music, which reunite tangibility, storytelling & ceremony to the album in this digital age. In this vein, Wolfe has created a series of world's -first designs that bridge the tangible and digital, which include: a 3D vinyl for the iPhone, an intelligent album deck of cards, a Musical Jacket - designed by the tailor who dressed Bowie, Jagger and Hendrix and cut from fabric woven with Wolfe's music - and most recently the world's first live 360 ̊ AR album stream, broadcast from the quietest room on earth. Beatie Wolfe is the definition of a 21st century artist and perhaps the only musician to have her album's art exhibited in London's V&A Museum, address the VPs of Apple on innovation, and have the American Alzheimer's Association adopt the findings from her Power of Music & Dementia study. Forbes calls Wolfe "an Artist with a capital A," mixing music with art, technology, science and taking it to entirely new dimensions.
Session: How to Imprint Music in the Digital Age
Location: Insight Stage 16.09.2017, 14:15-15:00
Symone D. Sanders
Political commentator & strategist, priorities USA
A champion for women, Symone D. Sanders is a democratic strategist, communications consultant and CNN Political Commentator who rose to prominence during her tenure as the national press secretary for U.S. Sen. Bernie Sanders' presidential campaign. At 25, Symone D. Sanders demonstrated an uncanny command of the issues earning her a place in history as the youngest presidential press secretary on record and a spot on Rolling Stone Magazine's list of 16 young Americans shaping the 2016 election. However, she was not new to presidential politics. When she was 16, she introduced former President Bill Clinton at a luncheon in Omaha, Nebraska. Following her remarks, President Clinton said, "Symone spoke so well I really hate to follow her." President Clinton went on to write about Symone in his book, Giving: How Each of Us Can Change the World. Now, Symone D. Sanders draws from her experience on the national stage to provide perceptive analysis on political and social issues. Her lively presentations challenge the conventional wisdom that strong communities are only defined by what we have in common. Instead, she outlines the way our differences contribute to effective social movements.
Session: Digital Uprising: The Power of Tech in the Political Arena
Location: Forum I Stage 17.09.2017, 10:00-10:45
Besides these three representatives there will be many more inspiring women performing at the me Convention. Their occupational areas cover engineering, medical science, arts, architecture and design and all of them are working on innovative projects for the future. Among them are:
Anne-Marie Imafidon
Head Stemette & co-founder, Stemettes
Session: The Changing Face of Leadership & Innovation
Location: Insight Stage, Festhalle
16.09.2017, 13:15-14:00
Amy Vernetti
Director leadership recruiting - moonshots and bets, google
Session: Recruiting the Skills Required for the 21st century
Location: Forum II Stage, Festhalle
16.09.2017, 14:00-15:00
Tedi Asher
Neuroscience researcher, peabody essex museum
Session: Museums at the Cutting Edge: Changing Definitions of Space and Time
Location: Forum II Stage, Festhalle
16.09.2017, 09:30-10:30
Natasha Jimenez
Artist, engineer & designer, outside
Session: Design Thinking to Save Lives
Location: Creators' Spot, Festhalle
16.09.2017, 15:30-17:30
Nicole L'Huillier
Research assistant, MIT media lab
Session: Spaces that Perform Themselves
Location: Insight Stage, Festhalle
16.09.2017, 11:00-11:45
Prof. Dr. Miriam Meckel
Publisher, WirtschaftsWoche
Session: Leadership in the Age of Neurocapitalism
Location: Forum I Stage, Festhalle
16.09.2017, 11:00-11.45
Nadya Peek
Researcher, MIT center for bits and atoms
Session: Rapid Prototyping of Rapid Prototyping Machines
Location: Insight Stage
15.09.2017, 13:30-14:15
For more information about the topics of the me Convention, the events and the speakers as well as the evening side program go to http://www.me-convention.com/.
About South by Southwest
SXSW dedicates itself to helping creative people achieve their goals. Founded in 1987 in Austin, TX, SXSW is best known for its conference and festivals that celebrate the convergence of the interactive, film and music industries. SXSW proves that the most unexpected discoveries happen when diverse topics and people come together.
About me Convention
The me Convention offers an open and inspiring platform for creative people from many different fields, with the focus clearly on dialogue, interaction, networking, and entertainment. Content at the "me Convention" will cover relevant issues for shaping the future. Together with SXSW, Mercedes-Benz has identified five relevant themes along its future strategy CASE (Connected, Autonomous, Shared and Electric): New Creation, New Urbanism, New Leadership, New Realities and New Velocity. The motto of the convention is: #createthenew.
Tickets for the me Convention can be purchased online at https://me-convention.sxsw.com/products.
If you are interested in getting media credentials, please sign up by completing the accreditation form on the "media" page at www.me-convention.com/press. You will also find media information and images for download there.
Contact me Convention: press@me-convention.com
( Press Release Image: https://photos.webwire.com/prmedia/8/212763/212763-1.jpg )
Related Links
WebWireID212763

This news content was configured by WebWire editorial staff. Linking is permitted.
News Release Distribution and Press Release Distribution Services Provided by WebWire.