GE's Biogas Engine Technology to Power Three New Landfill Power Production Sites in Turkey
-GE to Provide 16 Jenbacher* J420 Biogas Engines and Its myPlant* Asset Performance Management Solution to ITC-Ka Enerji Uretim Sanayi Ve Ticaret AS
-The Three Landfill Gas Power Facilities in Antalya, Esksehir and Alanya will Process 1,387,000 Tonnes of Municipal Solid Waste Annually from Surrounding Households
-Project Supports Turkey's Economic Development Strategy to Increase Renewable Energy Sources and Digitalization
JENBACH, AUSTRIA –
WEBWIRE
–
Thursday, August 24, 2017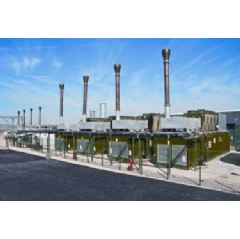 As Turkey looks to implement new energy targets under its economic development strategy, its focus is on increasing renewable energy sources[1] and digitalization. Helping to support these goals, GE's Distributed Power (NYSE: GE) today announced that it is providing its Jenbacher* biogas engine technology and myPlant* Asset Performance Management (APM) solution for three new landfill power production sites in Turkey owned by ITC-Ka Enerji Uretim Sanayi Ve Ticaret AS (ITC), the largest landfill gas power producer in the country.
"The organic part of our new landfill gas-powered facilities contains vegetables, fruit and garden waste and comprises more than 50 percent of the household waste of the cities of Antalya, Esksehir and Alanya. In total, the three facilities will process 1,387,000 tonnes of municipal solid waste annually from the surrounding households," said Erdoğan Göğen, general manager, ITC. "GE's proven, highly efficient, low-emissions, Jenbacher biogas engines will help us reduce carbon dioxide emissions and ensure the success of our zero-waste target as we turn the organic waste into heat and power. Similarly, our current site at Ankara uses the heat in the greenhouse of the Mamak Integrated Solid Waste Management facility to grow tomatoes and strawberries. As a result, the residents of Ankara do not experience the disadvantages of the Mamak landfill site, but rather gained a new provider of vegetables and fruits."
The three, new landfill gas power facilities will convert organic waste into biogas that can generate renewable electricity and heat. The biogas produced will be used to fuel four of GE's Ecomagination certified, Jenbacher J420 biogas engines at Eskisehir, nine at Antalya and three at the Alanya landfill sites, which are configured to generate up to 50 percent of the common limit for Nitrous Oxide and will provide 22 megawatts (MW) of electrical power to the national grid. This represents enough power for 30,000 households in the three cities.
In addition to the Jenbacher biogas engines, GE will also provide its myPlant APM solution for gas engines. myPlant APM is a digital solution that improves engine uptime and efficiency and life cycle costs. GE's myPlant APM allows ITC to remotely access, optimize and troubleshoot the generator sets as well as use predictive analytics to avoid reliability or performance impacting events. The project also includes a multiyear services agreement for parts (up to 59,999 operating hours), and GE's long-term channel partner, Topkapi Endustri, is providing installation services.
"Turkey's energy use is estimated to grow at a rate of 4.5 percent through 2030, and therefore, high efficiency is key to reducing fuel costs. With less than 200 MW of generating capacity using solid biomass, geothermal, biogas and industrial waste, it is important to utilize the country's large potential for increasing power generation from renewable sources,[2]" said Margherita Adragna, general manager, services for GE's Distributed Power. "Our Jenbacher biogas engine technology will help ITC meet the growing needs of its customers through a cost-effective, environment-friendly solution. As the first implementation of our myPlant Asset Performance Management solution for Jenbacher gas engines in Turkey—which uses predictive analytics to identify issues before they occur—ITC will be able to reduce downtime and extend asset life while still balancing maintenance costs with operation risk."
The equipment will be built at GE's Distributed Power facility in Jenbach, Austria, and it is expected to enter service during the second half of 2017.
About ITC's Integrated Solid Waste Management Systems
ITC's integrated solid waste management systems provide innovative technologies on recycling, disposal and rehabilitation methods, which are put into practice by ITC Invest Trading & Consulting AG. Its system is a combination of processes focusing on rehabilitation of wild landfills, design and operation of sanitary landfills, energy production from biomethanization, gasification incineration, refuse-derived fuel production, recycling of packaging and excavation wastes and disposal of hazardous and medical wastes, etc. The aim of the applications is to decrease the amount of waste that has to be buried in order to extend the lifetime of landfills, and the eventual target is to eliminate the need for landfills. For this purpose, innovative technologies are developed via the company's research and development studies, bringing about a completely new perspective in waste management.
About GE's Distributed Power
GE's Distributed Power is a leading provider of engines, power equipment and services focused on power generation and gas compression at or near the point of use. Distributed Power offers a diverse product portfolio that includes highly efficient, fuel-flexible, industrial gas engines generating 100 kW to 10 MW of power for numerous industries globally. In addition, the business provides life cycle support for more than 35,000 gas engines worldwide to help you meet your business challenges and success metrics—anywhere and anytime. Backed by our service providers in more than 150 countries, GE's global service network connects with you locally for rapid response to your service needs. GE's Distributed Power is headquartered in Jenbach, Austria.
About GE Power
GE Power is a world energy leader that provides technology, solutions and services across the entire energy value chain from the point of generation to consumption. We are transforming the electricity industry by uniting all the resources and scale of the world's first Digital Industrial company. Our customers operate in more than 150 countries, and together we power more than a third of the world to illuminate cities, build economies and connect the world.
About GE
GE (NYSE: GE) is the world's Digital Industrial Company, transforming industry with software-defined machines and solutions that are connected, responsive and predictive. GE is organized around a global exchange of knowledge, the "GE Store," through which each business shares and accesses the same technology, markets, structure and intellect. Each invention further fuels innovation and application across our industrial sectors. With people, services, technology and scale, GE delivers better outcomes for customers by speaking the language of industry. www.ge.com
* Trademark of General Electric Company; may be registered in one or more countries.
-----
[1] http://www.iea.org/publications/freepublications/publication/EnergyPoliciesofIEACountriesTurkey.pdf
[2] http://www.iea.org/publications/freepublications/publication/turkey2009.pdf
( Press Release Image: https://photos.webwire.com/prmedia/6/212726/212726-1.jpg )
Related Links
WebWireID212726

This news content was configured by WebWire editorial staff. Linking is permitted.
News Release Distribution and Press Release Distribution Services Provided by WebWire.