When Beauty Rhymes with Community Spirit In Brazil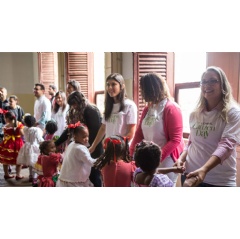 What is it like working for a major company in Rio? Probably like something out of a daydream. But if that company happens to be L'Oréal, employees also get the opportunity to help out needy communities and play their part in a country where the sun does not always shine for everyone. Renan Miranda, who is in charge of internal communication at L'Oréal Brazil, tells us about Citizen Day at L'Oréal Brazil.
EMPLOYEES ARE AWARE OF SOCIAL INEQUALITIES
Inequality is all around in Brazil. Employees at L'Oréal Brazil are surely more aware of the issues than most people. "We are confronted with social inequalities everyday", comments Renan. The orphanage selected as one of the beneficiary organisations for Citizen Day 2016 is located in one of the wealthiest regions of the country, not far from parts of the city where L'Oréal employees have their homes. Renan explains that when you live in Brazil, there are plenty of opportunities for community action: "Lots of our people already volunteer with different organisations. With Citizen Day, we wanted to put together something bigger and really up our volunteer numbers".
Citizen Day is a day when L'Oréal's subsidiaries around the world give their employees the chance to come together to help out a charity or non-profit group. Since Brazilians are big-hearted, and because the country is on such a vast scale, L'Oréal Brazil staged this year's event over three days. After all, with employees spread between Rio de Janeiro, Nova Iguaçú and São Paulo.
When deciding which initiatives to support, Renan's team looked at employees' volunteering preferences. As he explains: "For the first time, we asked participants to suggest which projects to support. After that, we drew up a shortlist using various criteria, such as social impact, whether the organisation actually needed help, whether projects were in safe areas, and so on". Over several months, organisers and prospective volunteers held discussions over Yammer, an enterprise social network. The projects were finally chosen at the end of April. Two were picked for the June 10th event: the Educandario Romao de Mattos Duarte Orphanage, which looks after 75 children aged zero to seven, and Lar Amparo Thereza Christina, a boarding house for 60 women in need. In all, we expect 220 employees signing up to take part.
The organising team comprises L'Oréal Brazil employees from a wide range of company departments, such as human resources, communication and legal affairs. It also includes members of the Beauty That Lasts – in portuguese Beleza que Fica – group, who want Citizen Day to have a lasting impact and who embody the level of engagement shown by employees. Says Renan: "These volunteers, who hail from every department of the company, have spontaneously come together to form a group over the years that we have been conducting Citizen Day. Through initiatives such as fund-raisers for those in need and volunteer work, they continue their efforts throughout the year and strive to ensure that the actions taken during the event endure".
EMPLOYEE ENGAGEMENT IS A PRIORITY FOR L'ORÉAL BRAZIL
Nicolas Hoppenot, CFO of L'Oréal Brazil, says that "a company's profits are meaningless if that firm does not make a contribution to society". Based on their feedback, L'Oréal Brazil staff share this sentiment. "Taking part in something like Citizen Day brings people together. It benefits us just as much as those we help", says Monique Machado, CDP PR Manager. Financial analyst Taina Bravo put it this way: "I have often wanted to do some volunteering but never took the time. This was a great opportunity to do it with L'Oréal's support". Renan agrees: "Employee engagement is a priority for L'Oréal Brazil, and Citizen Day is one of our biggest projects in this regard. Citizen Day does us a lot of good, and the organisational support that we receive from the Group brings us closer to the company and builds ties between employees.
Employees appreciate the fact that their company lets them take part in such a large-scale undertaking and make that known by sharing photos of the event through the Citizen Day app, a new addition with the 2016 event. Renan says "there are already one hundred or so photos of Brazil with the hashtag #citizenday on Instagram".
"This is not volunteering for volunteering's sake. We have a sense that we are giving back to the community, that our business has meaning. Not all companies let you do that and our employees know it." Given the benefits to employees and recipients alike, this type of event has a long future ahead of it.
( Press Release Image: https://photos.webwire.com/prmedia/6/212539/212539-1.jpg )
Related Links
WebWireID212539

This news content was configured by WebWire editorial staff. Linking is permitted.
News Release Distribution and Press Release Distribution Services Provided by WebWire.