SVAcademy Launches the MIT of Sales to Infuse Silicon Valley with Talented Business Development Professionals and Increase Diversity
New program aims to give 1 million minorities, women and people of color access to sales apprenticeships and careers
SAN FRANCISCO –
WEBWIRE
–
Tuesday, August 15, 2017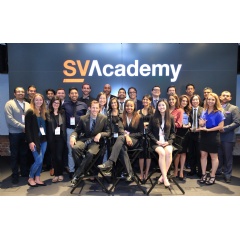 Today, SVAcademy launches an outcomes-based, new economy apprenticeship focused on providing people of color, women, minorities and Middle America with access to business development and sales careers at top technology companies, including Salesforce, Box, and dozens of high-growth, VC-backed SaaS startups.
Free to attend through employer-sponsored tuition, SVAcademy's goal is to equip those groups typically underrepresented in the tech industry with valuable skill sets to break through the insular network that typifies Silicon Valley hiring. Watch this video to see how SVAcademy is already changing the lives of recent graduates and increasing the bottom line for its employer partners: https://vimeo.com/228276757/d2f07a0e74
Silicon Valley's Hiring Problem
Despite the fact that tech companies have spent the last four years executing programs to diversify employees, the industry's workforce remains dominated by a privileged class of high earning, white males. A recent survey from Atlassian found that across the Silicon Valley's technical employees, only two percent are African American, three percent are Latino, and 24 percent are female.
The breakdown comes from structural and social factors. A study by Martin Kenney, in Understanding Silicon Valley: The Anatomy of an Entrepreneurial Region, found that 85 percent of all employees in Silicon Valley were hired from the local market - meaning they were already in the industry. Similarly, an investigation into Facebook's hiring practices revealed that even when offered qualified talent from outside their immediate circle, hiring managers preferred to choose people with similar backgrounds to themselves. With unconscious biases and the glorification of the "culture fit" so deeply ingrained in the hiring process, it's no surprise that while many tech companies voice an active commitment to improving diversity, few have succeeded.
The 'Hyperloop' Between College and Career
SVAcademy breaks through this status quo and creates a 'Hyperloop' between education and employment, launching the first viable way to continuously improve the talent pool for companies looking to hire hard-working, highly-motivated employees from diverse backgrounds.
Here's how SVAcademy's 15-month program works:
Open to anyone SVAcademy is employer-sponsored, meaning the hiring company pays the tuition and students enroll for free. Furthermore, the part-time program works around students' schedules and can be accessed anywhere in the world.

A focus on the less-advantaged Using a proprietary algorithm developed from the founders' experience hiring hundreds of SaaS sales representatives, SVAcademy gauges each applicant's likelihood of success by measuring traits not listed on a resume -- like creativity, resilience and drive. This selection strategy helps open the door to immigrant students, first-generation college graduates, those that held multiple jobs while taking a full course load, or that grew up in a low-income or single parent homes.

Real-world insight Through its hyper-personalized curriculum, mentorship from SaaS executives at Google, Salesforce, Oracle and LinkedIn, and hands-on learning to develop market-ready skills, SVAcademy gives students what they need to succeed.

Guaranteed success Established relationships with partner companies put graduates on the fast-track to earning roles with an average starting salary of $75,000, as well as ongoing career counseling and mentorship. While the upfront training and development portion runs for three months, SVAcademy's relationships with its graduates last at least 15 months -- from initial job offer through first promotion.
Motivated by a desire to solve tech's diversity problems while leveraging their background in sales to bring a SaaS model to education, Rahim Fazal, a college dropout turned four-time founder who sold his last company to Oracle, and Joel Scott, a Stanford graduate and former VP at Hewlett-Packard, teamed up to build a solution.
"College is not the golden ticket it used to be. Employers expect candidates to have years of experience for entry-level positions and recruiting systems are elitist, looking for qualifications more likely to be found on the resumes of privileged applicants," said Rahim Fazal, CEO and co-founder of SVAcademy. "A resume only tells half the story. With SVAcademy, we're changing that, by providing a diverse cohort of students -- already displaying success-predicting traits like resilience, coachability, and hustle -- with the work experience and connections to land top jobs in tech."
Thousands of college graduates are descending upon Silicon Valley every year eager to find a career in the booming startup scene, only to find that without an engineering degree, Ivy League credentials, or connections to decision makers, the likelihood of landing that job is slim to none. It's no surprise that millennial unemployment is currently triple the total U.S. rate, while half of all 2015 graduates are in jobs that don't even require a college degree.
"Helping our students succeed isn't just the right thing to do, it's also good business. We've developed a symbiotic relationship intended to thrive until our graduates need SVAcademy's services when they're in charge of hiring," said Joel Scott, COO and co-founder of SVAcademy. "We're equally committed to maintaining that type of relationship with our employer partners as well, by providing a consistent pipeline of highly-trained, diverse candidates that employers can easily plug into and rely on for years to come."
Since piloting the program in early 2017, SVAcademy has admitted less than 5 percent of its nearly 1,000 total applicants. Of those students in the program, half are first-generation college graduates, 45 percent who identify as women, 40 percent are African American or Latino, and all are from lower-income or immigrant families.
To apply for SVAcademy's upcoming Sept. 1 cohort visit www.SV.Academy
About SVAcademy:
Co-founded by Rahim Fazal, a college dropout who sold his last company to Oracle, and Joel Scott, a former VP at Hewlett-Packard and COO-Americas at Autonomy, Inc. who has hired hundreds of SaaS sales reps and built sales teams for multiple business units, SVAcademy is the first and only employer sponsored vocational school that gives people of color, women, minorities and Middle America access to high-growth Silicon Valley sales and business development careers.
( Press Release Image: https://photos.webwire.com/prmedia/42381/212264/212264-1.jpg )
Related Links
WebWireID212264
Contact Information

Maggie Philbin
Senior Account Manager
VSC for SVAcademy

This news content may be integrated into any legitimate news gathering and publishing effort. Linking is permitted.
News Release Distribution and Press Release Distribution Services Provided by WebWire.