Students Compose for Butterflies
Soundscapes transform Phipps' Stove Room experience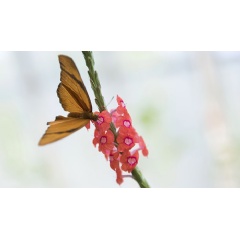 A Gulf fritillary butterfly is among the more than 20 species that can be found in the Butterfly Forest
Carnegie Mellon University students have created an ever-changing soundtrack for Phipps Conservatory and Botanical Gardens' Butterfly Forest.
It is the first time a sound installation has been a part of the exhibition, which annually attracts some 125,000 visitors from Memorial Day to Labor Day.
"The sound art installation has really transformed the space," said Jordyn Melino, exhibit coordinator at Phipps Conservatory. "The space is so alive with plants, but sound is really just something that adds that extra element, brings the space to life."
Jesse Stiles, an assistant teaching professor at CMU's School of Music and the Integrative Design, Arts and Technology (IDeATe) Network, said students in the Experimental Sound Synthesis course composed pieces for different areas of the Stove Room's Butterfly Forest. They created computer programs to generate evolving musical sequences from 11 miniature computers within the forest, and installed transducers to the Stove Room's glass panels.
But Stiles said he hopes visitors focus on the ambience rather than the technology.
"Hopefully you would just have a transformative experience where the sound helps you enter a mind frame where you can experience wonder and curiosity," Stiles said.
Melino said staff and visitors have been pleased with the project, which captures aspects of the room, including a stone tunnel and rain chain.
"When you're walking through the stone tunnel, everything gets quiet and you hear this low murmuring sound. It's just a really nice pairing," Melino said. "With the water dripping down the rain chain in the room, that motion of the water and the beat of the water is captured in the sound, as well.
"It's nice to experience those little nuances," Melino said.
Phipps has worked with Carnegie Mellon on projects in the past, and the students and faculty offer creative, fresh perspectives to enhance one of the oldest and largest Victorian glasshouses in the United States, Melino said. In turn, students have a chance to work in an alluring site that attracts hundreds of thousands of annual visitors.
Joshua Brown, a rising senior in CMU's Bachelor of Humanities and Arts program, said working in Phipps was a wonderful experience in which students worked together, drawing from their different skills to learn from one another. Brown said he felt a responsibility to help create something that speaks for itself and is powerful on its own.
"It's immediately striking," Brown said. "You go through the Phipps, and it's this very delicate, silent area. There's not a lot of movement or sound, and then there's this one room where you go through this curtain of chains and immediately there is color, movement and sound. And all of these things blend together to create this Butterfly Forest ... a pseudo magical kind of experience"
Watch video: https://www.youtube.com/watch?v=IfrrbJKgNm0
Listen the latest tracks by Experimental Sound Synthesis S17: https://soundcloud.com/ess-s17
( Press Release Image: https://photos.webwire.com/prmedia/8/211872/211872-1.jpg )
Related Links
WebWireID211872

This news content was configured by WebWire editorial staff. Linking is permitted.
News Release Distribution and Press Release Distribution Services Provided by WebWire.