Corning Incorporated Prices ¥78 Billion of Yen-Denominated Senior Notes
CORNING, N.Y. –
WEBWIRE
–
Monday, August 7, 2017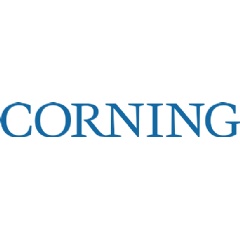 Corning Incorporated (NYSE: GLW) announced today that it has priced ¥78 billion (par value) in yen-denominated senior notes. The offering consists of ¥21 billion of 0.698% senior notes due 2024, ¥47 billion of 0.992% senior notes due 2027 and ¥10 billion of 1.583% senior notes due 2037. The net proceeds of the offerings will be used for general corporate purposes.
"Corning's issuance of yen-denominated senior notes represents another step in our company's Strategy and Capital Allocation Framework announced in October 2015," said Tony Tripeny, senior vice president and chief financial officer, Corning Incorporated. "This inaugural yen issuance provides attractive funding, broadens our investor base and supplements our successful yen hedging activities.  Corning is a world-leading producer of display glass, the sales of which are priced in the Japanese yen, and the bond issue also helps to reduce our exposure to fluctuations in the currency."
BofA Merrill Lynch, MUFG, and SMBC Nikko served as joint book-running managers and underwriters for the offering. The offering of the notes is being made only by means of a prospectus and a related prospectus supplement, copies of which will be available by contacting:
Merrill Lynch International
Attn: Prospectus Department
200 North College Street, 3rd floor
Charlotte, North Carolina 28255-0001
Tel: 800.294.1322
Email: dg.prospectus_requests@baml.com
MUFG Securities EMEA plc
Attn: Legal Department
Ropemaker Place
25 Ropemaker Street
London, EC2Y 9AJ
United Kingdom
Tel: +44 20 7577 2206
Email: DCMDebtSyndication@mufgsecurities.com
SMBC Nikko Securities America, Inc.
Attn: Securities Operations
277 Park Avenue
New York, New York 10172
Tel: 888.868.6856
Email: prospectus@smbcnikko-si.com
An electronic copy of the prospectus supplement and the accompanying prospectus will also be available on the website of the Securities and Exchange Commission at http://www.sec.gov.
This news release shall not constitute an offer to sell, or the solicitation of an offer to buy the notes, nor shall there be any sale of the notes in any jurisdiction in which such offer, solicitation or sale would be unlawful prior to registration or qualification under the securities laws of any such jurisdiction.
Forward-Looking and Cautionary Statements
This press release contains "forward-looking statements" (within the meaning of the Private Securities Litigation Reform Act of 1995), which are based on current expectations and assumptions about Corning's financial results and business operations, that involve substantial risks and uncertainties that could cause actual results to differ materially. These risks and uncertainties include: the effect of global political, economic and business conditions; conditions in the financial and credit markets; currency fluctuations; tax rates; product demand and industry capacity; competition; reliance on a concentrated customer base; manufacturing efficiencies; cost reductions; availability of critical components and materials; new product commercialization; pricing fluctuations and changes in the mix of sales between premium and non-premium products; new plant start-up or restructuring costs; possible disruption in commercial activities due to terrorist activity, armed conflict, political or financial instability, natural disasters, adverse weather conditions, or major health concerns; adequacy of insurance; equity company activities; acquisition and divestiture activities; the level of excess or obsolete inventory; the rate of technology change; the ability to enforce patents; product and components performance issues; retention of key personnel; stock price fluctuations; and adverse litigation or regulatory developments. These and other risk factors are detailed in Corning's filings with the Securities and Exchange Commission. Forward-looking statements speak only as of the day that they are made, and Corning undertakes no obligation to update them in light of new information or future events.
Digital Media Disclosure
In accordance with guidance provided by the SEC regarding the use of company websites and social media channels to disclose material information, Corning Incorporated ("Corning") wishes to notify investors, media, and other interested parties that it intends to use its website (http://www.corning.com/worldwide/en/about-us/news-events.html) to publish important information about the company, including information that may be deemed material to investors. The list of websites and social media channels that the company uses may be updated on Corning's media and website from time to time. Corning encourages investors, media, and other interested parties to review the information Corning may publish through its website and social media channels as described above, in addition to the company's SEC filings, press releases, conference calls, and webcasts.
About Corning Incorporated
Corning (www.corning.com) is one of the world's leading innovators in materials science, with a 166-year track record of life-changing inventions. Corning applies its unparalleled expertise in glass science, ceramics science, and optical physics along with its deep manufacturing and engineering capabilities to develop category-defining products that transform industries and enhance people's lives. Corning succeeds through sustained investment in RD&E, a unique combination of material and process innovation, and deep, trust-based relationships with customers who are global leaders in their industries.
Corning's capabilities are versatile and synergistic, which allows the company to evolve to meet changing market needs, while also helping our customers capture new opportunities in dynamic industries. Today, Corning's markets include optical communications, mobile consumer electronics, display technology, automotive, and life sciences vessels. Corning's industry-leading products include damage-resistant cover glass for mobile devices; precision glass for advanced displays; optical fiber, wireless technologies, and connectivity solutions for state-of-the-art communications networks; trusted products to accelerate drug discovery and delivery; and clean-air technologies for cars and trucks.
( Press Release Image: https://photos.webwire.com/prmedia/6/211841/211841-1.png )
Related Links
WebWireID211841

This news content was configured by WebWire editorial staff. Linking is permitted.
News Release Distribution and Press Release Distribution Services Provided by WebWire.