Ongoing innovation in the interests of safety: 50 years ago: all Mercedes-Benz passenger cars are equipped with safety steering including impact absorber
Stuttgart –
WEBWIRE
–
Thursday, August 3, 2017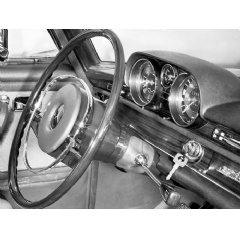 Mercedes-Benz safety steering system in a 250 SE (W 108) luxury-class saloon, 1967.
An important step on a long journey: from August 1967, all Mercedes-Benz passenger cars are equipped as standard with a new safety steering system including impact absorber. These are two of numerous key modules of the Stuttgart-based brand in the holistic development of vehicle safety. This includes details such as the conical-pin safety door lock, which was patented in 1949, and the retractable Mercedes star from 1957 as well as fundamental concepts, such as the safety body with crumple zones (1959), anti-lock braking system ABS (1978), airbag (1981) and Electronic Stability Program ESP® (1995). Setting safety standards – this has always been a special concern of the inventor of the automobile. Today, Mercedes-Benz is advancing its vision of accident-free and autonomous driving with the integrated Intelligent Drive concept, which also includes solutions for connected, autonomous, shared and electrified driving.
The quest for increased safety for driver, passengers and all other road users is a key theme in the brand history of Mercedes-Benz. This vision has always been realised in an ongoing process of safety development. The result is a host of innovations that set standards for the entire automotive industry.
With the goal of vehicle safety becoming ever more complex, since the 1960s engineers and researchers have made a distinction between active safety (driving safety, physiological safety and operational safety) and passive safety (interior and exterior safety). Today, the focus is on holistic solutions for integrated vehicle safety that combine various systems. With Intelligent Drive, Mercedes-Benz offers its customers assistance and safety systems that guarantee maximum safety, comfort and driver stress reduction.
Safety development for every era
A key element in the long history of safety development at Mercedes-Benz is the safety steering system with telescopic steering column and impact absorber. It was introduced as standard 50 years ago – in August 1967 – for all Mercedes-Benz passenger cars. It comprises two innovative components that reduce the specific risks to the driver in the event of a collision: in the event of a frontal collision, the telescopic steering column, consisting of several parts, collapses so that it does not penetrate into the interior of the vehicle. The additional impact absorber in the centre of the steering wheel is designed to absorb and reduce the kinetic energy when the driver is thrown against it in a crash. Its development dates back to a first patent granted in 1954.
The advantages of the safety steering system were apparent at first glance in 1967. But what exactly is vehicle safety in all its facets? Each era in the history of the automobile has answered this question in its own way – and has placed corresponding demands on the manufacturer. Before the Second World War and in the early post-war years, for example, the main focus of the purchasers of Mercedes-Benz passenger cars was on ride comfort and high rigidity. For, so people considered at the time, a vehicle of maximum possible robustness was most likely to protect its occupants in an accident.
Yet the engineers and researchers at Mercedes-Benz were already thinking much further ahead. This is because, from as early as the late 1940s, they developed targeted solutions for vehicle safety – an ever more important goal in their work. Today's excellent standard of safety at Mercedes-Benz – and therefore a key pillar of the brand – is the result of an ongoing process involving a long series of innovations. Hence, the safety steering system did not stand in isolation in the summer of 1967. Instead, it was the product of an era in which the company's in-house safety research brought a host of important developments to maturity and introduced them into the production of Mercedes-Benz passenger cars.
The journey to vehicle safety
It was as early as 1959 that the safety body with rigid passenger cell and crumple zones made its debut in Mercedes-Benz "fintail" saloons (W 111). The father of this pioneering design was the Mercedes-Benz engineer Béla Barényi, who applied for a patent on the system in 1951. Barényi was hired in 1939 at the recommendation of the then head of experimental body development, Karl Wilfert. There, he was given the task of developing new vehicle concepts.
Barényi worked for Mercedes-Benz until 1974 and patented over 2500 of his inventions in that period. Many of them became the basis for pioneering solutions in automotive safety for the entire industry. In the 1950s, however, vehicle safety experts were also at work on minor, yet refined details that were to become the hallmark of Mercedes-Benz passenger cars.
Retractable Mercedes star
An example is the retractable Mercedes star, which made its debut 60 years ago in the summer of 1957. Although the underlying technology is relatively simple, it represents an important safety factor for pedestrians in the event of an accident. Thus, the trademark star, which has its origins in the classic radiator mascot, can still be used to this day – despite the ban on fixed radiator mascots in Germany, which was imposed in April 1959.
A June 1957 communication from the then Daimler-Benz AG to its branches and agencies stated the following about this innovation: "We are able to inform you that a 'retractable' Mercedes star has been developed for our vehicles [...]. The star is held under tension by a strong spiral spring in a ball bed of the now entirely flat holder and retracts when subjected to strong pressure. This innovation, which will be introduced before the end of June, reduces the risk of injury in an accident."
Safety with the star: this still applies to the history of innovation by the Stuttgart brand. Alongside the solutions already mentioned, further highlights in the 1950s and 1960s included the following innovations:
1954: Single-joint swing axle with thrust arms in the 220 model (W 180)
1957: Optionally available lap belts
1958: Application for patent on wedge-pin door lock with double detent
1961: Disc brakes at the front on the 220 SE Coupé (W 111) and on all four wheels on the 300 SE (W 112) and 300 SL Roadster (W 198)
1961: Anchor points for front seat belts in all Mercedes-Benz passenger cars and diagonal shoulder belts as an optional extra
1963: Dual-circuit braking system as standard on all Mercedes-Benz passenger car models
( Press Release Image: https://photos.webwire.com/prmedia/8/211728/211728-1.jpg )
Related Links
WebWireID211728

This news content was configured by WebWire editorial staff. Linking is permitted.
News Release Distribution and Press Release Distribution Services Provided by WebWire.