ADNOC Recognizes Outstanding Individuals Who Make Abu Dhabi's Oil and Gas Industry One of the Safest in the World
Abu Dhabi, UAE –
WEBWIRE
–
Wednesday, July 26, 2017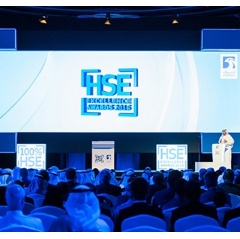 The Abu Dhabi National Oil Company (ADNOC) announced, last night, the winners of its annual health, safety and environment awards, that celebrate outstanding individuals and teams who make the Abu Dhabi oil and gas industry one of the safest in the world.
Speaking at the ADNOC Health, Safety and Environment Excellence Awards, H.E. Dr Sultan Ahmed Al Jaber, UAE Minister of State and Group CEO of ADNOC, congratulated the winners who, he said, demonstrate the highest commitment to enhancing HSE standards and ensuring the full safety and integrity ADNOC's operations. 
Emphasising ADNOC's unwavering commitment to the safety of its people, communities and the environment, H.E. Dr Al Jaber said: "Our commitment to the highest standards of HSE, that are recognized against international benchmarks, reinforces our focus on People, Performance, Profitability and Efficiency and underpins of our 2030 smart growth strategy.
"They are the foundation of our positive transformation into a resilient, commercially-focused and performance-driven company that will ensure ADNOC continues to compete, thrive and lead in this new energy era."
In their 20th year, the annual awards have been renamed the ADNOC Health, Safety and Environment (HSE) Excellence Awards. They recognise and showcase excellence and innovation, across operating companies, that helps ensure the safety, well-being and integrity of ADNOC's work force, its communities, the environment and its assets.  
This year's awards, which build on ADNOC's leadership in implementing a high performance HSE culture, with distinctive capabilities and best-in-class standards and systems, attracted 193 entries, across six categories – HSE Champion; Occupational Health; Safety; Environment and Sustainability; Energy and Contractor Partnerships.
All the entries went through the most rigorous selection process in the history of the awards, involving assessments and analysis by both internal and external HSE experts, to emphasize the fundamental importance the company gives to safety in the workplace and communities, integrity of assets and protection of the environment. As a result, awards were made in three categories – HSE Champion, Energy and Environment and Sustainability.
ADCO Drilling Engineer, Muna Mohamed Al Suwaidi was named ADNOC HSE Champion for promoting the highest drilling safety in challenging environments and best practice stakeholder engagement. She is the first female winner of the ADNOC HSE Champion Award, and her initiative is now being used as best practice in drilling operations throughout the ADNOC Group. 
The Energy category was won by GASCO's 'Save Energy Today for a Better Tomorrow' initiative, aimed at minimizing GASCO's energy consumption and the Environment and Sustainability award was won by ADMA's Go Green gas well testing project, which eliminates the need to flare gas when testing and verifying new gas wells. (See below for additional details about all three winners)
In support of its commitment to be an industry leader in HSE standards, ADNOC has launched a focused and targeted HSE pledge, called '100% HSE'. There are four main objectives encapsulated in the company's approach to HSE:
• Pursue the goal of no harm to our people, community, assets and environment.
• Embed an HSE culture of empowerment and accountability in every individual.
• Foster an environment that promotes HSE knowledge sharing and continuous learning.
• Ensure a world class emergency response, crisis management and business continuity measures.
H.E. Dr Al Jaber said: "100% HSE is our unwavering commitment to keep our people, our communities and the environment safe from harm. With 100% HSE embedded in our DNA we will continue to succeed and cement our place among the leading oil and gas companies in the world.
"HSE forms the foundation to ensure value creation, improved performance and enhanced profitability. This is not just the right thing to do, it is the smart thing to do and makes perfect business sense."
During the ADNOC Health, Safety and Environment (HSE) Excellence Awards, H.E. Dr Al Jaber and ADNOC's Directors signalled their, and the organization's, support for the 100% HSE approach by signing a pledge, committing the company to protecting its people, communities, the environment and its assets, everywhere ADNOC operates, and to implementing the necessary actions required for risk reduction and accident prevention.
ADNOC Health, Safety and Environment Excellence Awards 2016: Categories and winners
ADNOC 2016 HSE Champion: Muna Mohamed Al Suwaidi
(The award recognizes an exceptional oil and gas professional who embodies the highest standards of HSE in their work and attitude and who demonstrates vision, credibility and consistency; strong communications; accountability and a clear sense of collaboration, motivation and encouragement, in their work.)
Muna Mohamed Al Suwaidi was awarded the accolade for her targeted and effective program that promotes the highest drilling safety in very challenging environments and best practice stakeholder engagement.  
The program was set up by Al Suwaidi and her team as they prepared to drill a well close to the highly populated Baniyas residential area. Since H2S levels in the area were uncertain, the project presented many challenges that had to be carefully planned and addressed. These included a fully-fledged public awareness campaign. 
Al Suwaidi worked with her crew to ensure every impact was considered, and created a comprehensive plan that included collaboration with internal stakeholders across the ADNOC Group, Government authorities, and the local community. 
Energy: Save Energy Today for a Better Tomorrow, submitted by GASCO
(The award is given to the team, or project, which demonstrates a proactive and innovative approach resulting in quantifiable improvements in efficiency of energy management, and a reduction in emissions and waste.)
The Save Energy for a Better Tomorrow program, which is made up of seven different initiatives, has minimized GASCO's own energy consumption and maximized the value of its assets, by expanding and developing process optimization initiatives on GASCO's major compressors and regeneration gas flowrate.
Throughout 2016, the program created efficiencies and changed the culture of GASCO's plant operations, with a renewed focus on reducing energy consumption. By developing in-house technology and investing in its people with zero extra capital, GASCO's energy-saving initiatives resulted in impressive energy and cost savings of $8.3 million per annum.
Environment & Sustainability: Go Green gas well testing project submitted by ADMA
(The award recognizes the team or project which demonstrates a proactive and innovative approach to environmental protection and sustainability in ADNOC operations or in the wider community, resulting in quantifiable improvements in working methods and a reduction in waste.) 
In the past, gas wells were tested using a rig, which results in oil and gas flaring, which is a contributor to greenhouse gas emissions, and has other environmental impacts, because it is noisy and hot. It is also inefficient and wastes precious hydrocarbon resources. 
The ADMA team developed a barge system that handles the testing and verification of newly drilled gas wells. These well intervention barges can use re-injection facilities so that hydrocarbons are re-injected into the sea line. The result is that flaring is eliminated, and rig costs are significantly reduced.
The barge system tested three new wells in 2016 for 15 days each. This resulted in savings of US $12 million in rig costs alone. 
ADNOC will now use the barge for all its offshore gas well testing. There is interest and support also from ADMA shareholders to use the same process in their operations.
( Press Release Image: https://photos.webwire.com/prmedia/6/211387/211387-1.jpg )
Related Links
WebWireID211387

This news content was configured by WebWire editorial staff. Linking is permitted.
News Release Distribution and Press Release Distribution Services Provided by WebWire.