NASA to Show Technologies at Experimental Aircraft Association's AirVenture 2017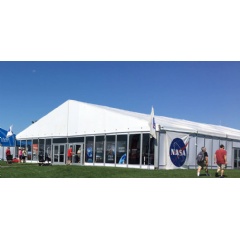 The NASA Pavilion in Aviation Gateway Park is the hub for displays and hands-on activities. Credits: NASA
Visitors to the Experimental Aircraft Association's 2017 AirVenture in Oshkosh, Wisconsin will see NASA's latest technologies from across the agency. The annual airshow will be held Monday through Sunday, July 24-30.
This year, the agency will fill the NASA Exhibit Pavilion in Aviation Gateway Park with displays and hands-on activities highlighting NASA's progress of future aircraft, the International Space Station, Earth science, the solar system, and NASA's plan for sending astronauts into deep space, including Mars. Visitors to the pavilion also will be able to touch an actual moon rock brought back during NASA's Apollo missions. NASA also will have more than 20 subject matter experts presenting at the various AirVenture venues and on the flightline. Static displays of a NASA T-38 Talon aircraft, a NASA SR22 research aircraft and a former National Advisory Committee for Aeronautics (NACA) P-63 aircraft.
NASA's main event will be a special presentation on "New Aviation Horizons: Ready for Flight" on July 27 from 8-9 p.m. CDT in AirVenture's Theatre in the Woods. Moderated by NASA Acting Chief Technologist, Douglas Terrier, the panel features senior leaders from all four of NASA's aeronautical research centers talking about their latest work on technologies involved with experimental, or "X"-planes (low boom supersonic and ultra-efficient subsonic) and testing traffic management systems for drones, followed by audience Q&As.
Here is a sampling of the more than 20 AirVenture forum talks involving NASA speakers (all times Central.) For a complete list, visit: https://go.nasa.gov/2gQP8Gt
Monday, July 24, 11:30 a.m. to 12:45 p.m.
NASA Langley 100 Years: Airplanes – Hear about Langley's storied history as the nation's first aeronautics research facility and the hundreds of aircraft made possible thanks to critical research done in Langley's first wind tunnels.
Location: Hilton Theater
Thursday, July 27, 10 to 11:15 a.m.
The Journey to Mars is Underway - NASA is inspiring a nation through deep space exploration. Right now we are building the launch vehicle and spacecraft that will take humans to new deep space destinations – to an asteroid, the Moon and even Mars! Learn more about America's new Space Launch System and Orion spacecraft during this "talk show" forum with industry leaders – and a former NASA astronaut.
Location: Theater in the Woods
Saturday, July 29, 10 to 11:15 a.m.
NASA Fostering Commercial Space - Since the dawn of aviation, the government has played a pivotal role in research and technology development that has led to new knowledge and capabilities that enabled viable commercial markets, from general to commercial aviation, and beyond. Today, NASA is helping to foster new types of flight, both within and above the atmosphere. As NASA continues to move the exploration needle forward, the agency will continue to transfer new technologies and innovation to U.S. commercial aerospace firms, enabling new horizons for air and space commerce and discovery.
Location: Aviation Gateway Park
For information about NASA aeronautics, visit: https://www.nasa.gov/aeronautics
For information about the EAA Airventure Airshow, visit: https://www.eaa.org/en/airventure
( Press Release Image: https://photos.webwire.com/prmedia/8/211240/211240-1.jpg )
Related Links
WebWireID211240

This news content was configured by WebWire editorial staff. Linking is permitted.
News Release Distribution and Press Release Distribution Services Provided by WebWire.