Jack Ma and Director-General celebrate rural headmasters
UNESCO Director-General, Irina Bokova, joined the inaugural Global Forum on Rural Headmasters organized by the Jack Ma Foundation in Hangzhou, China, on 12 July 2017 to celebrate and encourage those who stand on the frontlines of educational success in rural areas.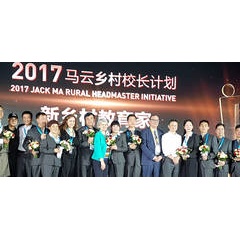 © UNESCO
"Headmasters set the tone, they chart the course for teachers and learners, they are the bridge to communities, they shape the conditions for inclusive learning, for safe and green schools, they ensure the quality of teaching and support the development of teachers," said Ms Bokova. "This is all the more vital in rural areas, where conditions are harder, there are fewer teachers and resources are more limited."
An advocate of the UN Secretary General for the Sustainable Development Goals, Jack Ma, the Founder and Executive Chairman of the Alibaba Group, recalled that China counts 90 million rural children, many with parents working outside in cities.
"Education is the most important path on the road to achieve people's dreams and a must for future success," said Jack Ma, a former teacher who is fondly known as 'teacher Ma". "But education is the weak link in rural areas. Headmasters are the key – they can influence over 3.7 million rural teachers and shape the future of China."
His initiative aims to identify and support exceptional headmasters in rural China. Twenty - out of 5,000 applicants from across the country, several representing ethnic minorities, were recognized for their leadership during the ceremony attended by some 1,000 education supporters. 
Evidence shows that educational attainment is generally lower in rural areas, with girls and women carrying the heaviest burden: just 1% of poor rural young women in low-income countries complete secondary schools.
Ms Bokova noted that "the lack of qualified and motivated teachers in remote and rural areas raises serious challenges of equity and quality – we need to train and support them every step of the way… Rural teachers and headmasters are the backbone of success."
In a message to the forum, Vice Premier Liu Yandong commended the initiative and encouraged more companies to come on board to advance education. She thanked UNESCO for its cooperation with China to promote dialogue and sustainable development around the world.
Jack Ma expressed hope that the Initiative could further expand to rural areas of Africa, Latin America and other regions, an area for potential collaboration with UNESCO. 
"You have changed the life of rural kids – this is our recognition of support to the headmasters," he said to some 500 headmasters present.
Several headmasters shared their practices from encouraging cultural exchanges with other schools to tutoring and running more open classrooms, they expressed their dedication to their students, also calling for more support from society. They emphasized the need to support their teachers because "the best teacher is produced by the school". 
"Our philosophy is to make every student better, to develop right outlook and sense of responsibility, to give more opportunities to see the world. We make the school like a family," said one of the headmasters.
Rabbi Shay Piron, former Minister of Education of Israel, outlined reforms he had led to make education more meaningful. He emphasized the importance of teaching students to ask questions and giving school principals keys to make change. This includes warmth in teachers' interactions with students, encouraging understanding over memorization, more research and projects, and volunteer duty for all students.
Jack Ma accompanied Ms Bokova on a tour of the Alibaba Campus that employs 15,000 people, most under the age of 30. Since its founding, the company has created directly or indirectly over 30 million jobs.
Mr Ma defends an inclusive, fair and equitable globalization model that is built on encouraging innovation through small and medium enterprises, and harnessing technology to narrow inequalities, develop inclusive financing and promote rural development. He views philanthropy as an integral dimension of the world's largest online retail platform that caters to some 500 million customers monthly. 
Jack Ma outlined the three priorities of his foundation, namely education, environmental protection and health. He asserted that Alibaba has a direct stake in all the SDGs, with education being at the heart of sustainable change. 
On the margins of the Forum Ms Bokova met with Mr Qi  Xiaohu, a standing  member of the CPC in Hangzhou who expressed appreciation for UNESCO's contribution to the promotion of education, culture and innovation in the city. Hangzhou belongs to the network of learning cities, creative cities and is home to the World Heritage site West Lake Cultural Landscape.
She paid a visit to the Han Meilin Museum, where UNESCO's Artist for Peace accompanied her on a guided tour of the establishment, located amidst the Botanical Gardens, and showcasing his creative versatility with several storeys featuring his calligraphy, paintings, ceramics and sculptures. In his studio, he treated the Director-General and her delegation to a live moment of creative expression, his paintbrush magically giving birth to his personal renditions of human and animal figures.
( Press Release Image: https://photos.webwire.com/prmedia/6/210754/210754-1.jpg )
Related Links
WebWireID210754

This news content was configured by WebWire editorial staff. Linking is permitted.
News Release Distribution and Press Release Distribution Services Provided by WebWire.