Revolutionizing the use of crop protection products: Bayer and Netafim develop new smart irrigation approach
Targeted application of crop protection products through irrigation system / Market launch planned in Mexico by the end of 2017
Monheim/Tel Aviv –
WEBWIRE
–
Wednesday, July 12, 2017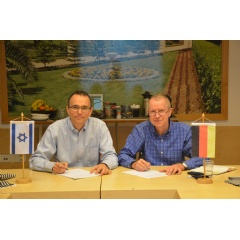 Ran Maidan (left), CEO of Netafim, and Mathias Kremer, Head of Strategy and Portfolio Management at the Crop Science division of Bayer, kicking off the new smart irrigation approach.
 Bayer and the Israeli company Netafim are joining forces to enhance the application of crop protection products while supplying crops with water in the most efficient way. With the new approach called "DripByDrip", both water and crop protection are distributed throughout the fields via the drip irrigation system and then delivered directly to the roots of the crops. This approach will enable farmers to apply crop protection products in a more targeted way using Netafim's drip irrigation technology. The companies plan to launch the system in Mexico by the end of 2017. 

"To satisfy the increasing global food demand, we need to find clever solutions to further reduce the environmental impact of farming and save natural resources while assuring high agricultural productivity," said Mathias Kremer, Head of Strategy and Portfolio Management at Crop Science, a division of Bayer. "With the new system farmers will need less water and crop protection products, because the crops are taking them up directly through the roots. This enables them to develop well and protects them against pest and fungal infestations, which results in higher yields and better quality for farmers and consumers." 

Also, the new approach will help farmers to apply crop protection products in an easy and safe manner. "Being a closed transfer system, DripByDrip contributes to operator safety. And as it can be automated, it is also less labor intensive for the farmer," stressed Mathias Kremer.

Netafim CEO Ran Maidan summed up the benefits: "The new combined system is very much in line with our company purpose statement: Grow more with less. Our drip irrigation has been used for many years as a delivery system for applying water and nutrients in a precise and timely manner to the plants' roots, helping farmers to achieve higher and better crop yields while saving water. Now, farmers will also be able to apply crop protection products in a more targeted way, to reduce their input of crop protection products, and use them in an even more effective and safe way. With DripByDrip, we will provide growers with an innovative, sustainable and easy-to-use solution, which combines technologies and know-how of smart crop protection with smart drip irrigation." 

Proven benefits for farmers and the environment

Bayer and Netafim have already conducted several trials, among others on a farm in Mexico for peppers, tomatoes, melons and grapes. "The test results showed that yields increased and net revenues rose due to improved quality, and the number of applications was also reduced significantly, in one trial even by 53 percent" said Holger Weckwert, project lead at Bayer. Successful proof-of-concept trials were carried out also in Chile, Israel, Turkey, Spain and Brazil. "Trials in sugarcane in Brazil have even shown a yield increase of 150 percent by using the right amounts of water, fertilizers and crop protection products via drip irrigation, compared to traditional flood irrigation, crop protection and fertilizer usage," added Weckwert.

The drip irrigation system also demonstrably reduces the use of water. "Tests have shown that water use efficiency is increased to up to 95 percent compared to 40 percent or less with traditional flood irrigation. Drip irrigation also increases the efficiency of fertilizer application, and helps prevent nitrate leaching into ground water, which becomes a serious hazard in agricultural regions that are using overdoses of nitrogen," observes Dubi Raz, Netafim's Corporate Agronomy Director. 

Open platform project to be expanded

Currently, the system focuses on fruit and vegetable producers in all arid and semi-arid regions of the world, but also crops like cotton, sugarcane and rice are targeted in a second wave. After the joint market launch in Mexico, both companies are working towards expanding the system and customizing it to more countries, crops, pest and diseases. 

"Our collaboration with Netafim is a joint initiative. We are continuously working on further harmonizing Bayer's crop protection products with Netafim's drip irrigation system, and we are inviting complementing partners–such as companies specialized in fertilizer application, and others–to join in order to commonly find the best solution for farmers who want to have optimal and effective resource use," said Weckwert. "Together, we can drive this new approach and implement it worldwide." 

Bayer: Science For A Better Life
Bayer is a global enterprise with core competencies in the Life Science fields of health care and agriculture. Its products and services are designed to benefit people and improve their quality of life. At the same time, the Group aims to create value through innovation, growth and high earning power. Bayer is committed to the principles of sustainable development and to its social and ethical responsibilities as a corporate citizen. In fiscal 2016, the Group employed around 115,200 people and had sales of EUR 46.8 billion. Capital expenditures amounted to EUR 2.6 billion, R&D expenses to EUR 4.7 billion. These figures include those for the high-tech polymers business, which was floated on the stock market as an independent company named Covestro on October 6, 2015. For more information, go to www.bayer.com.

About Netafim:
Netafim is the global leader in smart irrigation solutions for a sustainable future. With 29 subsidiaries, 17 manufacturing plants and over 4,300 employees worldwide, Netafim delivers innovative solutions to growers of all sizes, from smallholders to large-scale agricultural producers, in over 110 countries. Founded in 1965, Netafim pioneered the drip revolution, creating a paradigm shift toward low-flow agricultural irrigation. Today, Netafim provides diverse solutions – from state-of-the-art drippers to advanced automated systems – for agriculture, greenhouses, landscaping and mining, accompanied by expert agronomic, technical and operational support. Specializing in end-to-end solutions from the water source to the root zone, Netafim delivers turnkey irrigation projects, supported by engineering, project management and financing services.

Forward-Looking Statements
This release may contain forward-looking statements based on current assumptions and forecasts made by Bayer management. Various known and unknown risks, uncertainties and other factors could lead to material differences between the actual future results, financial situation, development or performance of the company and the estimates given here. These factors include those discussed in Bayer's public reports which are available on the Bayer website at www.bayer.com. The company assumes no liability whatsoever to update these forward-looking statements or to conform them to future events or developments.
( Press Release Image: https://photos.webwire.com/prmedia/6/210740/210740-1.jpg )
Related Links
WebWireID210740

This news content was configured by WebWire editorial staff. Linking is permitted.
News Release Distribution and Press Release Distribution Services Provided by WebWire.