Siemens and Allgäuer Überlandwerk form joint venture for smart grid expansion
Erlangen –
WEBWIRE
–
Friday, February 24, 2017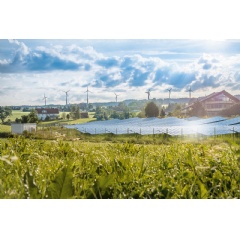 In Wildpoldsried, where both smart grid research projects IRENE and IREN2 are located, the amount of electrical power generated from renewable sources is five times greater than what the village needs.
Siemens and Allgäuer Überlandwerk GmbH (AÜW), based in Kempten, Germany, have formed a joint venture named egrid to commercially implement the results from IRENE and IREN2, two joint smart grid research projects in Wildpoldsried. It was agreed that Siemens would acquire a 49-percent share in the AÜW subsidiary, egrid applications & consulting GmbH. The transaction is subject to clearance by the competent competition authorities. The joint venture will offer innovative consulting services for distribution grid operators and will continue to refine existing offers. The joint venture's consulting services will focus on "intelligence instead of copper" solutions for smart grid expansion. The primary action areas will be the integration of large capacities from distributed generation plants and intelligent control of the distribution grid.
"The results of the two research projects IRENE and IREN2 have far exceeded our expectations," said Michael Schneider, Head of the Power Technologies International (PTI) Business Segment within the Siemens Energy Management Division. "I am very pleased about this, and it is an ideal starting point for our new joint venture. Other grid operators will now be able to profit from our distributed infeed and storage solutions. It's from real-life practice and for real-life practice. Together with Allgäuer Überlandwerk, we are thus actively supporting the transition to a new energy mix."
Michael Lucke, Managing Director of Allgäuer Überlandwerk GmbH said: "The results from the Wildpoldsried project and other egrid customers have shown that the power grid has much larger reserves than previously thought. This finding and the knowledge of why this is true form the basis for our joint venture with Siemens."
"Egrid has demonstrated very positive growth in its first fiscal year," said Bernhard Rindt, Managing Director of egrid applications & consulting GmbH. "Our customers include public works, municipalities and industrial enterprises who have benefited from our experience gained through the IRENE and IREN2 projects. With Siemens as our partner, we will be able to expand this knowledge and offer new joint solutions for the grid of the future."
In Wildpoldsried, where both research projects are located, the amount of electrical power generated from renewable sources is five times greater than what the village needs. During the course of the first project (IRENE: Integration of Renewable Energy and Electromobility), Siemens and AÜW therefore worked together with partners from science and industry to build a smart grid in the town situated in the Allgäu region from mid-2011 to the end of 2013. The goal was to balance out power generation and consumption and thus keep the grid stable.
These efforts established the main requirements for the new IREN2 research projects (Future-Viable Grids for the Integration of Renewable Energy Systems), which has been in progress from 2014 to 2017. This project is aimed at scientific studies and practical testing of the best ways to operate autonomous island systems and topological power plants. The researchers are examining new types of grid structures and ways to manage them according to technical and economic criteria, with the goal of determining how energy systems with distributed power generation and additional components can be technically and economically optimized.
Wildpoldsried offered the best conditions for verifying theoretical results on the basis of a real-life smart energy system. Both research projects in the Allgäu region have established a basis not only for a future renewable energy system between the conflicting priorities of regulation and the market but also for the new joint venture.
More information about the smart grid research projects IRENE und IREN2: an www.iren2.de/en
Siemens AG (Berlin und München) is a global technology powerhouse that has stood for engineering excellence, innovation, quality, reliability and internationality for more than 165 years. The company is active in more than 200 countries, focusing on the areas of electrification, automation and digitalization. One of the world's largest producers of energy-efficient, resource-saving technologies, Siemens is a leading supplier of efficient power generation and power transmission solutions and a pioneer in infrastructure solutions as well as automation, drive and software solutions for industry. The company is also a leading provider of medical imaging equipment – such as computed tomography and magnetic resonance imaging systems – and a leader in laboratory diagnostics as well as clinical IT. In fiscal 2016, which ended on September 30, 2016, Siemens generated revenue of €79.6 billion and net income of €5.6 billion. At the end of September 2016, the company had around 351,000 employees worldwide. Further information is available on the Internet at www.siemens.com.
Die Allgäuer Überlandwerk GmbH (AÜW), Kempten, Germany, has for years been working on questions such as "What do renewable energy generation and the energy transition mean?" and "What impact will this have on the future of energy in the Allgäu?" As one of Bavaria's most innovative energy providers, AÜW focuses on a future-viable power supply for its customers. Nature plays an important role in the way AÜW develops innovations. The energy provider does not settle for ecological and environmentally compatible energy from Germany and neighboring European countries. It produces more than 80 million kWh of renewable energy from local water resources with its ten hydroelectric power plants in the Allgäu region. For nearly 100 years now, AÜW has been reliably supplying more than 87,000 customers in the Allgäu with electrical power. It personally addresses the concerns of its customers, provides answers to the energy questions of the future and is defined by its social commitment within the region. For more information, please visit www.auew.de.
egrid applications & consulting GmbH , Kempten, Germany, a subsidiary of Allgäuer Überlandwerk GmbH, develops smart solutions for the decentralized integration of renewable energy into distribution grids. The company focuses on smart grid expansion with intelligence instead of copper. Within its interdisciplinary team, egrid applications & consulting GmbH also advises its customers on all aspects of energy efficiency, including auditing, conceptual design of their area and identifying storage potential. Backed by its unique experience with both regional and European research projects, egrid offers intelligent decentralized infeed and storage solutions. egrid provides the energy community with a wide range of services, from consulting and project management to operation, as well as analysis, optimization and monitoring of Capex & Opex under regulatory conditions. Further information: www.egrid.de.
Reference Number: PR2017020188EMEN
( Press Release Image: https://photos.webwire.com/prmedia/2/207917/207917-1.jpg )
Related Links
WebWireID207917

This news content was configured by WebWire editorial staff. Linking is permitted.
News Release Distribution and Press Release Distribution Services Provided by WebWire.