Nissan and Eaton broaden xStorage residential energy storage portfolio as pre-orders commence in Europe
• xStorage Home portfolio now includes a range of six product configurations with prices starting from €3,500 (excl. VAT and installation costs)

• Pre-orders begin in the United Kingdom, Norway and Germany today

• Helps consumers control how and when to use energy in their homes to avoid expensive energy tariff periods

• Uses Nissan's safe and proven battery technology powering more than 260,000 electric vehicles all over the world

Barcelona, Spain –
WEBWIRE
–
Thursday, December 1, 2016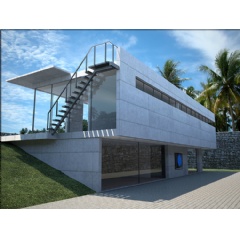 Nissan and power management leader Eaton are broadening their portfolio of xStorage Home residential energy storage solutions by introducing a range of six product configurations, giving consumers greater choice to meet their energy needs. This announcement comes as pre-orders of xStorage Home begin today in the United Kingdom, Norway and Germany with other European markets to follow in the coming months.
The xStorage Home system can draw energy from the sun or from the grid, making energy consumption more affordable and encouraging home-owners to make a more sustainable choice. The cutting-edge technology in the xStorage Home system is also fit for the future, and can enable customers to sell energy back to the grid – an opportunity that is expected to be offered by energy companies in the future.
The system gives consumers greater control over how and when they use energy in their own homes enabling them to avoid expensive tariff periods. The expanded range will offer consumers greater choice over power capacity and price as well as units. Consumers can opt to purchase units powered by either second life batteries or new batteries.
xStorage Home units – which provide a sustainable second life for Nissan's electric vehicle (EV) batteries after their first life in cars is over – will be priced competitively starting at €3,500 (excluding VAT and installation costs) for a power capacity of 3.5kW rising to just €3,900 for 6kW. Units powered by new Nissan batteries will start from €5,000 rising to €5,580 for the highest capacity and will come with an extended warranty period of ten years.
Connected to a residential power supply and/or renewable energy sources such as solar panels, the unit has the potential to revolutionise the way people manage energy usage in their own home, providing added flexibility.
xStorage Home comes with solar panel inverters already integrated meaning that if a home is equipped with solar panels, the consumer can connect directly to xStorage Home, storing and then powering their homes using clean, renewable energy. It can also save customers money on their utility bills by charging up when renewable energy is available or cheaper, and releasing that stored energy when demand and costs are high.
The xStorage Home unit also has the capability to provide energy back to the grid in countries where the conditions enable customers to do so. This provides another potential revenue stream as customers will be able to sell stored energy back to the grid when demand and costs are high.
The system also provides the ultimate back-up energy solution to consumers, ideal at a time when energy grids are coming under significant strain. With smartphone connectivity, it allows consumers to switch between energy sources at the touch of a button.
Paul Willcox, Chairman, Nissan Europe said: "Energy pricing and availability have long been concerns for all of us, and with this product, consumers will finally be able to take control of how and when they use energy in their homes. We have already seen overwhelming interest for this product, so we're excited to be able to offer consumers even greater choice with our wider portfolio of xStorage products. With the launch of xStorage Home, we're fast approaching a consumer energy revolution. xStorage Home will deliver real world benefits for smarter, more affordable and more sustainable energy management."
This move towards the use of alternative energy sources is in line with consumer demand across Europe. Nissan's Social Index report found that environmental issues are one of European consumers' greatest concerns for the future. An overwhelming majority of those surveyed (91 percent) were excited to see more alternative energy sources developed in the future and 89 percent wanted to see recycled materials used in more innovative ways.
Frank Campbell, President, Eaton Electrical and Corporate EMEA said: "European consumers are increasingly demanding alternative energy management solutions. Working in partnership with Nissan, we have developed a range of affordable, ready to use home energy storage solutions, giving consumers a choice of six options. While other home energy storage products are available on the market, we aim to avoid hidden extra costs and achieve the lowest possible total cost of ownership."
The new xStorage Home portfolio marks the start of a longer-term commitment by Nissan and Eaton to bring new products to market for both private and commercial customers. Nissan's commercial offering, xStorage Buildings, is a robust and powerful solution for organisations to manage their energy usage more efficiently and power their business in a more sustainable, smarter way.
Today, Nissan and Eaton announced a major partnership with Amsterdam ArenA - home of Ajax Football Club - which will see the integration of xStorage Buildings into the stadium. Representing the largest energy storage system in a commercial application in Europe using second life electric vehicle batteries, the xStorage Buildings system comprises Eaton bidirectional inverters and the equivalent of 280 Nissan LEAF second life battery packs. It will make the energy supply to Amsterdam ArenA more efficient, sustainable and reliable through additional back-up power replacing diesel generators and grid stabilization services.
To find out more about Nissan's and Eaton's energy storage product portfolio, please visit: www.eaton.eu/energystorage
Notes to Editors:
About Nissan in Europe
Nissan has one of the most comprehensive European presences of any overseas manufacturer, employing more than 17,000 staff across locally-based design, research & development, manufacturing, logistics and sales & marketing operations. Last year Nissan plants in the UK, Spain and Russia produced more than 635,000 vehicles including award-winning crossovers, commercial vehicles and the Nissan LEAF, the world's most popular electric vehicle. Pursuing a goal of zero emissions and zero fatalities on the road, Nissan recently announced its Intelligent Mobility vision. Designed to guide Nissan's product and technology pipeline, this 360 degree approach to the future of mobility will anchor critical company decisions around how cars are powered, how cars are driven, and how cars integrate into society. Nissan is positioned to become the most desirable Asian brand in Europe.
http://www.newsroom.nissan-europe.com
About Nissan Motor Co., Ltd.
Nissan is a global full-line vehicle manufacturer that sells more than 60 models under the Nissan, Infiniti and Datsun brands. In fiscal year 2015, the company sold more than 5.4 million vehicles globally, generating revenue of 12.2 trillion yen. Nissan engineers, manufactures and markets the world's best-selling all-electric vehicle in history, the Nissan LEAF. Nissan's global headquarters in Yokohama, Japan manages operations in six regions: ASEAN & Oceania; Africa, Middle East & India; China; Europe; Latin America and North America. Nissan has been partnered with French manufacturer Renault since 1999 and Mitsubishi Motors since 2016 under the Alliance.
About Eaton
Eaton is a power management company with 2015 sales of $20.9 billion. Eaton provides energy-efficient solutions that help our customers effectively manage electrical, hydraulic and mechanical power more efficiently, safely and sustainably. Eaton has approximately 95,000 employees and sells products to customers in more than 175 countries. For more information, visit www.eaton.com.
( Press Release Image: https://photos.webwire.com/prmedia/2/206566/206566-1.jpg )
Related Links
WebWireID206566

This news content was configured by WebWire editorial staff. Linking is permitted.
News Release Distribution and Press Release Distribution Services Provided by WebWire.