Award-winning Tinder-like App for Video Lovers, MightyTV, Officially Launches on Android to Hook You Up with Awesome Movies and TV Shows Personalized to Your Tastes
Machine Learning Platform for Movies & TV Makes the Most of Your Favorite Streaming Subscriptions Like Amazon, Crackle, HBO, NetFlix, and Hulu with Quality Suggestions to Help You Get to the Good Stuff Fast

New York, NY –
WEBWIRE
–
Friday, September 30, 2016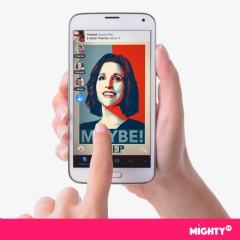 If you're one of the millions who waste valuable time flipping through channels each night on your remote, you know the struggle to find something worth watching is all too real. Well, good news is that your search may finally be coming to an end.
Available for free download starting today on Google Play, MightyTV is the first video discovery app that uses cutting-edge AI to provide users with hyper-personalized lists of great movies and TV shows to watch, as well as videos that you're most likely to enjoy watching with friends.
The wildly popular app, which launched on iTunes earlier in the year, has twice been featured as 'New Apps We Love' and was recently recognized by Fast Company as an Innovation By Design Award Finalist among more than 1,700 entrants. Using Tinder-like swipe mechanics that allow you to like, love, or dislike videos, the app learns about your interests in real-time so recommendations improve with every swipe, and you only get the best quality choices available.
Exclusively available for Android, Mighty has also added a new feature that lets you create a personalized word cloud of your favorite actor and genre preferences. Comprised of data based on your recorded swipes, your "MQ," or personal Mighty "IQ", brings another social element to the mix, where you can post an image of your visual profile to social platforms such as Facebook, Twitter or Instagram, and let other friends see what your unique, MightyTV thumbprint looks like.
"Our goal with MightyTV has always been to create a new kind of video discovery experience that helps bring back the fun of finding something good," said MightyTV CEO Brian Adams. "We've had tremendous feedback from users since our debut, and it's great to be able to take what we've learned and make continuous improvements to our recommendation engine. Now millions of Android users can enjoy the same benefits of our discovery platform, with some fun twists, which eliminates the hassle of searching so you spend more time streaming and watching awesome videos you'll love."
Mighty contains a growing catalog of more than 30,000 popular titles across all your favorite streaming services like Netflix, Hulu, Amazon, HBO Go, HBO Now, Cinemax, Crackle, and Showtime, which you can easily cast to your favorite media player or save for later viewing. Since launch in April, the platform has already logged more than seven million choices by users with nearly a quarter million of the titles being watchlisted.​

MightyTV Features Include:
Personalized Videos Matched to Your Tastes - A Tinder-like interface makes it super easy to like, love, dislike, or save videos to your watchlist. With every swipe, MightyTV is hard at work building your movie profile, and the app becomes more intelligent over time as algorithms match you to quality recommendations so you'll never have to wonder about what you'll enjoy watching next.
Discover and Stream Across All Your Favorite Platforms - Find all your favorite videos in one app without constantly switching between streaming services like Netflix, Hulu, Amazon, HBO Go, HBO Now, Cinemax, Crackle, and Showtime. You can easily filter by TV and movies, service provider, or price range, and stream content right from your favorite mobile device or cast to your AppleTV or Chromecast. See what's free and what costs money, and find what you're looking for instantly, every time, while maximizing the value of subscriptions you already have.
Find What's Trending Among Friends and What You'll Enjoy Watching Together - Our Mashup feature mixes your video DNA with your friends so you always have content to watch together, and it's easy to discover videos outside of your current watchlist. Mighty shows you what's trending and popular in your network, and even lets you create customized video profiles that you can share with others on popular social channels. This makes Mighty a perfect companion for group viewings, movie 'date nights' or just when you're in the mood to discover and binge watch new shows.
Stay In the Know and Up to Date - To give users more recommendations on what's worth watching and trending, we also produce a weekly video report called The Mighty List. Driven in part by our extensive user data along with the editorial team, The Mighty List shows you which streaming shows and movies you won't want to miss. Catch up on surprising crazes, and the best of what's trending and free in weekly video roundups that can be found on our website, Facebook, and Twitter pages.
MightyTV was created by technologist and serial entrepreneur Brian Adams who sold his last startup to Google for $400M and then assembled a talented team of product designers and engineers who've built their reputations on search, artificial intelligence, and empathic design over the past 10 years. The result has been an ever-expanding collection of trustworthy video recommendations so you can stream more of what you'll love to watch and get more from the services you already have. No more wasted time flipping through channels from your couch or having to manage multiple subscriptions or log-ins. Swipe and watch videos you'll love to binge on next.
To find out more about MightyTV, you can visit http://www.mighty.tv, or download the app for free on iTunes or Android here.
About MightyTV
MightyTV is a next generation discovery app that wants to help you find great videos. We are a team of technologists, artists, and scientists who like to watch good stuff, and we employ data science to create truly personalized experiences for our users. With so many streaming options, we know finding something to watch can be overwhelming. That's why we decided to build a better way to help you discover and stream the best of movies and TV with a few easy swipes. We factor in your personal preferences along with the opinions of trusted friends, so you spend less time searching, and more time streaming stuff you'll love. Want to know more? Please visit www.mighty.tv.
( Press Release Image: https://photos.webwire.com/prmedia/42381/205560/205560-1.jpg )
WebWireID205560
Contact Information

Eric Gonzales
Account Manager
VSC

This news content may be integrated into any legitimate news gathering and publishing effort. Linking is permitted.
News Release Distribution and Press Release Distribution Services Provided by WebWire.