Yuvee Announces Map Search Feature at www.webhub.mobi that Includes Revolutionary Search Results Maps
Yuvee announces map search feature at www.webhub.mobi that includes revolutionary search results maps. Innovation in search technology frequently focuses on algorithms. Improving how search results are presented can be at least as revolutionary.
Cambridge, MA, USA –
WEBWIRE
–
Friday, September 16, 2016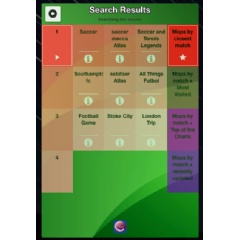 Screen capture of an actual search results map after search query "soccer" was entered
Tim Higginson, founder of Yuvee, says: "Please explore this new mapping system for presenting search results system. Use your imagination to think beyond current search into the future of search results."
Yuvee announces a revolutionary search feature at www.webhub.mobi that provides search results in a unique, multi-layered map format.  Search results presented in a map format enable a host of new features that take search to a new level.
 
The primary way search engines provide people with access to results is a single set of search results for any search query a user enters.  For instance, if a user enters "pizza restaurants" then current search engines deliver a list of potentially relevant links. If the user wants to search instead for "pizza restaurants in New York City" or "deep dish pizza restaurants" then the user has to re-enter the new search query.  The new search results entirely replace the old ones.  If the user wants to go back to check prior results, the user has to remember and re-enter the exact earlier search term.
 
In contrast, with search results in a multi-layered map format at www.webhub.mobi, the user can look through all the sets of results without re-entering a different search query, without losing any sets of different results, and without going page-by-page through lists.  The user simply navigates through the map to access each of the search results in whatever depth the user wants.  In the pizza search example, the results for each of the different "pizza" search queries would be the same search results map, with the user having had to enter only the one search query of "pizza restaurants."
 
The benefits from using search results maps grow exponentially in all sorts of directions.  Most search engines currently filter search results based on many factors, include personal and location information about the person doing the search.  These filters frequently lead to so-called "online filter bubbles," a phrased used in Eli Pariser's TED talk at http://www.ted.com/talks/eli_pariser_beware_online_filter_bubbles in which he demonstrates examples of search engines reducing the incredible diversity and richness of resources across the Internet gets to an ever more constricted echo chamber for each user.  Search results maps empower users to explore a wide range of different possible sets of results based on different filters by giving the user the option of choosing from among multiple different sets of results in the same map.
 
Further, many people do not go beyond the first page of search results lists.  Search results maps do not rely on pages of results.  Instead, the results are in different parts of the map.  The user can jump deeply into one set of results and back to other sets of results with very little effort, and always on the same page, by navigating through the map.
 
Current search engines intermingle advertising, and place advertising at the top of search result lists.  Ads become a challenge for users to overcome, especially on smartphones where the number of items in view in a search results list can be as few as 3 or 4, which frequently leads to a ratio of more ads than organic results in view at any one time.  In search results maps, advertising is clearly delineated and always in the same location.
 
As search results maps, and their embedded navigation system of Hubs and Layers, are designed and optimized for smartphones, the ratio of organic links to ads in any part of a search results map is 9 to 1.  In eyeball view, at all times, are up to 9 organic result links, with access to supporting details about each link, and, clearly separate, an ad space.  The same ratio applies to the maps on any larger screen device.  Maps are visually, and from a pattern of use, identical for the user across all devices.  An implementation of the ads involves profiling the sections of the map, not the user, thereby presenting the user with ads relevant to whatever section of the map the user is viewing at that time.  The result is that the user gets a dynamic set of highly relevant ads as the user navigates through the map, all without compromising the user's privacy at all.
 
The current implementation of search results maps at www.webhub.mobi is just scratching the surface of the potential.  It demonstrates the system in the context of searching for #multishare maps made by www.webhub.mobi users.  The same principles apply to and can be extended to almost any type of search, database and context.  For example, working software has applied this same "map" system to a wide range of other contexts, such as a full text entry system in Chinese and Japanese, application commands for various software and other contexts, as well as integrated voice commands.
Yuvee owns and operates www.webhub.mobi, and specializes in enabling the next generation user experience on mobile and other next generation computing and communication devices. The company has developed a portfolio of issued and pending patents in the US and overseas.  WebHub is a registered trademark of Yuvee.
 
( Press Release Image: https://photos.webwire.com/prmedia/27431/205277/205277-1.png )
Related Links
WebWireID205277
Contact Information

Tim Higginson
President/Founder
Yuvee, Inc.
(1) (847) 962-1623

This news content may be integrated into any legitimate news gathering and publishing effort. Linking is permitted.
News Release Distribution and Press Release Distribution Services Provided by WebWire.