Brain Scientist Gifts A Miniature Horse To Two Sisters Suffering Occupational Brain Injuries
Brain injuries, however they occur, are devastating to friends and family as well as those suffering the injuries. Many of those injured face a life of decreased mobility and shattered dreams. We honor the families and friends that remain by their side supporting ongoing rehabilitation of the injured, the recovering, and the fallen.
Sedgwick, Victoria, Australia –
WEBWIRE
–
Tuesday, August 2, 2016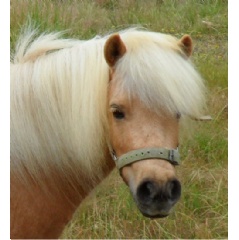 Palomino Miniature Horse "Summer," provided by Shannon and Lyn Panzo for rehabilitation.
Two sisters had their careers as racehorse jockeys come to tragic ends when both suffered brain injuries from falls off of racehorses in separate incidents within the same year. After many years of rehabilitation, they still need constant attendance for everyday activity. Their comfort and care is paramount to encourage their continued recovery.  Their last horse had died 4 years earlier. Something was missing to their recipe for recovery.
Shannon Panzo, a brain scientist and researcher has for many years observed and studied the human / equine connection and interaction. He claims there is a fantastic connection that can be established between equines and humans because equines have a natural empathy and can sense the deepest human emotions and feelings.  It makes equines an excellent choice for healing and rehabilitative therapies.
 
The human/equine affinity can be seen in people that have extensive contact with horses, and lead to these people being labelled "Horse People"; which is often misunderstood by people that have not been around equines much.  Horse People often find that there is something significant missing – a hole, that is created when they are away from equine contact for any length of time.
 
Shannon spends most of his time guiding people in ways of making their brain work better and their lives more manageable.  As a Brain Scientist, and creator of ZOX Pro Training, his expertise is in photographic memory and Mental Photography.  
 
His interests also include bringing humans and horses closer together for the betterment of both.  Shannon has studied and applied ways to increase the intuitive process in humans to bridge the gap between the species.
 
He also breeds miniature horses, monitors their diet and health, and observes their interaction with each other as well as with humans.  Shannon claims that he has been taught many of life's intrinsic lessons through observation and interaction with these clever little horses. Even though horses learn from their past, and are taught best through consistent action, diversion, and correction; the live in the "now". It also gives humans an easy point of reference, as we can so easily be distracted by what has happened before and what will our future bring.
 
Shannon Panzo's wife, Lyn, was the first to tell him about the sisters and their story.  "We came to the conclusion to gift one of our Miniature Horses, as it would be a nice gesture and bring positive benefit to the women," Shannon said recently while feeding several Mini Horses, "The selection process was a 2-way street."
"There were 2 different miniature horses that were potential candidates. Both are very pretty with sparkling personalities. One was resilient and physically stronger, while the other was slighter. Both were good selections, but upon meeting the sisters, we decided that in this circumstance, it would be better if they received the more resilient miniature horse of the two," he said.
 
A beautiful Palomino miniature horse named "Summer," was chosen as the gift.  Summer was a mare in Shannon's herd of miniatures.  Her diminutive size, cute face and personality made a perfect substitute for a full-sized horse. The sisters no longer wanted a big horse as they had in the past, because they could be easily injured due to their own limited mobility.
 
Small horses have been getting a lot of television exposure recently.  There is a cute Amazon Prime commercial that has been airing that shows a woman buying a "horsey" door for her mini horse that had been spurned by the full sized ones. Two were featured on the popular Housewives of Beverly Hills, reality television show. They were a special 70th birthday present for Lisa Vanderpump's husband Ken Todd. 
Instead of being in an advertisement or birthday present on a Reality Television Show, "Summer" had a different and very special destiny.
Minis are easy to keep and are as trainable as any regular horse. Miniature Horses allow those who normally would not be able to keep and train a full size horse.  It gives people an opportunity to enjoy being around horses.  They are less intimidating for small children and timid adults.  Strong for their size, they are smart and can be trained just like any other equine.  
 
Rochelle and Kerrin are sisters.  They both suffered serious injuries in separate race-horse riding accidents.  Being a jockey is known to be very dangerous. Within six months of each other, the now, former jockeys suffered career ending 'acquired brain injuries' (ABIs).  Rochelle is paralysed down her right side after she came off her horse at a race meet in Tasmania.  Later that same year, while returning from track work.  Kerrin was thrown into a tree when her Thoroughbred bolted.
 
"I thought that the sister's lifelong connection to horses gave them valuable motivation with their rehabilitation process. The therapeutic value of the empathetic equine can bring to the human psyche is widely known," said Shannon.  "Horse racing is dangerous. To have a debilitating injury happen once is tragic.  To have two career ending injuries within the same family, in such a short time span, is almost impossible to comprehend.  I've seen how the family has stoically dealt with the outcome of the accidents, but anyone can see a spark of joy with the addition of the little horse into their lives."
 
Summer has gone from a non-event in the herd to the center of attention! "I have received reports as to how the girls are getting along with Summer and vice versa," Panzo said. "It's amazing to see how Summer is thriving, she's gone from being one in the herd to being the superstar with all the attention.  You can tell the girls really love the horse. They apparently vie for who gets to feed her."
 
Other, more directed human / equine therapies that are in use today include, pairing of immature horses with battered women in par-bonding and caring, breaking through the barriers of autism and other deficits, and Reiki healing, just to name a few.
 
It is easy to see why using equines for rejuvenative therapies is not as wide spread as it could be. Simply, horses in general are not usually thought of as a house pet, and take a different type of care than a dog or cat.  For sustained health, they do need room, such as a paddock or field to move around in. And there may even be an ordinance against you keeping a horse in your back yard.
 
Although, Shannon said: "My first miniature horse was kept in our back yard. She was very quiet, so none of the neighbours minded. My wife and I would often walk her around through the neighbourhood. We both enjoyed the opportunity to have her close at hand. Then we moved to a bigger property, and that's when the real fun began, including the research that has enriched my life forever."  Then added: "In the future, I plan to create a human/equine hands-on training to share this good information with others."
 
( Press Release Image: https://photos.webwire.com/prmedia/53330/204526/204526-1.png )
Related Links
WebWireID204526
Contact Information

John Bigley
Public Relations
John Bigley
(1) (214)212-8707

This news content may be integrated into any legitimate news gathering and publishing effort. Linking is permitted.
News Release Distribution and Press Release Distribution Services Provided by WebWire.