Email Spoofing and Phishing: CCS Offers Tips To Avoid Becoming a Victim
Clare Computer Solutions (CCS), a professional services firm providing IT solutions for companies in the San Francisco Bay area since 1990 has tips to help companies avoid spoofing and phishing.   
San Ramon, CA USA –
WEBWIRE
–
Wednesday, February 24, 2016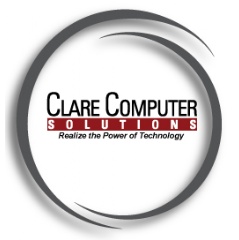 CCS has tips to avoid email phishing and spoofing.
Clare Computer Solutions (CCS), a professional services firm providing IT solutions for companies in the San Francisco Bay area since 1990 would like to help companies avoid spoofing and phishing.   
Cybercriminals are resorting to new tricks, like "spoofing" and "phishing", which use your network's users to launch malware into your network. Anti-malware software has become more sophisticated and as a result, cybercriminals are resorting to new tricks, hoping to enlist the help of users on your network to launch their malware. Two of the most common are "spoofing" and "phishing".
A "spoofed" email is one that seems to come from an address you might recognize, but it may have attachments, that, when opened, launch harmful malware within your system. The most notorious example is Cryptolocker, which is often sent as a PDF attachment to an email that seems to be from a "shipping company". The recipient sees it, thinks they're checking on a package, and by opening the attachment (or clicking a link) the ransomware is launched.
"Phishing" is similar in that the "from" address shown is usually fake. Instead of enticing the recipient to open attachments, the email lures the reader into clicking links to verify their identities, and provide personal information. However, the websites are not what they claim to be, linking to shell URLs, which are owned and operated by cybercriminals. These "phishing" attempts can be very clever, dressed up as emails from banks, the government or even healthcare companies.
CCS Tips to Avoid Being a Victim of Phishing and Email Spoofing Systems
Email Spam filters used in conjunction with antivirus and antimalware software will help keep protect your company network and will minimize spoofing attempts and will lower infection rates on PCs and servers. Cybercriminals never stop innovating, so it's important that the company's defenses against cyber threats are consistently updated.
 
Having an active data backup system in place is vital, just in case malware gets through the edge defenses. Make sure that system images are backed up as well as data.. If a PC gets infected, it may be possible to reimage the PC from a backup saved just prior to the infection. This will keep your company downtime to a minimum and your productivity at its peak.
 
Education
The reason spoofing and phishing scams work is because people get a lot of email on a day-to-day basis, and they're often in a hurry to read them. However, it is possible to learn to spot these scams. If an email seems "wrong" in any way – the body of the message doesn't seem to match your expectations of the sender, or you get a completely unexpected message with an attachment – hesitate. If you think you know the sender, take a moment to call them to ask if they sent it.
Phishing is actually easier to spot if you know these three things:
1)    No bank or legitimate enterprise is going to ask you to verify sensitive information (social security number, credit card info, passwords) from an emailed link.
2)    When viewing a link in an email, if you hover your cursor over the link, you will see the actual destination address at the bottom of your screen. If the email says it's from Bank of America, but the link goes to another address don't trust it.
3)    Pay attention to the destination's root domain (the letters just to left of the dot) - this can't be faked, while subdomains can be faked. For example, http://login.amazon.com would be OK (if you're expecting to get to Amazon), but http://amazon.bizsites.com is suspicious.
The last line of defense is you – the email recipient. Learn to be in tune to messages that are suspicious, because of the wording, what they're asking or what they've sent you. Avoid having personal messages sent to your business email. And take your time to look at a message carefully before opening attachments or clicking links. If anything seems wrong in any way, bring it to the attention of your IT department.
Here's a link to a fun Phishing Quiz from a company called OpenDNS – can you pass?
Clare Computer Solutions has been helping companies protect their networks for decades, and we can help your company, too. Contact us to get started.
 
Contact Clare Computer Solutions today to have a strategic conversation about your
Business's IT needs. Tel (800) 339 0390 ext 148 or mailto: info@clarecomputer.com . Visit www.clarecomputer.com for more information about NetCentral our Managed Service
About Clare Computer Solutions (CCS)
 
Clare Computer Solutions has been providing high quality IT Network Services and Network Support to Bay Area companies since 1990. CCS has installed over 2,400 multi-user networks and serviced many more. Clients represent diverse industries including: healthcare, manufacturing, construction, insurance, service industries, legal, hospitality and more throughout the San Francisco Bay Area and Northern California. The company is based in San Ramon, California. Visit: www.clarecomputer.com
 
Our Services
We have experience in deploying solutions utilizing technology from Microsoft, Novell, Citrix, VMware, Cisco, Hewlett-Packard, Dell and many other industry leaders. Our long-term relationship with these manufacturers ensures considerable depth of knowledge in these products, and how they interoperate. What this means to our clients: solutions are deployed quickly and correctly.
 
Our Process
CCS strives for seamless integration and high touch customer service from the most highly certified and trained team possible. Clients are kept informed with monthly reports and quarterly reviews. From our detailed invoices to our process, clients regularly report that they appreciate our level of detail and transparency when it comes to their business. Our internal performance guidelines ensure that we continue to perform at peak level to service all of your IT needs.
 
Our Mission
CCS is a technology partner committed to our client's future by listening, strategizing and implementing cost effective technology solutions. We are an extension of our client's business and are interested and committed to their long-term success. We ensure that your technology supports the vision, experience and the passion that is the basis of a thriving business.
Our Vision
We are dedicated to becoming the premier technology solutions provider in the Bay Area by following these three tenets:
•    Listening to our clients and understanding their needs
•    Becoming our client's trusted advisors
•    Following best practices, policies, and systems which create greater responsibility and accountability to the client and to each member of our team.
Visit: www.clarecomputer.com
 
 
 
###
( Press Release Image: https://photos.webwire.com/prmedia/20078/202241/202241-1.jpg )
Related Links
WebWireID202241
Contact Information

Sandra Evans
PR Manager CCS
Sandra Evans & Associates (SE&A)

This news content may be integrated into any legitimate news gathering and publishing effort. Linking is permitted.
News Release Distribution and Press Release Distribution Services Provided by WebWire.