Bombardier Welcomes Five New Latin American Airlines to its Family of Aircraft Operators
• Bombardier commercial aircraft now flown by more than 20 operators in more than 10 Latin American and Caribbean countries

• Bombardier Commercial Aircraft confirms participation in ALTA Leaders Forum in San Juan, Puerto Rico

Montréal, QC, Canada –
WEBWIRE
–
Monday, November 16, 2015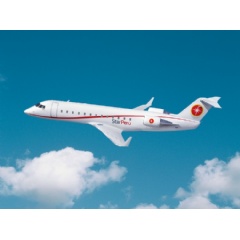 Bombardier Commercial Aircraft today welcomed five Latin American airlines to its family of operators, and congratulated another that has extended its service offerings in the region with Bombardier-manufactured commercial aircraft. Bombardier Commercial Aircraft also confirmed its attendance at the Latin American and Caribbean Air Transport Association (ALTA) Airline Leaders Forum in San Juan, Puerto Rico on November 15-17, 2015.
Among the airlines that have joined Bombardier's growing family of CRJ Series aircraft operators is Rosario, Argentina-based Sol Líneas Aéreas, which started service with a CRJ200 regional jet in October 2015. Bombardier is also pleased to welcome and congratulate Star Perú of Lima, Peru; Boliviana de Aviación, Bolivia's flag carrier; Amaszonas Paraguay, of Asunción, Paraguay; and BQB Líneas Aéreas of Montevideo, Uruguay, as it works closely with the airlines to support the launch of their respective operations with CRJ200 aircraft. 
"Latin America continues to be a region of tremendous opportunity and growth for Bombardier and its customers – recognizing our respective commercial aircraft presence in the market is key to our mutual expansion strategy," said Alex Glock, Vice President, Sales, Latin America and the Caribbean, Bombardier Commercial Aircraft. "We are pleased to showcase these important customers in the region and we wish them much success and look forward to meeting many at the ALTA conference this week.
"The CRJ Series regional jets, Q400 turboprops and all-new C Series aircraft are great choices for new and established operators that are seeking flexibility, reliability and cost savings as they look to change domestic transportation in the region over the course of the next couple of decades," added Mr. Glock.
Recognizing Local Expansion
Stimulating regional market expansion and supporting local customers with aircraft that will seed growth is a very important objective for Bombardier and its customers. LC Perú of Lima, Peru, which has been operating Bombardier Q200 turboprop aircraft for almost five years and recently extended its domestic service with larger Q400 aircraft, provides a good example of such growth.
Bombardier's current 20-year commercial aviation market forecast projects deliveries of 1,150 units in the 60- to 150-seat category to Latin America and the Caribbean (including Mexico) through 2034. Of these units, 450 units are expected to be in the 60- to 100-seat segment served by Bombardier's CRJ and Q Series aircraft. Most of the remainder will be in the 100- to 150-seat segment for which Bombardier's new advanced-technology C Series single-aisle aircraft is designed.
In July 2015, Canada and Brazil signed a Memorandum of Understanding (MOU) on civil aviation to promote and expand cooperation to the mutual benefit of both countries. This MOU will help bring together key Canadian and Brazilian public and private stakeholders to discuss collaboration and cooperation in areas such as airport development, air navigation, and safety.
Bombardier Commercial Aircraft has a Regional Sales and Marketing Office (RSMO) and parts services depot in São Paulo, supported by a dedicated team of local and international experts. The Latin American sales, marketing and customer services team will be strengthened further as the central office is staffed to fully support the region.
About CRJ Series Aircraft
Every 10 seconds a CRJ Series regional jet takes off somewhere in the world. The CRJ Series family of aircraft has trans­ported almost 1.6 billion passengers to become the world's most successful regional jet program -- linking people and communities like no other. The CRJ Series regional jets have revolutionized aviation with their proven efficiency, reliability and profitability.
The CRJ Series regional jets share commonality benefits that provide flexibility to operators and allow them to optimize their fleets to meet specific market demands. No other regional aircraft deliver this capability. Optimized for medium-haul regional routes, these aircraft can provide up to 10 per cent cash operating cost advantage over competing jets.
Each of the CRJ aircraft models offers its own distinct advantages. The CRJ200 regional jet offers outstanding ownership cost, ideal for opening new routes and markets. The CRJ700 regional jet is the lightest aircraft in its category, delivering impressive efficiency, performance and fuel burn savings, while the CRJ900 regional jet offers tremendous flexibility and is ideally suited for growing markets. The CRJ1000 regional jet, which has the highest passenger capacity in the family, delivers the lowest seat-mile cost in the regional jet market and burns up to 13 per cent less fuel than its competitors.
Since its launch, the CRJ Series family of regional jets has stimulated the regional jet market. In North America alone, it accounts for over 20 per cent of all jet departures. Globally, the family operates more than 200,000 flights per month.
About Q Series Aircraft
Designed as a modern, 21st-century turboprop, the Q400 aircraft is the most recent development in the Q Series family of aircraft. It provides unmatched performance, operational flexibility and passenger comfort. While it is nimble enough for a steep approach, the Q400 aircraft is also tough enough to land on unpaved run­ways. It is a certified performer at high altitude airports too, like that of La Paz, Bolivia, one of the world's highest.
Thanks to its combi­nation of turboprop attributes, jet-like features, industry-leading passenger experience  and environmental footprint, the Q400 aircraft is exceptionally versatile and can be adapted to a variety of business models. By offering a 30 per cent reduction in fuel burn over the jets it often replaces, the Q400 aircraft radically reduces carbon emissions and increases cost efficiency. Its high-speed cruise -- 160 km/h faster than conventional turboprops -- places the aircraft's flight time within minutes of jet schedules, at the same seat cost as larger single-aisle jets. Its large propellers operate at a lower RPM, generating more power with less noise and making it a friendly option for city centres.
The Q400 aircraft family includes over 60 owners and operators in almost 40 countries worldwide and the worldwide fleet has logged more than 6 million flight hours. The aircraft has transported more than 370 million passengers worldwide.  Bombardier has recorded firm orders for a total of 544 Q400 aircraft.
About Bombardier
Bombardier is the world's leading manufacturer of both planes and trains. Looking far ahead while delivering today, Bombardier is evolving mobility worldwide by answering the call for more efficient, sustainable and enjoyable transportation everywhere. Our vehicles, services and, most of all, our employees are what make us a global leader in transportation.
Bombardier is headquartered in Montréal, Canada. Our shares are traded on the Toronto Stock Exchange (BBD) and we are listed on the Dow Jones Sustainability North America Index. In the fiscal year ended December 31, 2014, we posted revenues of $20.1 billion. News and information are available at bombardier.com or follow us on Twitter @Bombardier.
Notes to Editors
Photos of CRJ Series and Q400 aircraft are posted with this press release at www.bombardier.com.
For more information on the CRJ Series and Q400 aircraft, visit http://news.commercialaircraft.bombardier.com.
Bombardier, C Series, CRJ Series, CRJ200, CRJ700, CRJ900, CRJ1000, Q400 and The Evolution of Mobility are trademarks of Bombardier Inc. or its subsidiaries.
( Press Release Image: https://photos.webwire.com/prmedia/2/200904/200904-1.jpg )
Related Links
WebWireID200904

This news content was configured by WebWire editorial staff. Linking is permitted.
News Release Distribution and Press Release Distribution Services Provided by WebWire.