The Phone Rush Forced To Change The Way It Does Business In 2015 By Offering Newer Phones At Lower Prices
Austell, Ga, USA –
WEBWIRE
–
Thursday, September 24, 2015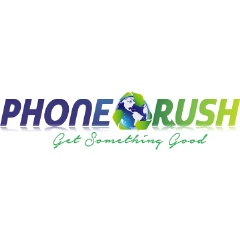 Buy A Like New or Certified Pre-Owned Galaxy S4 From The Phone Rush
Dont Be Wasteful, Recycle.
A recent study performed by dosomething.org unveiled the fact that "For every 1 million cell phones that are recycled, 35,274 lbs of copper, 772 lbs of silver, 75 lbs of gold, and 33 lbs of palladium can be recovered." Another study produced by The Phone Rush  a company that specializes in used, refurbished, and certified preowed smartphones for over 7 years, provided more insight into the fact that the average person uses, or has up to 2 phones no longer in use or will ever use again. Most cellphone and smartphone manufacterers like Samsung and Apple iPhone, produce phones faster than at least 6 in 10 people are using them, or are able to master the software or new features with thier current phone before ditching it for a newer model.
For Example the Samsung Galaxy S4, was released April 27, 2013 with major features like Wifi, and 13+MP Camera, NFC or (Near Field Communication) Bluetooth, and a DNLA, and a few other features like Air Gesture, and Smart Scroll. While most consumers may understand features like wifi, bluetooth, and a great camera (13MP),  most of the US, population does not. In April of 2014 a rumor around one misunderstood feature was recently dispelled. The rumor caused many to peel the wrapping off thier battery, and remove the wire coil, claiming that there was a secretly implanted device stealing personal information. Later it was discovered that the chip was not stealing information, and that the wire coil that people removed was supporing a new feature called NFC, where two Samsung Galaxy phones can touch and willingly share information. There is also a video now on youtube rehashing the dispelled rumor.
On April 11, 2014 Samsung released the Galaxy S5. The while the galaxy S5 has a faster processor, is newer, and cost more, the differences between the two phones is very small. In fact the newer model only has just a few more features than the older model.
While many will rush to buy the new Samsung Galaxy S5, the question is what will or should they do with the S4 they just abandoned? Many of those phones will be relegate to bedroom drawers, closets, bathroom sinks, or even garbage cans before being recycled.
The Phone Rush is a company providing an enviromentally strong approach to combating the war on e-waste, by giving cell phone users money for thier older device, while they enjoy thier newer device. The truth is that, while there may be a newer version to the Galaxy S4, or even the Galaxy S5, the features in the Galaxy S4 are still very current an relevant. The Phone Rush specialies in used, refurbished, and certfied preowned cell phones.
The Phone Rush is a solution to this problem. Those interested in having a nice phone, that is still very relevant, can now buy them at much lower prices than when the device was originally released, thus saving a phone from adding to the e-waste problem thats componding in the US,  and some other countries.
The Motto at Phone Rush is: "Dont Be Wasteful, Recycle". To reduce e-waste, and provide a real world solution, for 7 years, the phone rush has saved over 100,000 phones from landfills, and placed them in the hands of new owners at prices that are considered affordable by any reasonable person. One example is the Galaxy S4, which once was sold at 599.99 without a contract, can now be purchased for as little as $249.
E-Waste may be a real problem, but for every problem there is at least 2 or more solutions. The vision of Phone Rush Inc CEO, Clifford E Scott, is to see over 2,000,000 phones saved and recycled by 2017. While that number may sound heroic, it will take the help of many others to help resolve the problem of e-waste and the recycling of cell phones. The Phone Rush has plans to work with at least 10 other major companies to make this vision a reality.
( Press Release Image: https://photos.webwire.com/prmedia/43988/200154/200154-1.jpg )
Related Links
WebWireID200154
Contact Information

Clifford E Scott
CEO
770.693.4461
(1) 8003770738

This news content may be integrated into any legitimate news gathering and publishing effort. Linking is permitted.
News Release Distribution and Press Release Distribution Services Provided by WebWire.