New Report Finds Parents in the Dark about their Teens' Driving Habits
Teens mimicking parents' risky behaviors behind the wheel
NORTHBROOK, Ill. –
WEBWIRE
–
Wednesday, June 24, 2015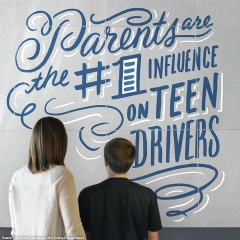 A report from The Allstate Foundation finds many parents are largely unaware that their teens are speeding, driving while distracted, and even driving under the influence. Making matters worse, teens may be picking up these same behaviors from their parents.

The findings were released in The Foundation's new Driving Change Report. Among the key data:

Seventy-nine percent (79 percent) of teens admit to speeding, but only 55 percent of parents believe their teens speed.
Ninety-five percent (95 percent) of teens admit to getting a moving violation; only 79 percent of parents believe their teens have committed an offense. 
Twenty-three percent (23 percent) of teens admit they've driven after drinking alcohol and/or using marijuana, but only 7 percent of parents believe their teens have driven under the influence.
Eighty-seven percent (87 percent) of teens admit to using cellphones while driving, but only 63 percent of parents say their teens use phones while driving.


"Our teen safe driving program has contributed to a nearly 48 percent decline in teen crash fatalities since 2005," said Steve Sorenson, executive vice president, Allstate. "While there has been progress, we continue to encourage parents and teens to have an open dialogue about driving. It's also important that parents ensure their teens are wearing their seatbelts, obeying speed limits and eliminating distractions, because these actions help to keep teens safer on the road."

The report also found that parents are engaged in some of the same risky behaviors as their teens:

Eighty-four percent (84 percent) of parents admit to speeding (compared to 79 percent of teens).
Eighty-eight percent (88 percent) of parents say they use their phones while driving (compared to 87 percent of teens).


"Teens continue to tell us their parents are the number one influence on how they drive, so as parents we have an important responsibility to model good driving behaviors," added Sorenson. "We must find new and compelling ways to motivate teens and parents to engage in safe driving habits."

There are three key steps that parents can take to keep their teens safer on the road:

Drive with their teen at least 30 minutes a week, especially in the first year after they are fully licensed.
Get familiar with their state Graduated Driver Licensing laws. These laws can help them set their own rules of the road for their teen.
Model good driving behavior on the road by putting away cellphones, buckling up and obeying speed limits.


 Additional Driving Change Report findings:

Compared to 2005, today's teens are much more concerned about the consequences of crashes.

The number of teens age 15-17 who worry about financial and legal consequences from car crashes has nearly tripled (188 percent) since 2005.
There has been a 137 percent increase in the last 10 years in the number of teens age 15-17 who worry about disappointing their parents and friends if they cause a crash.


Today's teens are also surprisingly receptive to getting more driving experience.

Eighty-three percent (83 percent) of teens and 81 percent of parents wish that teens had more experience and practice before getting a driver's license.


Driving Change 10-Day Instagram Campaign and $10,000 Sweepstakes:

The Allstate Foundation is launching two new promotions to help focus attention on the report's findings and to motivate safe driving practices among teen drivers:

Two Instagram influencers will bring to life 10 teen driving statistics through compelling images of items such as traffic cones, tire treads and tater tots. One image will be unveiled per day on the Driving Change website for parents and teens to easily share on Instagram, Facebook and Twitter.
The Foundation is also conducting a daily social media sweepstakes from June 24 through July 3. The public is invited to post messages on social platforms with #GetThereSafe and @Allstate. All eligible entries will be placed into daily drawings to win $1,000.


For more information about Driving Change, visit http://TenYearsofDrivingChange.com. 
 
About the Driving Change Report:
The Allstate Foundation's Driving Change online survey was conducted from Jan. 9 to Jan. 31, 2015 by The Futures Company. A sample of 1,552 teens ages 15-19 and 1,535 parents of teens were interviewed. The sample was nationally representative by gender, geographical location, household income and ethnicity. Margin of error is +/- 1.8 percent, at a 95 percent confidence level.

The Allstate Foundation's Driving Change Report marks the organization's 10-year commitment to reducing teen car crash fatalities. The Foundation offers several resources for the public in English and Spanish, including a parent-teen driving agreement customized with state laws, a parent coaching guide and tip sheet, and educational videos. These resources and more information about the Driving Change Report are available at http://TenYearsofDrivingChange.com.

About The Allstate Foundation:
Established in 1952, The Allstate Foundation is an independent, charitable organization made possible by subsidiaries of The Allstate Corporation (NYSE: ALL). Through partnerships with nonprofit organizations across the country, The Allstate Foundation brings the relationships, reputation and resources of Allstate to support innovative and lasting solutions that enhance people's well-being and prosperity. With a focus on building financial independence for domestic violence survivors, empowering youth and celebrating the charitable community involvement of Allstate agency owners and employees, The Allstate Foundation works to bring out the good in people's lives. For more information, visit www.AllstateFoundation.org.

#  #  #
( Press Release Image: https://photos.webwire.com/prmedia/2/198494/198494-1.jpg )
Related Links
WebWireID198494

This news content was configured by WebWire editorial staff. Linking is permitted.
News Release Distribution and Press Release Distribution Services Provided by WebWire.