World Hypopara Awareness Day
This is the day the global hypopara family unites. There aren't very many of us, but we make a big noise…and people are starting to listen.
East Grinstead –
WEBWIRE
–
Saturday, May 30, 2015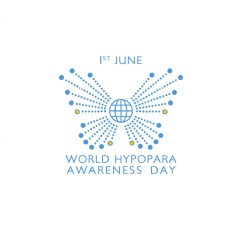 World Hypopara Awareness Day is on the 1st June
'...it was so distressing, so unrelenting and I couldn't see a light at the end of the tunnel.'
Hypopara is a rare condition but around the world there are growing numbers of people who are born with hypopara, acquire it later in life or are left with it after surgery for another condition. It is a permanent condition. There are many different forms but all are caused, in one way or another, by damaged or malfunctioning parathyroid glands in the neck. These glands are essential; their sole job is to regulate levels of calcium in the blood by producing exactly the right amount of parathyroid hormone (PTH) as needed.

Damage to the glands is life threatening because without PTH calcium levels fall and the body goes through increasingly severe stages of tetany and electrolyte imbalance to seizure. Calcium is vital to life. Drug treatment with vitamin D and calcium supplements is not ideal, involving considerable guesswork and frequent monitoring by blood test. As in diabetes, levels can fluctuate and be difficult to control. Unlike diabetes, patients with hypoparathyroidism have no replacement hormone or home testers to help them manage this challenging condition.

When the patient organisations started up htere was great need. Nobody had heard of hypoparathyroidism. At a London teaching hospital in 1992, Liz Glenister, CEO of Hypopara UK, was told that she was 'bringing it on herself' and was left to cope alone. 'I didn't even know that what I have had a name. It was a nightmare that lasted for years and though I was fighting for my survival, thoughts of suicide were never far away because it was so distressing, so unrelenting and I couldn't see a light at the end of the tunnel.' Low calcium affects the emotions as well as the body and mind. She remembers many dashes to A&E to demand blood tests and emergency IV calcium. On one occasion her body was painfully folding up ( severe cramps of the whole body are part of the effect of low calcium) while doctors accused her of being a drug addict.

Thanks to many years of determined awareness raising by patient organisations and sterling work of our specialist and dedicated doctors, this scenario is now rare. Understanding can still be poor, particularly about ongoing management and the need to make adjustments in medication, and  there is still a widespread need for more knowledge and a greater understanding of the condition, but things have come a long way. This year, the organiations found out just how far…

In May, the chief executives of the 3 leading hypopara organisations ( in the USA, UK and Norway) met for the very first time after working together online for ten years. It was a difficult journey for them all to make ( they are all patients too) but one they all felt had to be made and so it was an emotional and historic meeting. The occasion was the first International Hypoparathyroidism conference, held in Florence, where they and endocrinologists from around the world presented their findings and worked together to draw up recommendations for the first ever hypoparathryoidism guidelines. Recommendations were also presented a week later in Dublin at the European Congress of Endocrinology. Patient organisations have been campaigning for guidelines for many years so this event, along with the long awaited approval of Natpara by the FDA in January 2015, makes this a very remarkable year indeed. 

Hypopara organisations around the world will be celebrating and raising awareness in different ways today. In the USA, they are holding their annual hypopara conference; in the UK they are organising a global social media T shirt campaign to highlight the difficulties of living with this rare condition. Hypopara UK and the Nordic Hypopara Organisation both celebrate their tenth anniversaries later this year. And they have quite a lot to celebrate because the end of that tunnel is beginning to look distinctly lighter.

Please visit our websites for more information  http://www.hypopara-awarenessday.com/

Released by Hypopara UK at http://www.hypopara.org.uk
( Press Release Image: https://photos.webwire.com/prmedia/52410/198003/198003-1.jpg )
Related Links

World Hypopara Awareness Day website - find links to all the hypopara organisations around the world
WebWireID198003
Contact Information

Liz Glenister
CEO
Hypopara UK

This news content may be integrated into any legitimate news gathering and publishing effort. Linking is permitted.
News Release Distribution and Press Release Distribution Services Provided by WebWire.