Aruba Happy Flow launched at Aruba Airport
An innovative passenger process, unique in the world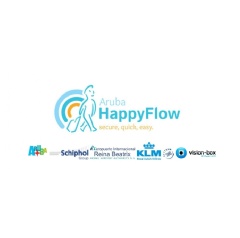 A unique and innovative passenger pilot project was launched today at Aruba Airport:Aruba Happy Flow.The signal for the official launch was given by Aruban Prime Minister Mike Eman inthe presence of Minister of Justice Arthur Dowers, Minister of Tourism Otmar Oduber, President &CEO Schiphol Group Jos Nijhuis, Senior Vice President KLM Security Services Ben Swagerman,CEO Aruba Airport Authority N.V. James Fazio, Senior VP Vision-Box Miguel Leitmann and other invitees.
Prime Minister Mike Eman of Aruba says, "Happy Flow is an extremely innovative and important step in the transportation industry for passengers, not only for Aruba but worldwide. Aruba is very proud to launch this unique concept by bringing together public and private parties. Happy Flow is another milestone in creating a sustainable knowledge economy in Aruba and fortifying the development of Aruba as a hub. I am very much satisfied with this first phase concrete result from the partnership that was formed on the initiative of Aruba with the Government of the Netherlands, KLM and Schiphol to make this project possible as a prelude to the EU Pre Clearance ambition of Aruba." – Mike Eman, Prime Minister of Aruba
"With Aruba Happy Flow, together we have made an innovative step to further improve the comfort for the passenger. This is a unique project where amongst others the public and private passenger processes are combined. I have high expectations of the results. If the experience and test results are positive, we will further develop this project." – Jos Nijhuis, CEO Schiphol Group.
"KLM is always keen on possibilities to further improve convenience for its passengers. This is why we are happy to be able to contribute to this innovative project, which will both simplify and speed up the entire process from checking in to boarding as passengers will only have to present their travel documents once." – Ben Swagerman, SVP KLM Security Services.
"As the Happy Island's National airport, we are proud to introduce Aruba Happy Flow. This project further demonstrates our commitment to improving the passenger experience, and introducing new and innovative technology solutions in order to meet our future growth in passenger traffic and maintain the highest levels of safety and security. This project was an extraordinary example of how the public and private sector can work collaboratively and achieve great things. What has been accomplished today will have the attention of airports around the world, regardless of size, we share many of the same challenges, and today, we are leading the way in a viable and innovative solution to improving the airport experience." – James Fazio, CEO Aruba Airport Authority N.V.
"We are making history in Aruba today, starting a new era in the aviation sector. Happy Flow is the first ever 100% self-service passenger flow based on the use of biometrics to provide a secure, quick and happy experience for the passengers. Furthermore it provides the authorities with a powerful end-to-end management platform which allows for the monitoring of the whole passenger process with multiple security, efficiency and revenue benefits, respecting the privacy of data at all times." – Miguel Leitmann, Senior VP Vision-Box.
Aruba Happy Flow is an innovative passenger process in which the passenger is only required to show his or her passport once throughout the journey at the airport. The use of facial recognition then allows the passenger to proceed to check-in, drop off baggage, pass the border and board the aircraft, all without being asked to show a passport or boarding pass again.
In order to do this, Aruba Happy Flow combines the public process of border control with the private passenger process at the airport. This is unique in the world and has been designed to streamline the passenger process, making it fast and secure.
Cooperative effort
Aruba Happy Flow is the result of a cooperative effort by Aruba, the Netherlands, Aruba Airport Authority N.V., Schiphol Group and KLM. Following a tender procedure, Vision Box was awarded implementation of the project.
Two years
The Aruba Happy Flow pilot will operate at Aruba Airport for two years. At first only a limited group of KLM passengers travelling with an EU passport will be invited to participate in the pilot.They will be invited to do so, upon departure, at the airport on Aruba.
If the results of the pilot are encouraging, expansion of the project to include larger groups of passengers is possible. Additional possibilities include integration with the security process, or the introduction of the Happy Flow process at Amsterdam Airport Schiphol.
( Press Release Image: https://photos.webwire.com/prmedia/2/197979/197979-1.jpg )
Related Links
WebWireID197979

This news content was configured by WebWire editorial staff. Linking is permitted.
News Release Distribution and Press Release Distribution Services Provided by WebWire.