Stop The Lyme Pandemic Million Signature Petition
Let your voice be heard!
Toronto, On, Canada –
WEBWIRE
–
Saturday, April 25, 2015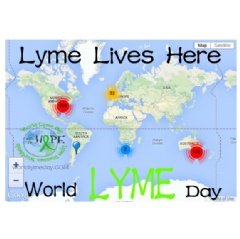 Lyme Pandemic
World Lyme Day™ has issued our Stop the Lyme Pandemic Million Signature Petition with the goal to present to all governments globally.  Lyme disease is currently worldwide and yet it continues to be ignored.  We feel that through awareness we have the opportunity to raise not only awareness but hopefully solutions to this pandemic disease.  It's time for us to show the World where Lyme Lives.  Add your signature and let us take your voice with ours to make a change.                                                              

 
Why Lyme-Pandemic Petition?

Lyme disease is one of the fastest-growing infectious diseases in the country.  In fact, the Centers for Disease Control (CDC), recently described Lyme disease as a "tremendous health problem."  (Really… that is their view) …Tremendous!   The CDC estimates that there are at least 300,000 new "diagnosed" cases each year in the United States alone, with a significant percentage suffering chronic symptoms even after standard antibiotic treatment.  The real number is believed to be in excess of 1.5 Million new infections but not diagnosed. (Let's show them this is far more than "Tremendous!")
 
One of the major reason for the increase is the rapid spread of the disease via ticks across the Globe.  We see the increase of bites happening and infection growing due to the fast growing tick population that is migrating with birds.  We also know that improper removal of a tick, improper diagnosis, and improper treatment of the disease have contributed greatly to the cases existing.  It is also believed that it is transmittable via blood / bodily fluids and from mother to child during pregnancy. 
 
If antibiotics are used on patients immediately after being bit we see those patients having a higher success rate to get better, however testing is not reliable and patients are being turned away without having antibiotics and continually remain ill to the point that it becomes chronic.
 
"Because of my lack of knowledge I unfortunately removed an embedded tick improperly and that may have possibly cost me my life.  I was an advocate for the outdoors when I began my career as founder of FisherGirl and Womenfishing.com, I had no idea that a small little bug that bit me when I was in Orlando Florida would be responsible for the havoc it has created in my life.  Had I been educated about tick bites I would have made sure I did not remove it from my leg improperly," states Canadian resident and co-founder of World Lyme Day, Terri Mackinnon-Cross.
 
Rebecca Moses partner at World Lyme Day shares - "I realized that Lyme was not just attacking over 300,000 new victims a year in the U.S. alone but it was Global and Pandemic.  We knew we had to make a bigger statement than just speaking for those in the U.S.  This disease does not discriminate, and has no barriers when it attacks. Lyme does not care what color your skin is, what sex you are or how old you are.  Unfortunately ticks only care that they find someone to feed on or one of your pets which are also at risk." 
 
"Fishers, Hunters, Campers, Hikers, Farmers are all at risk. Anyone that spends time in the outdoors working or playing have to become aware of what ticks can do to their health.  We must put our resources together to raise awareness for this disease.  Some people are years trying to get properly diagnosed.  Our goal is to raise Global awareness to the disease and the breath of what is happening worldwide.   Education is key to help prevent spreading this disease and also for removing ticks properly. It mimics many diseases and is often misdiagnosed because of poor testing.  The largest group of people effected are those involved with the outdoors." says Terri Mackinnon-Cross.
 
How Does the Stop the Lyme Pandemic Petition work?
 
Participants are asked to sign the Petition at Lyme-Pandemic.  You can watch the growth of the petition on our website World Lyme Day.  You will also find valuable information on our site to help with tick removal and where to go for help.  Join us on our Facebook page to get the most updated information on Lyme disease. Facebook  also follow us on Twitter 
 
   
What is Lyme disease?
 
Lyme disease is caused by a spirochete (spiral shaped) bacteria (Borrelia burgdorferi) and is primarily transmitted by ticks.  Children ages 5 - 14 are at the greatest risk of acquiring Lyme disease and constitute approximately 25% of all reported cases. According to research, children are bitten by ticks more frequently around the head and neck, making them more vulnerable to brain and central nervous system infections.  Infants can also become infected by Lyme disease and related infections during pregnancy.
 
With your help, we truly can make a meaningful difference for the millions suffering from Lyme disease globally.  Help us raise awareness and funding. We have been working hand in hand with fundraising for Lyme disease and supporting the LymeDiseaseChallenge   We highly recommend visiting and support their Fundraising Campaign which is donated to Ilads.org – Be a Change Maker 
 
If you would like to help us, please feel free to visit our site, share our Facebook and become one of our partners willing to let others know about this disease. For more information, please visit us at  World Lyme Day   Facebook   

Editor's Note: Advertising, Sponsorship, Images and Interviews with founder Terri MacKinnon-Cross are available upon request.

###
( Press Release Image: https://photos.webwire.com/prmedia/51844/197338/197338-1.jpg )
WebWireID197338
Contact Information

Terri Mackinnon-Cross
CEO
World Lyme Day
(1) (416) 540 - 0661

This news content may be integrated into any legitimate news gathering and publishing effort. Linking is permitted.
News Release Distribution and Press Release Distribution Services Provided by WebWire.